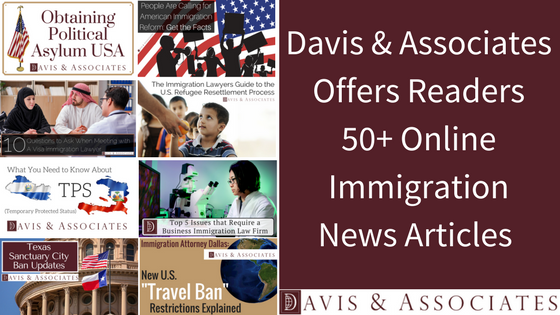 Davis & Associates Offers Readers 50+ Online Immigration News Articles
Davis & Associates, a premier immigration law firm in Dallas, has been releasing monthly online immigration news and tips for over a year, via their website blog.
Recently, they reached a milestone of over 50 educational articles released, offering information ranging from what to ask your new visa attorney to news about Texas' sanctuary cities and Senate Bill #4.
"We started a blog in hopes that we could help our readers better grasp complicated immigration issues and policy. The response has been so positive that we've been inspired to expand the number of articles we write," Garry Davis, lead attorney and owner at Davis & Associates, said.
Davis & Associates' blog covers relevant information regarding family immigration, business immigration, visas & green cards, deportation and the current hot topic of political asylum.
In addition to publishing original articles, Davis & Associates also creates "news round-ups" for readers, which is a curated collection of relevant and credible immigration articles released by multiple sources over the proceeding 45 days. Readers now have the option to avoid the abundance of "fake news" circulated online while keeping their finger on the pulse of immigration news.
Finally, the site offers Davis & Associates press release information so that clients can stay up to date with recent happenings and milestones reached by the law firm.
To keep up with important immigration news visit the Davis & Associates blog at www.dallasimmigrationattorney.com/news/
About Davis & Associates:
Davis & Associates is the immigration law firm of choice in North Texas including Dallas, Fort Worth, Plano, Frisco, McKinney and surrounding areas. Their attorneys provide expert legal counsel for all aspects of immigration law, including deportation defense, writs of habeas corpus and mandamus, family-sponsored immigration, employment-sponsored immigration, investment immigration, employer compliance, temporary visas for work and college, permanent residence, naturalization, consular visa processing, waivers, and appeals. Attorney Garry L. Davis is Board Certified in Immigration and Nationality Law by the Texas Board of Legal Specialization.
For more information, please visit https://gldlaw.com/
Contact Info:
Davis & Associates
Address: 17750 Preston Road Dallas, TX 75252
Phone: (214) 628-9888