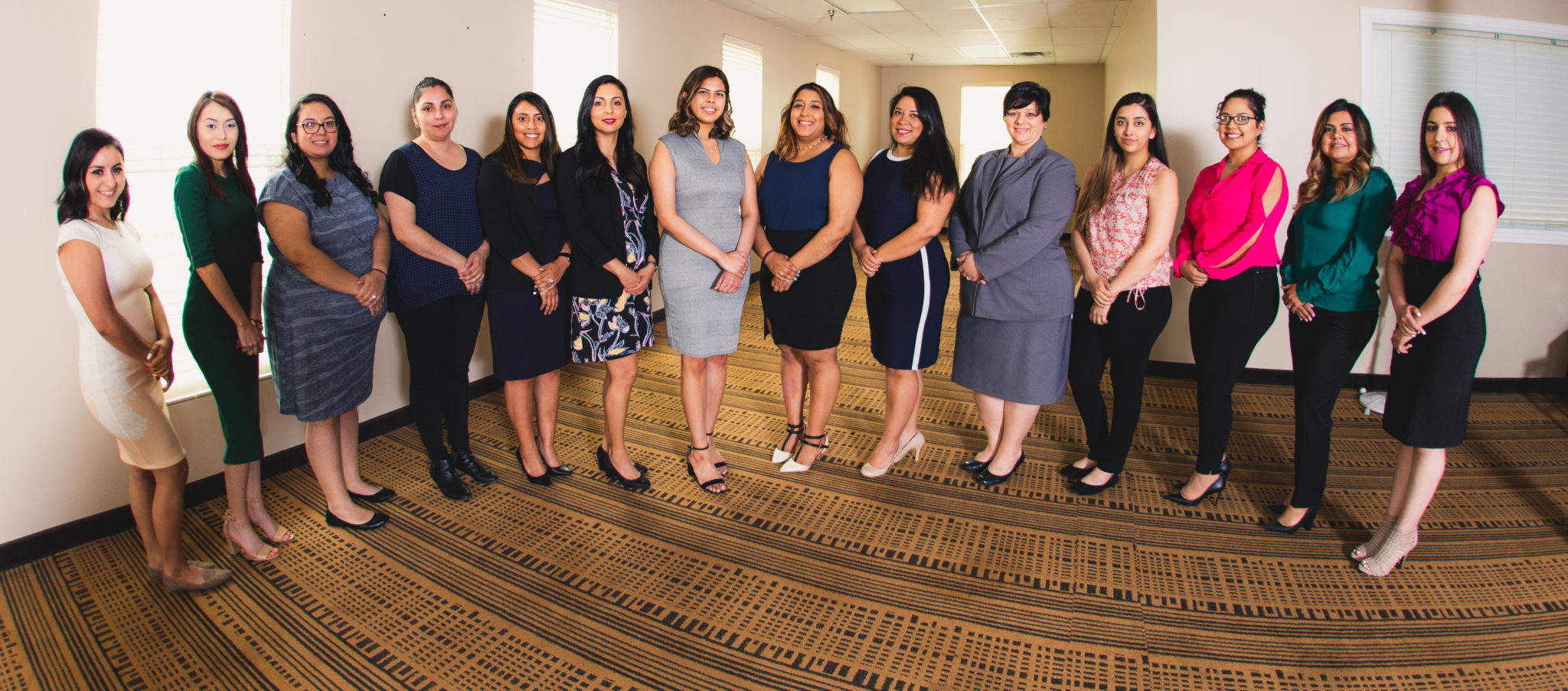 Davis & Associates are your Houston and Dallas immigration attorneys of choice. We care about families, not files. We offer great immigration counsel at the best possible price. Our clients are diverse. Our credentials and reputation speak for themselves.
We at Davis & Associates think that US Immigration is all about keeping families together. Our motto is "Families, not Files" because when you do business with us, you are not just another file on our desks. We genuinely care about helping you reach your immigration goals. Many of us have gone through the immigration process with our families and loved ones. We understand how you feel.
Our mission is to provide the most competent US Immigration counsel available at the best possible price. Our goal is to keep families together and businesses running effectively and efficiently. We hope that when the contract is over, you will want to refer your friends, family and colleagues to our office for future immigration help.
Davis & Associates represents clients from mid-sized corporations to individual families throughout Texas and beyond. We handle all aspects of Immigration Law, including deportation defense, writs of habeas corpus and mandamus, family-sponsored immigration, employer compliance, temporary visas for work and college, permanent residence, naturalization, consular visa processing, and waivers, etc.
Learn More about our Legal Support Staff Here
Learn More about our Attorneys Here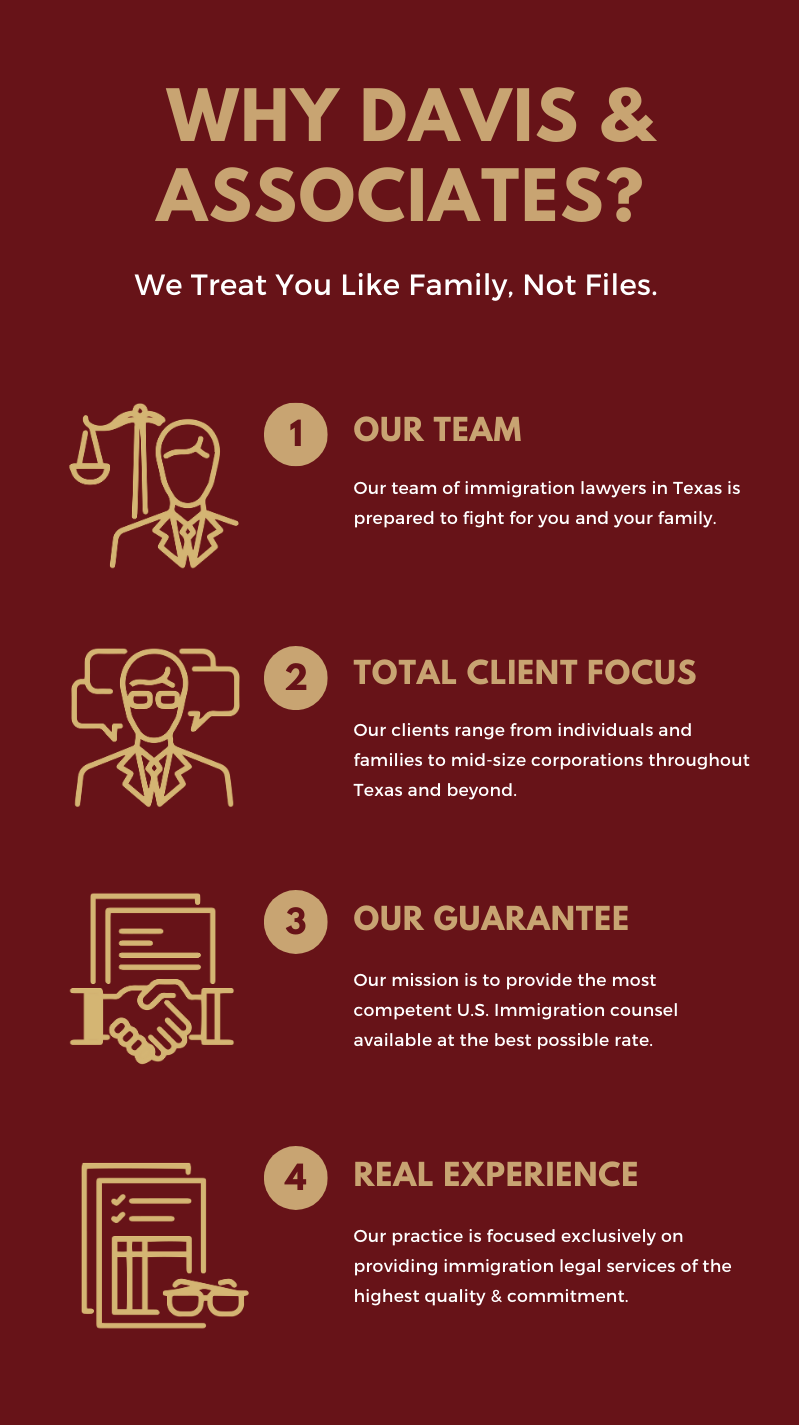 Davis & Associates has been in business since 2007. Mr. Davis first opened his practice in McKinney, Texas.
But after a year there, he moved his firm to Dallas in order to accommodate his many clients from all areas of Dallas and North Texas. Since opening his Dallas practice, Davis & Associates has opened a Houston location and represented thousands of clients in seeking immigration benefits in the United States.
A native Texan, Mr. Davis graduated from the University of Texas School of Law in Austin with his Doctor of Jurisprudence (law degree).
During law school Mr. Davis interned with an immigration attorney. And since graduation, he has only practiced US Immigration Law. Before opening Davis & Associates, Mr. Garry Davis worked for 7 years as an immigration lawyer in the law offices of Tidwell, Swaim and Associates and the law offices of Miley & Brown.
It was while working with Miley & Brown that he received his certification by the Texas Board of Legal Specialization in Immigration and Nationality Law. This prestigious certification identifies lawyers who are truly outstanding in their field. In order to qualify, the attorney must demonstrate a high level of proficiency in all areas of immigration law as well as pass a rigorous exam to prove he fully understands all the statues, relevant court cases, and regulations pertaining to immigration law in the United States.
Additional ongoing legal education is necessary to maintain the certification. Mr. Davis has been certified since 2005. Mr. Davis has been selected by Thomson Reuters as a Rising Star in 2004, 2005, 2008, 2009, 2010, 2011, 2012, 2013; and as a Super Lawyer in 2013, 2014, 2015, 2016 and 2017. Garry has been invited to speak at numerous continuing legal education conferences throughout the country and abroad, including the National Conference of the American Immigration Lawyers Association (AILA).
STATEMENT OF PURPOSE
We provide excellent customer service through our expert practice of immigration law.
VISION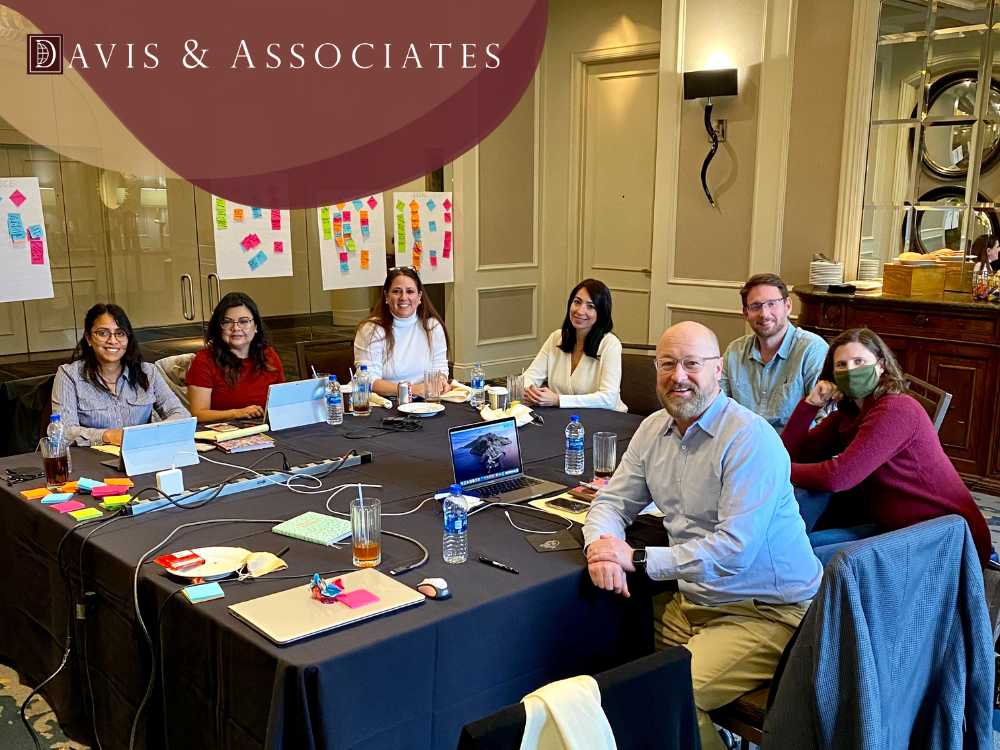 Our ability to find solutions and implement them quickly and expertly makes us the best immigration law firm in Dallas, Houston and beyond. It is our duty to continue our growth and development as a firm so that we can bring excellence to as many clients as possible. Davis & Associates team members (from the most experienced lawyer and paralegal to the newest administrative team member) are expert at finding solutions in their area of responsibility. Our highest priority is to find and implement immigration solutions for our clients. Because we are so good at working hard and solving problems, our team is also constantly improving efficiency, client communication, marketing scope, and teamwork across all departments.
MISSION
We provide expert immigration legal services and excellent customer service to our clients. We exist to:
Bring and keep families together
Provide opportunities for clients to come to the US and strive for peaceful and successful lives
Help people have second chances
Provide the most advantageous outcome for our clients
Preserve our clients' estates
We want to help our clients understand their options and make their government filings in as stress-free an environment as possible. We understand that deadlines, benefit qualifications, past experiences, and the need for attention to every detail is stressful for both the clients and our team members. Our response to that stress is to always ask, "How can I help?"
We advocate for our clients. The team working on a client's case sees themselves as advocates for and team members with our clients. We recognize the need to bring peace of mind to our clients. Therefore we communicate our work regularly with our clients. We respond quickly and positively to our clients' concerns. We work on cases promptly.
VALUES
We are expert - if it's possible, we can do it
We have worked hard to be the best in our field. Our services have great value because we are highly qualified at what we do. We constantly endeavor to improve our work product through:
Study & personal development – If we don't know an answer or solution, we know how to use our resources to find the solution. We study, learn, ask, and improve.
Training – We participate regularly in training both in and out of the office. Our attorneys stay current with CLEs, and work toward Board Certification.
Hard work – Individually, we organize and prioritize our case responsibilities and focus on getting them completed quickly and efficiently. We spend our work time wisely, focused first on the highest priority cases for which we are responsible.
Personal responsibility – We each take personal responsibility for the successes and the mistakes we make. We recognize our roles as members of a team, working together to provide the best possible client experience.
Communication – We maintain regular contact with clients in a highly professional manner. Through careful record- keeping in the file notes, we stay abreast of client deadlines and case progress. We choose kind words when speaking to or about our clients, co-workers, and others at all times.
We are excellent - can do, will do, happy to
We truly care about our clients individually. We provide excellent customer service to protect the licenses of our attorneys, to guard our reputation in the industry, and most importantly, to show our clients that we care about them and their futures, families, and goals. We constantly endeavor to provide an excellent client experience through:
Honesty – We are transparent with our clients.
Integrity – We do what we promise in the time-frame that is expected.
Ethical behavior – We obey the law.
Case processing – We get things done quickly and correctly.
Communication – We initiate regular contact with our clients about the status of their cases so that they never need to worry. We use our words (both written and spoken) to show respect for each other and our clients. We cooperate with other team members and departments to achieve the best possible client experience.
SCHEDULE YOUR FREE CONSULTATION TODAY