OUR IMMIGRATION ATTORNEYS
At Davis & Associates, we handle all aspects of immigration law. If you have spoken with an attorney who does not do employment-based immigration, we do. If you talk to an attorney who does not do deportation defense, we do.
If you talk to a firm that does not do waiver cases, we do. Whether it is appeals, removal proceedings, investor visas, labor certification, national interest waivers, extraordinary ability visas, performing artists, professional athletes, bond litigation, criminal consequences advisory opinions, or whatever the issue – if it involves US immigration law, we do it and have successfully done it for a combined 30 years.
If the problem is able to be solved, we will find the solution. If it cannot be solved, we will tell you that and we will tell you why.
Our staff is multi-lingual and many of us have gone through the immigration process with our families and loved ones. We understand how you feel and genuinely care about helping you reach your immigration goals. Our motto is "Families, not Files" because when you do business with us, you are not just another file on our desks. Read more about each of our immigration attorneys below.
Garry Davis
Immigration Attorney
Board Certified by the Texas Board of Legal Specialization, immigration attorney Garry Davis practices immigration law exclusively.
His expertise encompasses all areas of immigration law, with special focus on deportation defense, employment immigration, investment immigration, family immigration, appeals and federal court litigation.
Beatriz Godoy
Immigration Attorney
Beatriz was born in 1979 in Hialeah, Florida, and graduated from Monsignor Edward Pace High School in 1997. She received a full scholarship at Barry University in Miami for her four-year degree.
Cristina Marrero Rodríguez
Immigration Attorney
Cristina was born and raised on the island of Puerto Rico and is fluent in both English and Spanish. She has always loved helping people and is especially excited to be able do so in the immigration field.
John Paul Powelson
Immigration Attorney
John Paul has gained extensive experience in a wide range of immigration matters like family immigration, asylum, cancellation of removal, DACA, U-Visa, T-Visa, waivers, bonds, citizenship, and many others.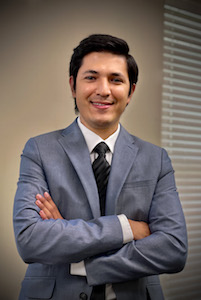 Joel Hernandez
Immigration Attorney
Joel will always fight for his clients and is eager to help many more individuals. He leads each case with a passion and dedication for immigrants like himself.
Jose Aponte
Immigration Attorney
Jose is experienced and passionate about complex immigration law cases including representing clients in areas such as asylum, cancellation of removal, U-Visa, citizenship, as well as in other areas.
Claire McVey Carmona
Immigration Attorney
Claire enjoys all aspects of immigration law, but specializes in removal defense, post removal relief, and specialty visas for victims of domestic violence, human trafficking, and other criminal acts.