Citizenship & Naturalization
Guidance down the Road to Citizenship
Unless you are a U.S. citizen by birth, you will have to obtain citizenship through a process known as naturalization.
Every day, people from every corner of the world apply for naturalization to enjoy the rights and privileges of U.S. citizenship. If you, too, are seeking citizenship, having a skilled immigration attorney on your side can improve your chances of success.
At Davis & Associates, we understand that individuals beginning the path toward citizenship benefit from the compassionate support and informed guidance of our citizenship attorneys in Texas. From our offices in Dallas and Houston, we serve clients throughout the country in their efforts to become citizens.
The Naturalization Process
Naturalization unlocks citizenship rights for millions of American immigrants. While strict standards apply, the rewards of U.S. citizenship are worth the wait.
Once naturalized, foreign-born Americans can participate in politics, work without restrictions, and enjoy other rights of natural-born citizens. Without doubt, naturalization is a hope for countless immigrants across America. But how, exactly, can a person achieve it?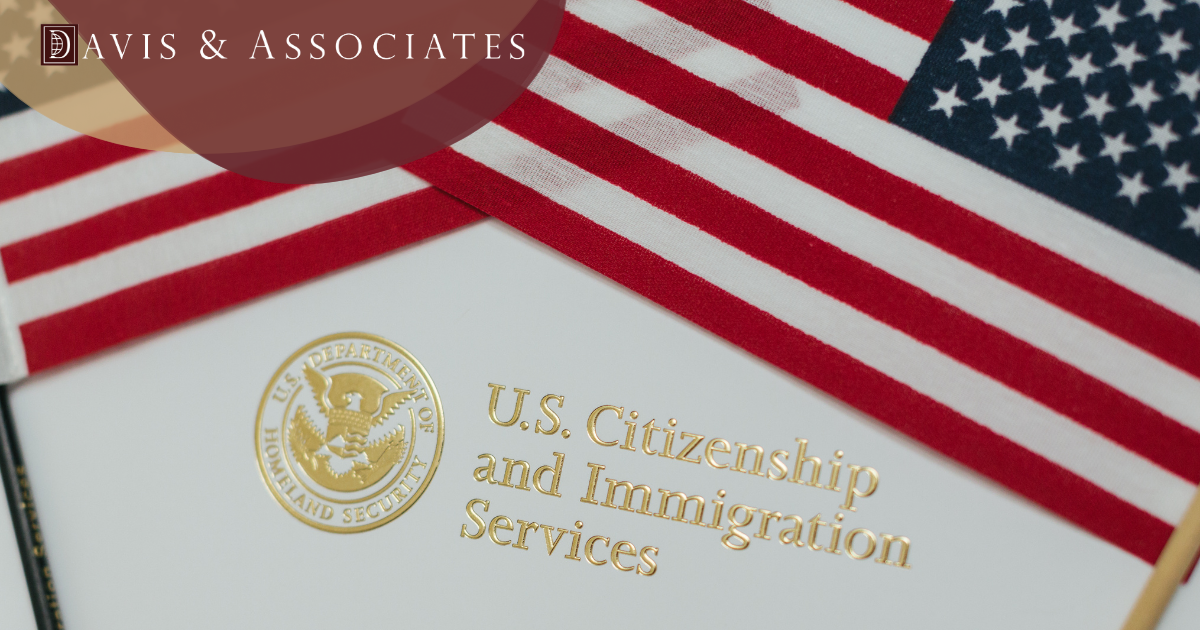 Firstly, if you are considering applying for naturalization, talk with a qualified immigration lawyer. The process can certainly be daunting – legal representation will provide both expert support and guidance throughout the process. Further, your attorney can help you prepare for potentially stressful parts of the process, like the naturalization interview and citizenship test. Davis & Associates helps immigrants throughout Texas, the United States and the world – contact us today! In fact, we offer free initial consultations to help you consider your options with confidence.
Understanding Naturalization

Through naturalization, foreign-born residents of the United States (U.S.) are able to become full-fledged citizens. Naturalized citizens possess all the same rights as U.S. citizens, with one exception – they cannot become president. Considering that very few people have ever held this position, this isn't too concerning of a difference!
The U.S. Citizenship and Immigration Services (USCIS) further explains that immigrants can become naturalized citizens by meeting all the requirements set forth in the Immigration and Nationality Act (INA). Different people may need to meet varying requirements depending upon their circumstances. For example, those foreign-born individuals married to a U.S. citizen only need to be a permanent resident for three years before seeking naturalization.
Requirements To Become A Naturalized Citizen
Naturalization is a fairly straightforward process, but you must meet several criteria to apply. These stipulations are all outlined in the Immigration and Nationality Act (INA), and are also listed on the USCIS's website. For your convenience, we've listed naturalization requirements below. Again, note that this is a general list – specific eligibility conditions of individuals will vary depending on immigration status and reason.
To become a U.S. citizen through naturalization, you must:
Be 18 or older
Be a permanent resident (green card holder) for at least five years*
Demonstrate continuous U.S. residence for 5 years at the time of application
Prove that you have been physically present for a minimum of 30 months (out of 5 years) at the time of application
Prove at least 3 months of residence in your state or district of application**
Be a person of good moral character
Read, write, and speak English at a satisfactory level
Pass a U.S. government and history (civics) test
Respect and adhere to the U.S. Constitution's "principles and ideals"
Be willing to swear an oath of allegiance to the United States
*Those foreign nationals married to U.S. citizens only need to hold a green card for three years before becoming eligible for naturalization.
**Students can apply for naturalization either in their home state or where they attend school, if these differ. Students must still depend on their parents for financial support to apply in their home state.
Once you have applied, you will be required to partake in an interview, pass English and civics tests, and declare your allegiance to the U.S.
Getting A Green Card
In order to qualify for a green card, which you must have for at least 5 years before you fill out a citizenship application (or 3 years if you're married to a U.S. citizen), you must:
Be eligible under an immigrant category established in the Immigration and Nationality Act, or INA
Have a qualifying immigrant petition filed and approved
Have an immigrant visa
Be admissible to the U.S.
A Word on Good Moral Character
The term good moral character (GMC) refers to your conduct over the past 5 years (or 3 years, if you're the spouse of a U.S. citizen who's filing for naturalization). It means that your conduct "measures up to the standards of average citizens of the community in which the applicant resides," according to the USCIS policy manual.
The policy manual says, "While USCIS determines whether an applicant has met the GMC requirement on a case-by-case basis, certain types of criminal conduct automatically preclude applicants from establishing GMC and may make the applicant subject to removal proceedings."
That means if you've ever been convicted of a crime that's considered "morally reprehensible and intrinsically wrong," you may not have good moral character from an immigration standpoint. Some crimes of moral turpitude include:
Aggravated assault
Animal fighting
Child abuse
Conspiracy
Fraud
Incest
Kidnapping
Manslaughter
Murder
Prostitution
Rape
Robbery
Smuggling aliens into the U.S.
Spousal abuse
Theft
If you're not sure whether you've been convicted of a crime that would change the way USCIS looks at your character, talk to your immigration attorney – you may still be eligible to fill out a citizenship application.
The U.S. Citizenship Application Process
When you are ready and eligible for naturalized citizenship, congratulations! American citizenship confers a large number of benefits and rights. You begin your application with the USCIS by submitting Form N-400, Application for Naturalization.
Gathering Supporting Documentation
In order to apply for citizenship, you'll have to provide USCIS with certain documents. These are the three items you must include with your application:
A photocopy of both sides of your permanent resident card
A check or money order for the application fee and the biometric services fee (unless you pay by credit card)
Two identical color photographs, if you reside outside the U.S., with your name and Alien Registration Number written in pencil on the back of each photo
There are other documents you may need to include, as well, such as:
A completed form that shows an attorney is acting on your behalf (your lawyer will handle this one for you)
Documents that show you've legally changed your name, if your current legal name is different from the one on your permanent resident card
A marriage certificate
Evidence that your spouse has been a U.S. citizen for at least 3 years, if applicable
Proof of termination of prior marriages, if applicable
Documents that prove your statements about your marriage, such as tax returns, leases or your kids' birth certificates
Proof of prior military service
Criminal records that prove dismissal of charges or records of court dispositions
After submitting Form N-400, there are several other steps, including the naturalization interview and citizenship test.
After passing your interview and test, you'll wait to hear if the USCIS approved your application. At that time, you'll be required to take one final step – swear an oath of allegiance to the United States of America.
Biometrics Appointment
You may also need to attend a biometrics appointment if the USCIS requests. During this appointment you'll be fingerprinted and photographed, and you'll have to electronically sign your name.
Interview
After processing your application, the USCIS will contact you to schedule a time for an interview. During your citizenship interview, the official talking with you will ask you personal questions. They will likely request detailed information about your background and application. Your interviewer will be looking for any inconsistencies with your application or reasons you may not be eligible. The USCIS provides a video that explains the interview and test process.
Naturalization Test
When you interview, you will also take your naturalization test. There are two main parts of the U.S. citizenship test. First, eligible candidates must demonstrate satisfactory skill with the English language – writing, speaking, and reading are all assessed. Second, applicants must take the civics portion of the exam. This will include questions about U.S. history, the government, and the Constitution. You can learn more about the entire test via the USCIS.
Receive A Decision
After passing your interview and test, you'll wait to hear if the USCIS approved your application. You'll receive a decision either right after your interview or within about 90 days of your interview (if the USCIS officer needs more information).
If you've been accepted, the last step to becoming a citizen is to swear an oath of allegiance to the United States of America.
Other Paths To Citizenship
In addition to meeting the aforementioned requirements, there are a few other ways you can qualify to apply for naturalization.
You may seek citizenship if:
You are a U.S. citizen living outside of the country and have a child born outside the U.S.
You have a green card and have been living in a marital union with a U.S. citizen for at least three years and meet all other requirements
You are serving or have served in the U.S. armed forces and meet the other requirements
Why Seek U.S. Citizenship?
Although being a green card holder/lawful permanent resident lets you live and work freely in the U.S., you miss out on some of the rights reserved only for citizens.
As a U.S. citizen, you:
Have the right to vote
Get priority in sponsoring family members for green cards
Can obtain citizenship for your children born outside the U.S.
Can become an elected official
Can travel with a U.S. passport
Receive full protection from deportation
Guide To Dual Citizenship In The USA
As a U.S. citizen, you're not prohibited from holding citizenship in another country. If you're a naturalized citizen, there's no requirement for you to give up citizenship from your home country. Some countries forbid their citizens from holding dual citizenship
Learn more about Dual Citizenship.
Ready To Become An American Citizen?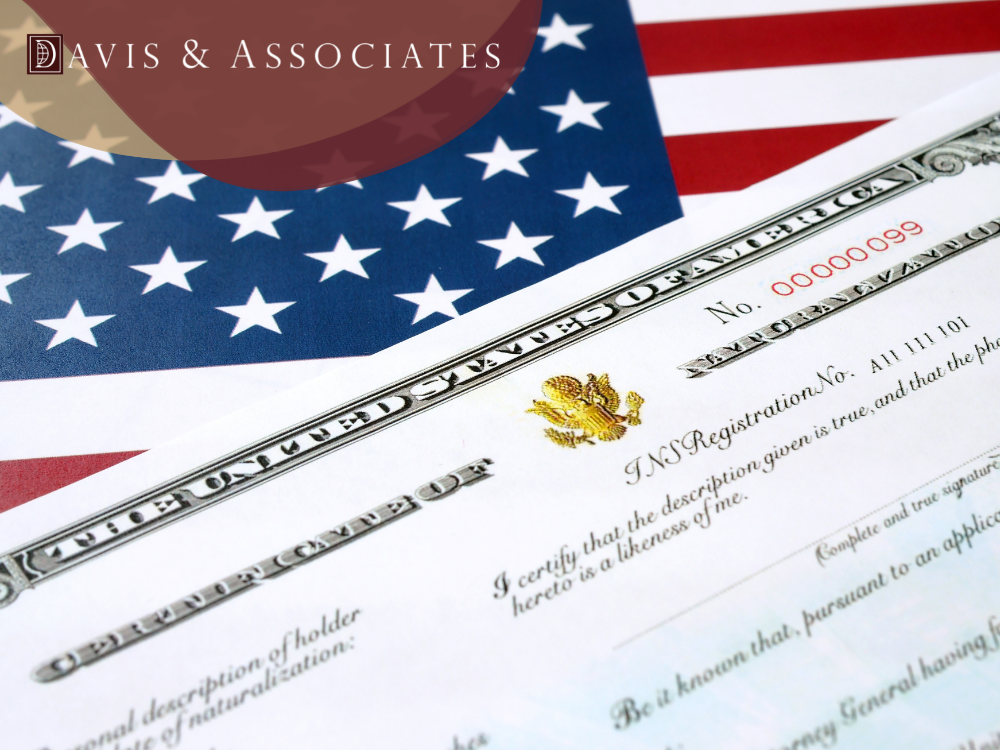 If you are ready to embark on the journey to naturalization, Davis & Associates is prepared to help! The path to American citizenship is certainly rewarding, but it can also be stressful. In fact, there are many requirements and steps that may cause confusion or frustration. Forms and paperwork must be completed without error and submitted correctly.
When such an important aspect of your future is at stake, don't leave it to chance! Work with an expert immigration attorney – they are trained to guide you seamlessly through the naturalization process. In fact, a qualified attorney will help you every step of the way.
Davis & Associates provides free initial consultations to all clients. No matter your question or concern – sit down with one of our lawyers. Through your discussion, you'll learn available options from a true expert. Contact us today!
Additional Reading
For those curious about naturalized citizenship, there are a number of resources to read and study in order to understand the process in greater depth. Davis & Associates has published a number of articles on the topic, which are linked below. We have also linked general resources at the USCIS for your reference.
Frequently Asked Questions – USCIS
10 Steps to Naturalization – USCIS
Naturalization Eligibility Details – USCIS
"Do I Qualify for Naturalization?" – Davis & Associates
"How to Gain Citizenship through Naturalization" – Davis & Associates