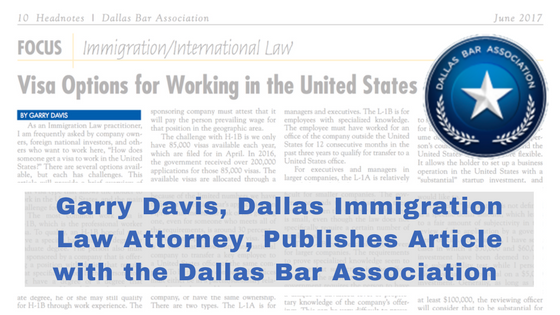 Garry Davis, Dallas Immigration Law Attorney, Publishes Article with the Dallas Bar Association
Garry Davis of Davis & Associates Immigration Law Firm Publishes Article: "Visa Options for Working in the United States"
Garry Davis, Board Certified by the Texas Board of Legal Specialization, owner and lead attorney at Davis & Associates recently published an article with the Dallas Bar Association on May 25, 2017 titled "Visa Options for Working in the United States."
The article was featured in the June 1st copy of the Dallas Bar Association's publication titled Headnotes, which is mailed to more than 11,000 Dallas-area lawyers.
In addition, the article was made available on the Dallas Bar Association website at http://www.dallasbar.org/book-page/visa-options-working-united-states and can be found on page 10 of the flipbook or viewed independently as a text file.
The Dallas Bar, founded in 1873 by 40 lawyers, is dedicated to offering continuing education to its members, as well as public service programs and improvement of the administration of justice.
Davis & Associates, a committed member of the Dallas Bar Association, is a premier immigration law firm servicing all of North Texas.
If you'd like to see more articles written by Garry or blog posts with other valuable immigration information please visit the Davis & Associates blog at https://gldlaw.com/news/
If you prefer to read the website content in Spanish, please visit the Spanish Davis & Associates blog page at https://gldlaw.com/es/noticias/
About Davis & Associates:
Davis & Associates is the immigration law firm of choice in North Texas including Dallas, Fort Worth, Plano, Frisco, McKinney and surrounding areas. Their attorneys provide expert legal counsel for all aspects of immigration law, including deportation defense, writs of habeas corpus and mandamus, family-sponsored immigration, employment-sponsored immigration, investment immigration, employer compliance, temporary visas for work and college, permanent residence, naturalization, consular visa processing, waivers, and appeals. Attorney Garry L. Davis is Board Certified in Immigration and Nationality Law by the Texas Board of Legal Specialization.
For more information, please visit https://gldlaw.com/
Contact Info: Davis & Associates
Address: 17750 Preston Road Dallas, TX 75252
Phone: (214) 628-9888