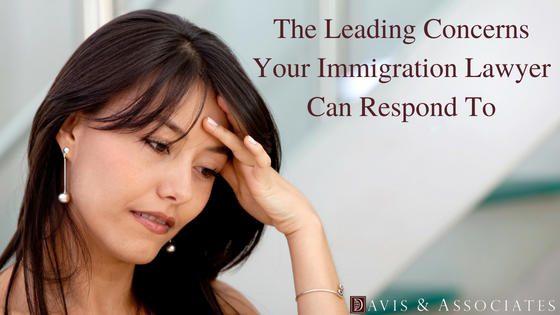 The Leading Concerns Your Immigration Lawyer Can Respond To For You
It's crucial to find an immigration attorney that you can rely on. A reliable lawyer will assist you through the procedure, and help respond to any concerns that you may have along the process. For Garry Davis and Davis & Associates, our very top priority are families, not files, which is why we commit ourselves to keeping households together throughout the United States immigration procedure. Here are several concerns to ask your immigration lawyer.
What is your strategy for my case? First, your immigration lawyer needs to address their primary steps once they begin representing you. Your immigration lawyer in Dallas must have a strategy for you, which can assist you in identifying if they are well-informed and skilled when it concerns immigration law.
Exactly what are my opportunities? While no attorney will have the ability to definitively tell you how your case will go, they might have the ability to provide some insight into your case, and exactly what your opportunities are. This can be based upon their previous experiences, along with the particular information of your case. You never want an attorney to be overconfident, however it can be helpful if everybody is on the same page with sensible expectations for your case.
Who else will be dealing with my case? This is a crucial concern since it is good to understand that there is an accessible group that will be working for you. While it's crucial to meet the primary lawyer on your case, there will likely be others included, such as a research group or paralegals. This can be handy, as it indicates there are more eyes examining your case. Aim to meet the group if possible, so you can have complete trust in those who will be communicating on your behalf.
What can I do to help the process? While your immigration lawyer is assisting you to attain a favorable result, you ought to aim to be as much of a partner in the claim as possible. If any documents or details are required from you, strive to supply it as rapidly as possible. This will make sure there are no hold-ups in the procedure, and your legal representative will have the ability to depend on you for any details required in the future.
Exactly what will my expense be? At Davis & Associates, we do whatever possible to be financially fair to our clients. You can get started with a free assessment, then we take the case from there once we have more information. As always, our focus is exclusively serving our customers as best as we conceivably can.
Your immigration lawyer needs to be your supporter throughout the immigration procedure. We know exactly what you are going through, as a number of our team members have actually gone through the procedure with their own friends and families. Contact us today to get started, and allow us to assist you with your case.
About Davis & Associates:
Davis & Associates is the immigration law firm of choice in North Texas including Dallas, Fort Worth, Plano, Frisco, McKinney and surrounding areas. Their attorneys provide expert legal counsel for all aspects of immigration law, including deportation defense, writs of habeas corpus and mandamus, family-sponsored immigration, employment-sponsored immigration, investment immigration, employer compliance, temporary visas for work and college, permanent residence, naturalization, consular visa processing, waivers, and appeals. Attorney Garry L. Davis is Board Certified in Immigration and Nationality Law by the Texas Board of Legal Specialization.
For more information, please visit https://gldlaw.com/
Contact Info:
Davis & Associates
Address: 17750 Preston Road Dallas, TX 75252
Phone: (214) 628-9888