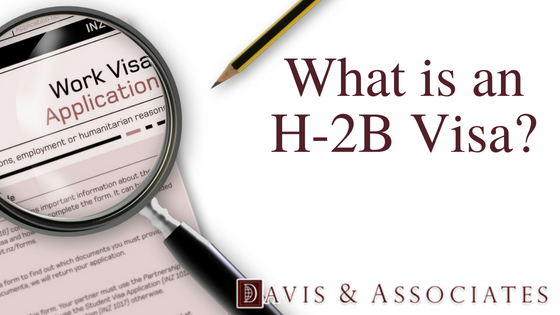 At certain times, U.S. businesses require extra workers to handle seasonal surges or temporary fluctuations that demand the hiring of temporary personnel.
In many cases, finding additional workers locally to staff certain positions for a limited time is not possible.
As a result, some companies rely on bringing workers from other countries to work and remain in the United States during the peak period.
These workers are expected to return to their countries when the demand surge is over.
The H-2B non-immigrant visa program, as defined by the United States Citizenship and Immigration Service (USCIS), allows temporary non-agricultural workers to come to the United States from other nations to work for a specific period before returning to their home countries. U.S.-based companies must meet specific regulatory requirements to participate in the program.
Qualified companies must first file a Form F-129, Petition for a Non-Immigrant Worker, on each foreign worker's behalf.
If you are pursuing an H-2B visa for your company, you will find the process to be much smoother and more likely to succeed by working with an experienced immigration law firm.
Who is Seeking an H-2B Visa for Foreign Workers?
Qualified companies seeking temporary non-agricultural workers may apply to the USCIS for H-2B visas to bring employees from other countries.
The categories and rules to petition for temporary foreign workers are specified as:
Companies that cannot find U.S. workers willing, qualified, or available to perform specific jobs.
Employment of foreign workers will not negatively impact the wages and conditions of other U.S. workers performing similar jobs.
A temporary and verifiable seasonal need.
What is a Qualified Temporary Need for Foreign Employees?
A petitioning company may request H-2B visas for temporary employees for four different general circumstances when domestic applicants are not available.
These include:
One-Time Occurrences: Petitioning company must prove that the need is temporary and cannot allocate an existing employee for the function. The company should not require the same services in the future.
Seasonal Need: Companies should demonstrate that the need applies to a particular season and reoccurs each year.
Peak-load Need: Petitioning companies must demonstrate that temporary employees will supplement, not replace, permanent employees who perform the same tasks. Foreign temporary employees may not become part of the regular staff.
Intermittent Need: Companies that have occasional and sporadic surges in activity that require temporary workers and cannot find U.S. residents to perform the functions of the job would use an H-2B.
Also, H-2B visa petitioning companies must obtain a valid temporary labor certificate issued by the U.S. Department of Labor.
Consult with a certified immigration attorney to work through the process of acquiring this certification.
Qualified Nations
H-2B visa candidates may only be citizens of specified individual nations, as designated by the Department of Homeland Security.
The current list of eligible countries, effective January 18, 2018, is listed on the USCIS website. Notably absent from the list of qualified source countries are most nations of the Middle East, as well as Russia, China, and North Korea.
The Department of Homeland Security may make temporary exceptions to the list or in particular circumstances to permit essential workers from otherwise banned countries.
Numerical Cap for Temporary Nonagricultural Employees
The current limit on the number of H-2B temporary workers is set at 66,000 per year.
One-half, or 33,000, may be admitted in the first half of the fiscal year, October 1 through March 31. The other half may be accepted after April 1 until September 30.
Schedule Your Free Legal Consultation with Davis & Associates
Business tides ebb and flow. Many companies today may find themselves in difficult circumstances that may affect their future growth or survival if they are not adequately staffed.
To improve your company's chances for supplemental seasonal or temporary help with your H-2B visa petitions, contact Davis & Associates to schedule a free consultation.
About Davis & Associates:
Davis & Associates is the immigration law firm of choice in North Texas including Dallas, Fort Worth, Plano, Frisco, McKinney and surrounding areas. Their attorneys provide expert legal counsel for all aspects of immigration law, including deportation defense, writs of habeas corpus and mandamus, family-sponsored immigration, employment-sponsored immigration, investment immigration, employer compliance, temporary visas for work and college, permanent residence, naturalization, consular visa processing, waivers, and appeals. Attorney Garry L. Davis is Board Certified in Immigration and Nationality Law by the Texas Board of Legal Specialization.
Contact Info:
Davis & Associates
Address: 17750 Preston Road Dallas, TX 75252
Phone: (972) 833-2312