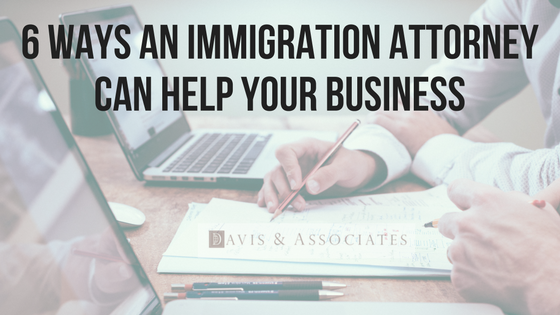 6 Ways A Dallas Immigration Attorney Can Help Your Business
United States law requires that every individual must be a citizen, legal permanent resident, or holder of a work visa to be employed within the country. Every company is required to certify each applicant's status prior to employment. If the employer does not comply and hires an illegal immigrant without documentation, they may face severe fines that were raised in 2016 to $4,313 per single incident to $21,563 for multiple violations.
For any company that would benefit from adding foreign labor and has a pool of candidates available, a qualified Dallas Immigration Attorney can help to work through the complications of visa and residency applications.
Work Visa and Residency Options
There are many ways that U.S. companies benefit by hiring foreign employees. In some cases, a sufficient number of U.S. citizens available for certain jobs who possess the appropriate work ethic may not be available. In other situations, the education or technical experience required might only be available with an overseas candidate.
In global corporations, outstanding individuals who add value in one area of the company might be in demand elsewhere. Often high performers are transferred back to a headquarters in the United States to apply their talents closer to the base of operations. A talented Dallas Immigration attorney can manage the documentation needed to make it a reality.
Whatever the reasons, a foreign worker can be a valuable asset. The proper documentation for employment is available with the help of an experienced immigration law firm to guide the way. Staying abreast of current legislation and the all of the intricacies of visa law are important activities for an effective Dallas immigration attorney.
Options for Legal Employment Documentation
Below are six options for establishing a legal employment status in the United States.
B1/B2 Business Visitor Visa
For companies that wish to bring foreign specialists into the United States for up to six months to one year will consider the B1 Business Visitor Visa. During their stay, foreign nations can engage in most business activities such as negotiations, sales, investment, training, and human resources.
A B2 Visitor Visa is a tourist visa for a similar period. The applicants must demonstrate sufficient financial or social ties to their native country to ensure that they will not remain in the United States when their visa expires.
H1B Visa
An H1-B Visa is a non-immigrant status visa designed to bring in high or graduate level experts in such areas as high-tech, engineering, architecture, mathematics, medicine, and much more. These highly skilled and educated individuals provide benefits to companies that are not easily available elsewhere. Typically, candidates possess at least a bachelor's degree or higher plus some proven skills. H1-B visas can extend for three years at least, though companies often apply for a six-year duration. H1-B Visas have a cap limitation sometimes requiring an application for another type of Visa.
H-2B Visa
H-2B Visas are available to fill temporary and seasonal positions for non-agricultural businesses. As many as 60,000 foreign temporary workers come to the United States for seasonal work on H-2B status.
Some companies require temporary workers for intermittent work that peaks for a short period and then goes away. Or, because some companies have strong peak periods followed by a substantial drop-off, short-term foreign employees can be an essential solution for a variable demand situation.
The length of stay for an H-2B is generally limited to the required period of need. There is some flexibility and H-2B workers may stay for one year to a maximum of three years. Spouses or unmarried children can be given H-4 visas to stay during that time. However, the H-4 holder will not be allowed to work while in the United States.
L1-A and L1-B Visas
L1 Visas are nonimmigrant visas designed for global companies to transfer executives or individuals with specific knowledge and skills to come to a U.S.-based office, headquarters, or affiliate for a period of up to seven years. Some executives enter under the L1-A management status and later apply for an EB1-C immigrant visa or Green Card.
The two categories of L1 Visa are:
L1-A Executives and Managers: In this case, the individual must be proven to be in a supervisory role over professional staff or a manager of a division of the company. L1-A visas are granted initially for three years and can be extended to seven years.
L1-B Specialized Knowledge Staff: These individuals possess specialized abilities and knowledge of specifications, procedures, proprietary techniques, training capabilities, and research. This category is usually allowed for three years and extendable to five years.
TN Visas for Canadians
Because of the close relationship between Canada and the United States, plus the treaty provisions of NAFTA, United States employers can recruit Canadians for professional positions similar to the H1-B privilege.  The advantages of the TN Visa over the H1-B for foreigner professionals are that they may be:
Granted for 3 years, but extended indefinitely
Usually granted easily
Less burdensome that the requirements for the H1-B visa
The TN visa simply requires that the individual is a Canadian citizen and meets the educational and experience credentials required for the position.
Permanent Residence: Employment-Based Immigration Visas (Green Cards)
Employment-based immigration visas or "Green Cards" are at the top of the foreign resident employment pyramid. The Green Card can be obtained either through a family member or a proven employment-based need. The State Department has defined five categories for achieving Employment-Based (EB) Green Card status.
EB-1: High-level business management or individuals with highly specialized talents in art, music, science, sports, and other
EB-2: Highly educated individuals in medicine, academics, and science
EB-3: Skilled workers with two years of experience, high-level academics not falling into the EB-2 category, and low skilled workers in permanent positions
EB-4: A catchall category that may involve religious leaders or non-citizen U.S. Foreign Service workers.
EB-5: Investors who invest over $500,000 in a U.S. business that has over ten employees.
[youtube https://www.youtube.com/watch?v=r0VsP-Khigk?rel=0&w=560&h=315]
Finding an Excellent Dallas-Based Immigration Attorney to Help Your Business
In today's highly specialized and technical world, businesses have legitimate reasons for adding foreign workers to their United States staff. Likewise foreign companies wishing to invest heavily in developing a U.S.-base for their business sometimes need to position some of their non-U.S. employees for training, management, and orientation.
Securing work visas and Green Cards can be a complex process under any circumstance. With today's political climate, it is possible that work visas can become more difficult to secure, requiring the expertise and know-how of a truly professional Dallas Immigration attorney, like Garry Davis of Davis & Associates of Dallas, Texas.
Knowing the complexities of immigration law, plus having a professional presence in the marketplace, are important qualities of a successful immigration attorney. Davis & Associates has been named by the U.S. News and World Report as one of the Best Law Firms in America in the category of immigration law.
Contact Davis & Associates in Dallas
Visit the Davis & Associates website to review their services, specialties, and qualifications. For any questions about work visas, contact the professional Dallas Immigration Attorney at Davis & Associates by calling 214.628.9888.
About Davis & Associates:
Davis & Associates is the immigration law firm of choice in North Texas including Dallas, Fort Worth, Plano, Frisco, McKinney and surrounding areas. Their attorneys provide expert legal counsel for all aspects of immigration law, including deportation defense, writs of habeas corpus and mandamus, family-sponsored immigration, employment-sponsored immigration, investment immigration, employer compliance, temporary visas for work and college, permanent residence, naturalization, consular visa processing, waivers, and appeals. Attorney Garry L. Davis is Board Certified in Immigration and Nationality Law by the Texas Board of Legal Specialization.