Top 5 Issues that Require a Business Immigration Law Firm
American businesses often find that the talent needed to move their objectives forward may not be available within the United States. That often means that multinational corporations must either bring foreign workers to the United States for training or require the specialized skills that some of their foreign employees can provide.
Although there are many reasons businesses wish to bring foreign workers to the United States for a temporary or extended period, the process of securing permits and visas can be complicated. An experienced business immigration law firm can eliminate many of the headaches by properly executing the necessary steps to bring employees into the United States.
Adding to the complications, growing scrutiny of immigration concerns may be making the process of securing work-related visas more complicated, and the chances of success may become threatened without a well-organized approach. For most companies, the best possible solution is to work with an immigration law firm that understands – and keeps up with – current immigration law, requirements and compliance issues.
The Top 5 Issues Companies Face in Hiring Foreign Workers
The challenges of bringing foreign workers into the United States does not end with the issuance of the appropriate visas. Situations may arise in which a qualified immigration lawyer will be required to protect the workers or the company.
Here are five instances in which retaining a skilled and experienced business immigration law firm is important:
Applying for work visas
Intra-company transfers
Business visitors
Changing immigration laws
Most companies rely on attorneys to ensure that they remain compliant with U.S. immigration law. An attorney can be there to answer your questions, file the appropriate sponsorship paperwork, walk you through the process and ensure that you meet all the requirements necessary to bring in foreign talent.
#1. Applying for Work Visas
The U.S. Department of State classifies visas according to the type of work or specialization that the applicant will be performing. Defining the class and preparing the proper documentation can be very tricky and cause delays without a business immigration law firm to offer advice and make the process easier.
According to the U.S. State Department website, nonimmigrant H visas range in classifications from H-1B for physicians and highly specialized experts to H-2B for seasonal hospitality workers in tourist areas. The range is designed to allow immigrants to fall into very specific categories. Another critical category is H-2A, which encompasses work visas required for temporary agricultural workers. The table below outlines the types of employment visas generally available for business purposes.
Type of Visa
Category
Use
Temporary Employment
H
Specialty occupations

Seasonal or temporary agricultural work

Training (other than graduate medical or academic)

Temporary Employment
L
Intracompany transfers
Temporary Employment
O
Field work for persons of extraordinary ability or achievement in the sciences, arts, education, business, athletics or the motion picture and television industry, as well as persons providing essential services in support of the person of extraordinary ability or achievement
Temporary Employment
P
Performance at specific athletic competitions or in the entertainment field; only open to athletes or personalities with an internationally recognized level of sustained performance

Work as artists or entertainers who are performing under a reciprocal exchange program (as well as persons providing essential services in support roles)

Teaching, performing or coaching in a culturally unique or traditionally ethnic, folk, cultural, musical, theatrical or artistic performance or presentation

Temporary Employment
Q
Practical training and employment, and for sharing history, culture and traditions of another country through participating in an international cultural exchange program
Exchange Visitors
J
Participation in exchange visitor programs that may include work
Temporary Employment
I
Work in media, press and radio
Trade
E
Work involving investments and treaty traders
Temporary Employment
TN/TD
Work involving NAFTA
All of these, plus other very specialized permits, are essential for U.S. companies to conduct business. Temporary work visas – those that fall into the B category – are available for attending business meetings or consultations, attending business conventions or conferences, or negotiating contracts. These visas are extremely temporary in nature, though, which means they're only available for short-term, individual uses.
#2. Intra-Company Transfers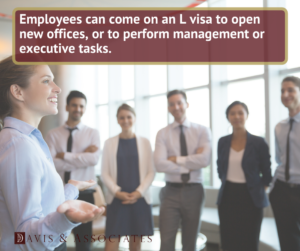 Often, an employee working in another country may be the right person for an intracompany transfer to a critical position in the United States. To work at the parent company headquarters, a branch, or an affiliate of the company is often a necessity which requires an L classification visa. A qualified business immigration law firm can assist with the documentation and paperwork.
Employers must have a qualifying relationship with a foreign company (such as a parent company, branch, subsidiary or affiliate) and must currently be or plan to do business as an employer in the U.S. and in at least one other country. Employees can come on an L visa to open new offices, or to perform management or executive tasks.
#3. Business Visitors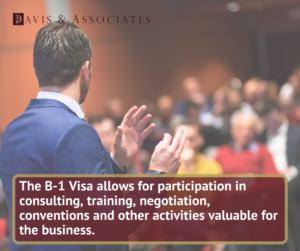 Global companies frequently need individuals from around the world to attend meetings, trade events, and training for limited periods. B-1 visas are necessary, sometimes for several participants at once, and a qualified business immigration law firm can advise and support from within the United States to ensure the proper documentation is provided. The B-1 Temporary Business Visa allows for participation in consulting, traveling the U.S. for training, negotiation, conventions and other activities valuable for the business.
In order to qualify for a B-1 visa, the applicant must:
Be entering the U.S. for business of a legitimate nature
Plan to remain for a specific and limited period of time
Have sufficient funds to cover expenses
Have a residence outside the U.S. with no intention to abandon it
Be admissible to the U.S.
#4. Family Immigration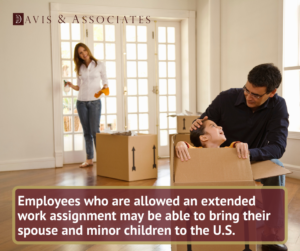 Reuniting a foreign worker with his family requires addressing another set of rules and applications. Employees who are allowed an extended work assignment may be able to bring their spouse and minor children to the United States. A qualified business immigration law firm can advise and coordinate the proper procedures to reunite a family.
Many visas are available for the families of workers who come to the United States. It's generally best to consult with an attorney to ensure that your company is using the proper avenues to sponsor a worker's family.
#5. Changing Immigration Laws
Since the "travel ban" executive order was introduced in January 2017, significant light has been shed on immigration matters. Active legislative efforts are in the works in some states, notably Texas, to heighten immigration enforcement, track down individuals who may be undocumented, and deport greater numbers than ever before. The tolerance for the misbehavior of visitors to the United States is diminishing, and people charged with minor offenses may be subject to deportation.
U.S. immigration laws evolve often, and that can be a legal minefield for corporations, small businesses, investors and others with an interest in business-related immigration. It's imperative that your company stays on top of changes to the laws as well as new requirements set forth by the U.S. government so you – and your workers – remain in compliance and can live and work in the U.S. without fear of removal.
Companies require experienced legal protection and assistance to protect the rights of their foreign employees. In Dallas, where the enforcement is particularly strict, Davis & Associates immigration law firm is experienced in protecting the rights of foreign workers and their employers.
Contact Davis & Associates, Dallas Business Immigration Law Firm
In Dallas, the business immigration law firm, Davis & Associates is experienced in assisting companies with work visas of all types and protecting the rights of businesses and individuals in immigration-related matters.
In today's changing environment, "going it alone" is a dangerous strategy. Companies dependent on any foreign employees should have a qualified and experienced business immigration law firm to anticipate pitfalls and changing requirements, ensure a smooth visa process, and protect individuals' rights.
What worked yesterday may not work tomorrow in this political environment.
For a free consultation, contact Davis & Associates at 214-628-9888.
---
About Davis & Associates:
Davis & Associates is the immigration law firm of choice in Houston & North Texas including Dallas, Fort Worth, Plano, Frisco, McKinney and surrounding areas. Their attorneys provide expert legal counsel for all aspects of immigration law, including deportation defense, writs of habeas corpus and mandamus, family-sponsored immigration, employment-sponsored immigration, investment immigration, employer compliance, temporary visas for work and college, permanent residence, naturalization, consular visa processing, waivers, and appeals. Attorney Garry L. Davis is Board Certified in Immigration and Nationality Law by the Texas Board of Legal Specialization.
Dallas Contact Info:                                                                                                                                                                                             
Address: 17750 Preston Road Dallas, TX 75252                          
Phone: (469)957-0508                                                                       
Houston Contact Info:                                                                                                                                                        Address: 6220 Westpark Dr, Suite 110, Houston, TX 77057
Phone: (832) 742-0066