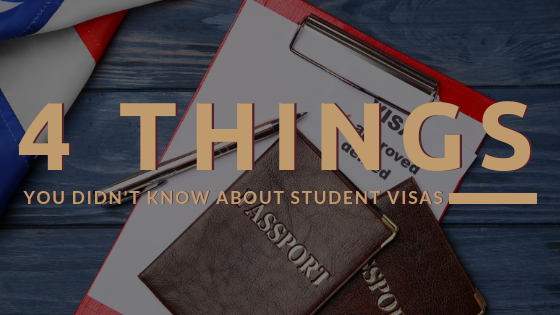 4 Things You Didn't Know About Student Visas
People who want to study in the United States might be eligible for a student visa (commonly called an F1 visa). But how can you get one, how long does it last, and what happens when it expires?
Check out these four things you probably didn't know about student visas, then find out how to apply and get other vital information that can help you decide on the best way to immigrate to the U.S.
4 Things About Student Visas You Didn't Know
If you're like most people, you can benefit from working with a Dallas immigration attorney to apply for a student visa – but there are a few things you need to know first.
1. You have to be accepted at an institution certified by the Student Exchange and Visitor Program before you can apply for a visa.
Before you can even apply for an F, J or M visa, you have to apply at – and be accepted by – an institution that's certified by the Student Exchange and Visitor Program, or SEVP. You can use the Department of Homeland Security's School Search tool to find SEVP-certified schools if you haven't already found one.
2. F1 visas, J1 visas and M1 visas cater to different students.

Because you can't apply for a visa until you've been accepted at an accredited, SEVP-certified institution, it's important that you call each school or institution you're interested in attending. It's also often helpful to speak with an immigration attorney who can guide you through the earliest stages of the process.
3. You might not be allowed to work off-campus while you go to school.
If you're learning in the U.S. on an F-1 Academic Student visa, you're not allowed to work off-campus during your first academic year. You can, however, work on-campus as long as your job meets certain conditions and restrictions. After you've completed your first academic year, you can work in one of three types of jobs off-campus:
Curricular practical training, or CPT
Optional practical training, or OPT
Science, technology, engineering and mathematics, or STEM, optional practical training extension
If you have an M-1 Vocational Student visa, you can't work or engage in practical training until you've completed your studies.
Regardless of the type of visa you have, you can only accept off-campus employment that's related to your area of study – and you have to have it authorized by the Designated School Official, who is authorized to maintain your school's Student and Exchange Visitor Information System, or SEVIS, and authorized by USCIS.
4. If you overstay your visa, you're breaking the law – and you may not be allowed back into the U.S.
Your visa will have a specific expiration date. You can talk to your immigration lawyer about reinstating your visa, extending it or changing it – but you can't just stay once it's expired without taking some kind of action that's been approved by USCIS. If you do, you're breaking the law; that can preclude you from coming back to the U.S. on another visa or establishing permanent residency here. You could also face tough legal consequences.
These are the expiration windows:
F-1 visa holders can stay in the U.S. for up to 60 days once their courses are complete.
M-1 and J-1 visa holders are only allowed to remain in the U.S. for up to 30 days following the completion of their courses.
All students are required to depart the U.S. before the date on his or her Form I-94.
How to Get a Student Visa
Getting a student visa in the U.S. is a multi-step process. For most people, working with an immigration lawyer who understands the system is a sensible choice – it can cut down on the stress associated with applying for a visa, streamline the paperwork and make the process much easier for the applicant.
These are the steps you need to follow to get a student visa in the United States.
1. Apply to an SEVP-approved school or institution.
The first step in getting a U.S. student visa is applying to – and being accepted by – a SEVP-approved school or institution. You can't apply unless you've been accepted to one of these schools.
2. Pay the SEVIS fee.
You're required to pay a SEVIS fee if you're going to be an F, J or M student. The prices vary based on the type of visa you're getting. Your attorney can give you more guidance based on your specific case.
3. Fill out the appropriate U.S. visa application and pay the fee.
After you've received a SEVIS form and paid the fee, it's time to fill out your visa application and pay the filing fee. (Your attorney can handle all of this for you to make things easier.)
4. Attend your visa interview.
You or your attorney can schedule your student visa interview by calling your nearest U.S. embassy or consulate. You may have to provide a confirmation number that shows you paid the appropriate fees. Your attorney can advise you on what to bring to your interview, which may include a passport that's valid for at least 6 months beyond how long you anticipate staying in the U.S. and transcripts from previous institutions you've attended.
Do You Need to Talk to a Student Visa Lawyer?
If you're thinking about coming to the U.S. to study, it may be in your best interest to talk to a Dallas student visa lawyer who can help. Call us at (214) 628-9888 to schedule a free consultation with a student visa lawyer now.
---
About Davis & Associates:
Davis & Associates is the immigration law firm of choice in Houston & North Texas including Dallas, Fort Worth, Plano, Frisco, McKinney and surrounding areas. Their attorneys provide expert legal counsel for all aspects of immigration law, including deportation defense, writs of habeas corpus and mandamus, family-sponsored immigration, employment-sponsored immigration, investment immigration, employer compliance, temporary visas for work and college, permanent residence, naturalization, consular visa processing, waivers, and appeals. Attorney Garry L. Davis is Board Certified in Immigration and Nationality Law by the Texas Board of Legal Specialization.
Dallas Contact Info:                                                                                                                                                                                             
Address: 17750 Preston Road Dallas, TX 75252                          
Phone: (469)957-0508                                                                       
Houston Contact Info:                                                                                                                                                        Address: 6220 Westpark Dr, Suite 110, Houston, TX 77057
Phone: (832) 742-0066