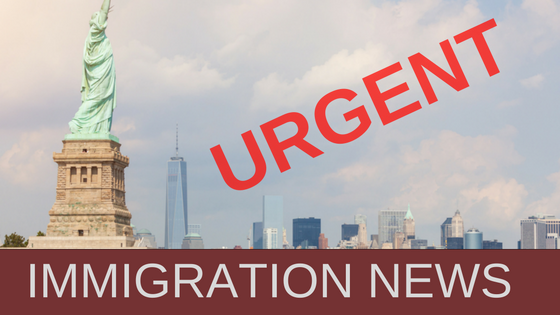 Davis & Associates Urges Immigrants to Act Ahead of December 23 USCIS Fee Hikes
Immigration benefit request processing fees will climb hundreds or thousands of dollars for many beginning December 23, so filing soon should be a priority, Davis & Associates reports.
DALLAS – October 30, 2016 — Starting December 23, immigrating to the United States will become significantly more expensive. According to a new rule just published by the Department of Homeland Security (DHS), fees for the processing of immigration and naturalization benefit requests will rise an average of 21 percent.
The DHS announcement marks the first time since 2010 that U.S. Citizenship and Immigration Services (USCIS) fees have gone up. Many applicants will be required to pay hundreds or thousands of dollars more after the December 23 deadline passes. Davis & Associates, a leading immigration and naturalization law firm serving the North Texas area, therefore advises that those who might be affected consult an immigration lawyer soon.
"DHS has issued its final ruling on USCIS immigration and naturalization fee increases," said Davis & Associates founder and Board Certified immigration lawyer Garry Davis, "With no fee hikes for the past six years, it was to be expected that these would be significant. Starting December 23, many immigrants and would-be citizens are going to face costs of hundreds or thousands of dollars more for the processing of their benefit requests. We therefore advise that anyone with a request to make take action right away to ensure that it will be filed before the deadline. Working with an immigration attorney will also help avoid the delays that can arise if mistakes are made in the filing process."
USCIS operates under a legal mandate that the fees it collects cover the costs of processing applications for immigration status and naturalized citizenship, along with most of its other activities. Every two years, the agency reviews whether its existing fee schedule lives up to this requirement. On May 4, USCIS published a proposed rule that included significantly increased benefit processing fees across much of the board, with a weighted average increase of 21 percent.
Having assessed the hundreds of reactions received during the 60-day public comment period that followed, DHS has now made a revised form of the proposed USCIS rule final. Beginning December 23, almost all applicants will pay increased fees. The cost for the processing of an I-526 Immigrant Petition by Alien Entrepreneur, for example, will more than double to $3,675 from its current level of $1,500. The fee for an I-698 Application to Adjust Status From Temporary to Permanent Resident will jump from $1,020 to $1,670, an increase of over 60 percent.
While fee increases will vary depending on the benefit request to be processed by USCIS, most applicants can expect to pay significantly more after December 23. Davis & Associates therefore recommends that anyone with an open immigration or naturalization need get in touch with an attorney soon to make sure any related filings are completed before that date. Those who work with an immigration attorney can also be assured that applications will be accurate and fully compliant with the law, thereby avoiding common sources of delays in the processing of benefit requests.
About Davis & Associates:
Davis & Associates are the immigration attorneys of choice in North Texas including Dallas, Fort Worth, Plano, Frisco, McKinney and surrounding areas. Their attorneys provide expert legal counsel for all aspects of immigration law, including deportation defense, writs of habeas corpus and mandamus, family-sponsored immigration, employment-sponsored immigration, investment immigration, employer compliance, temporary visas for work and college, permanent residence, naturalization, consular visa processing, waivers, and appeals. Attorney Garry L. Davis is Board Certified in Immigration and Nationality Law by the Texas Board of Legal Specialization.
For more information, please visit https://gldlaw.com/
Contact Info:
Name: Garry Davis
Organization: Davis & Associates
Address: 17750 Preston Road Dallas, TX 75252
Phone: (214) 628-9888