7 Key Considerations When Choosing Your Immigration Attorney
What To Look For When Choosing Your Immigration Attorney
For those already in the United States or hoping to come, a relationship with an experienced and trustworthy immigration attorney is an important step. When your right to live and thrive on American soil is challenged, your best defender is an immigration attorney. Expert attorneys have trained for years, perfecting their craft to ensure they can protect your rights and fight for justice. Further, lawyers can monitor court and application proceedings, guiding you through every step of the process. Without a doubt, this avoids unnecessary delays or errors which may lead to denial and heartbreak.
There are numerous factors that individuals connect to immigration legal representatives for guidance. Immigration lawyers can help with a range of immigration concerns such as a green card applications, deportation defense, naturalization, business immigration law, permanent residence, short-term work visas, employer compliance, and so on. Discovering sincere, well-informed, and hardworking immigration legal representation can be difficult.
In this article, we walk you through some key items to consider when you are looking for an immigration lawyer. You'll learn crucial ways to start looking for the ideal immigration attorney to help with your case, how to utilize the internet to aid your search, what scams to avoid, and what types of questions to ask in your initial consultation(s). Keep reading!
1. Talk To Friends And Family
If you hope to hire an immigration attorney, your friends and family are a priceless resource. You should start your search by discussing your needs with those who know you best. If they've also had immigration issues or needed guidance with an application, they'll likely be able to help you. Perhaps, they worked with an excellent attorney and can provide a recommendation. Discovering legal representation through word-of-mouth or recommendations is a fantastic method due to the fact that you get direct details about their experience. Whatever information you receive about any immigration attorneys, whether positive or negative, write it down. You'll likely need that information later!
2. Use The Internet
When searching for an experienced immigration attorney, the internet is an irreplaceable tool. Start by utilizing a major search engine like Google or Yahoo and try to find some potential immigration attorneys in your area. Write down every lawyer that might be a good fit – you can always narrow the list later with further research. You should also consult the American Immigration Lawyers Association, which has an excellent virtual database to help you find the right lawyer. You can access their immigration lawyer search here.
Remember, while the internet is without a doubt an excellent tool, it can also be dangerous. Do your best to avoid scams and never exchange money over the internet. Avoid any person who is a "visa consultant" or a "notario" – these people are not qualified lawyers and cannot lawfully provide legal guidance, representation, or assistance. Only lawyers certified by and registered with your state's bar association are qualified to help you.
How to Find The Best Immigration Attorney on the Internet: 
Utilize search engines to identify immigration law firms and lawyers in your area.
Visit the American Immigration Lawyers Association (AILA) and use the immigration lawyer finder.
Utilize customer feedback sites like Yelp or Google reviews to learn more about any law firm you're interested in. How do previous and current customers feel?
Check out any potential law firms on their social media channels, including Twitter, LinkedIn, and Facebook.
Be aware of any potential scams on the internet, including "notarios."
Take notes of any information you find and begin to create a list of potential lawyers.
3. Essential Qualifications
In Texas and many other states, many uncertified individuals claim to protect the rights of foreign-born residents. Some of these are neither certified to practice law nor qualified to act on behalf of individuals who require legal guidance or representation in a court of law. Many operate as Immigration Advisors, Counselors, Specialists, Notaries, or another title that suggests expertise. These people often act fraudulently, taking individuals' money without performing any service.
You should only hire a qualified immigration attorney (registered with your state's bar association) to handle your case. Immigration lawyers, especially those with additional specializations and certifications, have studied and worked for years to hone and perfect their craft. They will be skilled, knowledgeable, and experienced, which will increase your chances for success. Pay attention to how long an attorney has worked in immigration law and note if they have any additional specializations.
Before you hire a lawyer, look for proof of their credentials:
Certification by the State Bar Association: Begin your search by contacting the local Bar Association for a list of qualified immigration lawyers. The Association keeps track of complaints, violations and disciplinary action a lawyer may have received. The State Bar of Texas, for example, can also assist in locating the appropriate lawyer in your area for your type of situation.
Specializes in immigration law: Many lawyers and firms practice in a broad range of legal categories. Research those lawyers who focus strictly on immigration issues because they stay on top of immigration law issues, operate exclusively within the immigration arena and may have worked with many of the immigration judges and enforcement officers in the past.
Has been recognized by statewide law organizations: Recognition by such organizations as the Texas Board of Legal Specialization in Immigration and Nationality Law are high-level endorsements that help to affirm the credibility of the lawyer.
Quick tip: While qualified attorneys services will likely cost more, they are worth every penny.
4. Language Services
If you do not speak English or cannot speak it well, it is essential that you find an attorney who can talk with you one-on-one. Having a lawyer that thoroughly comprehends you guarantees that you are both on the very same page with the legal elements of your case and keeps the procedure structured. If your attorney doesn't speak your language, or doesn't have a paralegal able to translate for you, it will be difficult for them to fully understand your needs, hopes, and goals. This can lead to miscommunications and errors that could devastate your case and disrupt your life. Most attorneys' websites will list their language skills and specializations so that you can narrow down your final list without issue. Immigration legal representatives can likewise ensure all licensed files are translated properly from English to your native language
5. Accessibility
Immigration attorneys are very busy – they spend their time balancing client meetings, consultations, and court dates. While they are constantly on the go, you should always feel confident that you can contact your attorney during an urgent situation. If you have trouble initially reaching the law firm, the attorney, or their paralegals, take note – it may be difficult to reach them even if you are a client. This could be a serious problem if you have a legal emergency, like arrest or detainment.
Also, you want to consider an attorney's physical location. During your case, you will likely have to visit their offices several times, maybe even more. Will it be highly inconvenient to travel there? Or will it be a simple and easy trip? Factor location and ease of access into your final decision – these will make your experience less stressful.
6. Schedule A Consultation
When you have developed numerous recommendations for immigration attorneys that meet the requirements as an authentic practicing attorney, schedule appointments with them to discuss their suggestions for your immigration case.
Most law firms will make it very easy for you to contact them either by phone or through their website (or both). Start inquiries and begin to schedule initial consultations with attorneys at each firm. Typically, initial consultations will last roughly 30 minutes. While many reputable immigration law firms will provide free consultations, be prepared to pay a small fee if necessary. The best immigration law firms, like Davis & Associates of Dallas and Houston, Texas, find that a free initial meeting benefits all parties. This meeting is the opportunity for you to present your situation and the lawyer can discuss possible approaches to your case.
When you arrive to your consultation, make sure to bring all materials relevant to your case. Organize and label your information before placing it in a folder. This will make it simple for the consulting attorney to understand and read. That way, you will have as much time as possible to talk with them and ask questions.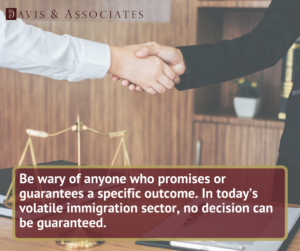 During your initial consultation, you will probably hear some potential options for your case. Be wary of anyone who promises or guarantees a specific outcome. In today's volatile immigration sector, no decision can be guaranteed. Expert attorneys will never mislead you and will explain several likely options based on your case information.
Questions for Immigration Attorneys
Finally, don't be shy when you talk with lawyers and paralegals. Prepare a list of questions for each law firm and make sure you discuss these during your initial consultation. In order to help guide your search, we've included a list of questions below.
How can I contact you during an emergency?
What are your qualifications?
Where did you attend law school?
Do you practice any other types of law?
How many people at your firm speak my language? (if applicable)
How much will your services cost?
Do you charge a flat fee or an hourly rate?


Although some immigration law practices generally charge by the hour, there are some that use a flat rate to prepare and submit your case. It is a good idea to always go with this kind of payment strategy. If the flat rate isn't a choice, request a quote for the quantity of time that is anticipated on your case so you can have a concept of the total expense to you. In addition, payment funding is offered at leading companies!

What are the potential outcomes of my case?
Do you have any previous clients whom I can speak with?
Are you licensed to practice in my state?
Can you provide any recommendations from previous clients?


When you have developed numerous recommendations for immigration attorneys, schedule appointments with them to discuss their suggestions for your immigration case. Ask them to supply you with a number of referrals from previous customers. Any excellent attorney would be more than pleased to provide various recommendations from previous customers.
During and after the free, first-time consultation, ask yourself whether the lawyer demonstrates:
Honesty: Is the attorney answering your questions directly? Does the information provided coincide what you already know? Is the attorney presenting you with a well-considered game plan with specific costs outlined up front?
Compassion and Commitment: Does the attorney seem to care about your case by showing real interest in what you are saying? Is there some clue that the attorney demonstrated genuine compassion when discussing similar past cases? Does the lawyer show respect? One firm, Davis & Associates in Dallas, Texas, actively endorses their internal motto that "Families, not Files" is the most crucial element of their legal practice.
Professionalism: Does the immigration lawyer show real professionalism without dodging specific questions? Is the lawyer open to provide references from past cases? Is the lawyer willing to share their credentials? Does the lawyer's office demonstrate a sense of purpose and permanence?
Clear Communication Skills: Has the lawyer employed a multilingual staff who can help to clarify issues for you, if needed? Is the individual looking directly into your eyes when relaying information? Will the lawyer provide regular updates if you decide to proceed?
7. Take Notes
Throughout your journey, make sure that you take detailed notes. By recording all relevant information you discover, you will make your final decision easier. This is especially true if you plan to meet with several attorneys. Without a doubt, it can quickly become difficult to keep information and data organized without proper notes. When it is time to make a decision, refer to your notes and weigh every option carefully.
During consultations with attorneys, it may be difficult to take notes. You will likely want to pay close attention to everything that they discuss regarding your case. In this instance, consider bringing a friend or family member to your consultation with you. That way, you can focus on your case and they can ensure you have detailed notes for later.
Making Your Final Decision
Last but not least, develop a relationship with your immigration legal representatives. Chances are that this will not be the last time that you require their services. From green cards, to work visas and ultimately naturalization, it is an excellent resource to have a lawyer that understands you and your immigration history.
When you have gathered enough information about your potential attorneys and have talked with them during initial consultations, it's time to make a final decision. Collect all notes and information and consider every aspect of your case. Will your attorney be easy to access? Are they close to your home or place of business? Were they professional and friendly? Did they explain potential outcomes regarding your case? Do they specialize only in immigration law?
When you take your time and consider every option, you can be confident in your decision. Then, you can move forward and begin to build your future!
Contact An Expert Dallas Immigration Lawyer Today
Having a reliable, experienced and credible immigration lawyer to assist you through the process can make all the difference.
With more than a decade of immigration law experience plus the endorsement of the Texas Bar Association and other legal organizations, Davis & Associates concentrates 100% of their efforts on addressing and solving immigration-related legal issues. Multi-lingual and centrally located in the Dallas and Houston Metro area, Davis & Associates offers professional, honest, and compassionate legal support to their clients.
Davis & Associates serve thousands of immigrants throughout Texas and work tirelessly to defend the rights of every client and can help even in the most dire situations. Contact us today – our initial consultations are always free.
---
About Davis & Associates:
Davis & Associates is the immigration law firm of choice in Houston & North Texas including Dallas, Fort Worth, Plano, Frisco, McKinney and surrounding areas. Their attorneys provide expert legal counsel for all aspects of immigration law, including deportation defense, writs of habeas corpus and mandamus, family-sponsored immigration, employment-sponsored immigration, investment immigration, employer compliance, temporary visas for work and college, permanent residence, naturalization, consular visa processing, waivers, and appeals. Attorney Garry L. Davis is Board Certified in Immigration and Nationality Law by the Texas Board of Legal Specialization.
Dallas Contact Info:                                                                                                                                                                                             
Address: 17750 Preston Road Dallas, TX 75252                          
Phone: (469)957-0508                                                                       
Houston Contact Info:                                                                                                                                                        Address: 6220 Westpark Dr, Suite 110, Houston, TX 77057
Phone: (832) 742-0066