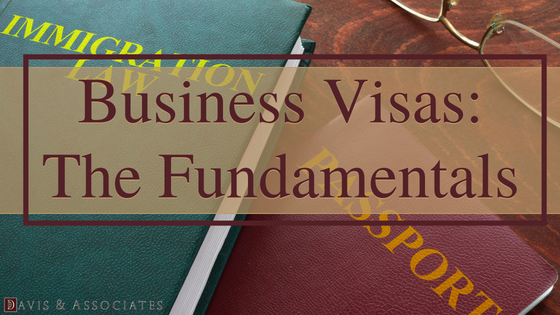 Business Visas: The Fundamentals
For companies looking for business visas, the United States immigration program provides several kinds of work visas to fit the requirements of companies and workers alike.
Nevertheless, when employing foreign nationals, it is crucial that companies and staff members have a clear understanding of the visa program and its procedure.
Here are a few of the most typical business visas in the United States:
H-1B Visa
The H-1B visa is a short-term work visa that is used by foreign nationals with a higher degree and an expertise in a specific field, such as engineering or information technology. By law, only 85,000 H-1B visas can be issued every year.
O-1 Visa
The O-1 visa is only for those with above average capabilities. These people are generally professional athletes or artists, but businesspeople, journalists and other professionals can apply as well. The candidate must display evidence of extraordinary capabilities through awards or publicity for their accomplishments.
L-1A Visa
The L-1A visa is for companies who have to move a supervisor, executive or specialized worker from a foreign company to a U.S. branch. The staff member needs to be with the business for one year.
TN Visa
The TN visa is a work visa developed through NAFTA for Mexican and Canadian employees. It is restricted to specific kinds of positions. It is a more expeditious procedure and is a lower cost option.
EB-5 Visa
The EB-5 visa is a program that supplies long-term U.S. residency based upon the requirements that the candidate make a financial investment in a company of at least $1,000,000 ($500,000 for rural locations) and develop a minimum of 10 American jobs.
Why Use A Business Immigration Attorney?
Our business immigration lawyers are necessary for organizations to make sure that they remain in compliance with all U.S. immigration laws. We help all our companies with all kinds of business visas, green cards, discrimination cases and audits by the federal government. Contact our specialist lawyers today.
About Davis & Associates:
Davis & Associates is the immigration law firm of choice in North Texas including Dallas, Fort Worth, Plano, Frisco, McKinney and surrounding areas. Their attorneys provide expert legal counsel for all aspects of immigration law, including deportation defense, writs of habeas corpus and mandamus, family-sponsored immigration, employment-sponsored immigration, investment immigration, employer compliance, temporary visas for work and college, permanent residence, naturalization, consular visa processing, waivers, and appeals. Attorney Garry L. Davis is Board Certified in Immigration and Nationality Law by the Texas Board of Legal Specialization.
Contact Info:
Davis & Associates
Address: 17750 Preston Road Dallas, TX 75252
Phone: (972) 694-4873