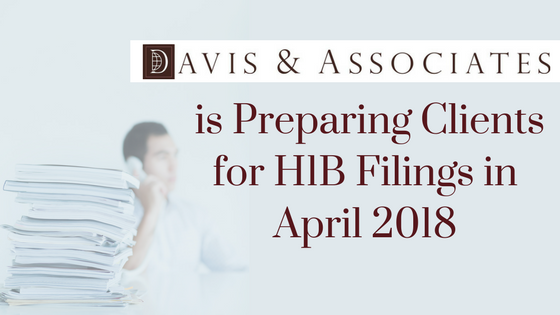 Davis & Associates is Preparing Businesses for H1B Filings in April, 2018
Davis & Associates is already preparing staff and clients for the 2019 H1B fiscal year, officially starting on Monday April 2, 2018 when USCIS begins accepting applications for the next fiscal year.
The number of H1B Visa applications greatly outweighs the quota, or "cap," put in place each year.
For the last four years, this cap has been reached within one week of USCIS accepting applications.
Last year, USCIS gave 65,000 H1B visas to specific skilled workers who met a list of prerequisites and 20,000 visas to skilled workers with Master's Degrees who met the same prerequisites.
However, with scrutiny placed on the H1B program by the current administration, and an immigration plan to be proposed by the Whitehouse in early 2018, American businesses and attorneys are preparing for a tougher H1B process.
Changes to the H1B program could include a lower cap, stricter requirements to be met, or a more expensive or complicated filing process.
Davis & Associates recommends that businesses and individuals counting on H1B sponsorship in 2019 immediately start preparing to file. This includes preparing all paperwork to be submitted, completion of any preliminary paperwork, collection of documents and payments, confirmed sponsor or employees to be sponsored, etc.
The benefits of preparing your H1B petition early are:
getting ahead of any possible changes to the H1B process.
avoiding last minute issues that might arise when submitting an H1B petition.
having the ability to file the first day that new H1B petitions are accepted.
possessing the peace-of-mind that everything is in order ahead of the H1B filing date.
About Davis & Associates:
Davis & Associates is the immigration law firm of choice in North Texas including Dallas, Fort Worth, Plano, Frisco, McKinney and surrounding areas. Their attorneys provide expert legal counsel for all aspects of immigration law, including deportation defense, writs of habeas corpus and mandamus, family-sponsored immigration, employment-sponsored immigration, investment immigration, employer compliance, temporary visas for work and college, permanent residence, naturalization, consular visa processing, waivers, and appeals. Attorney Garry L. Davis is Board Certified in Immigration and Nationality Law by the Texas Board of Legal Specialization.
For more information, please visit https://gldlaw.com/
Contact Info:
Davis & Associates
Address: 17750 Preston Road Dallas, TX 75252
Phone: (214) 628-9888