Guide to Adjustment of Status for U.S. Immigration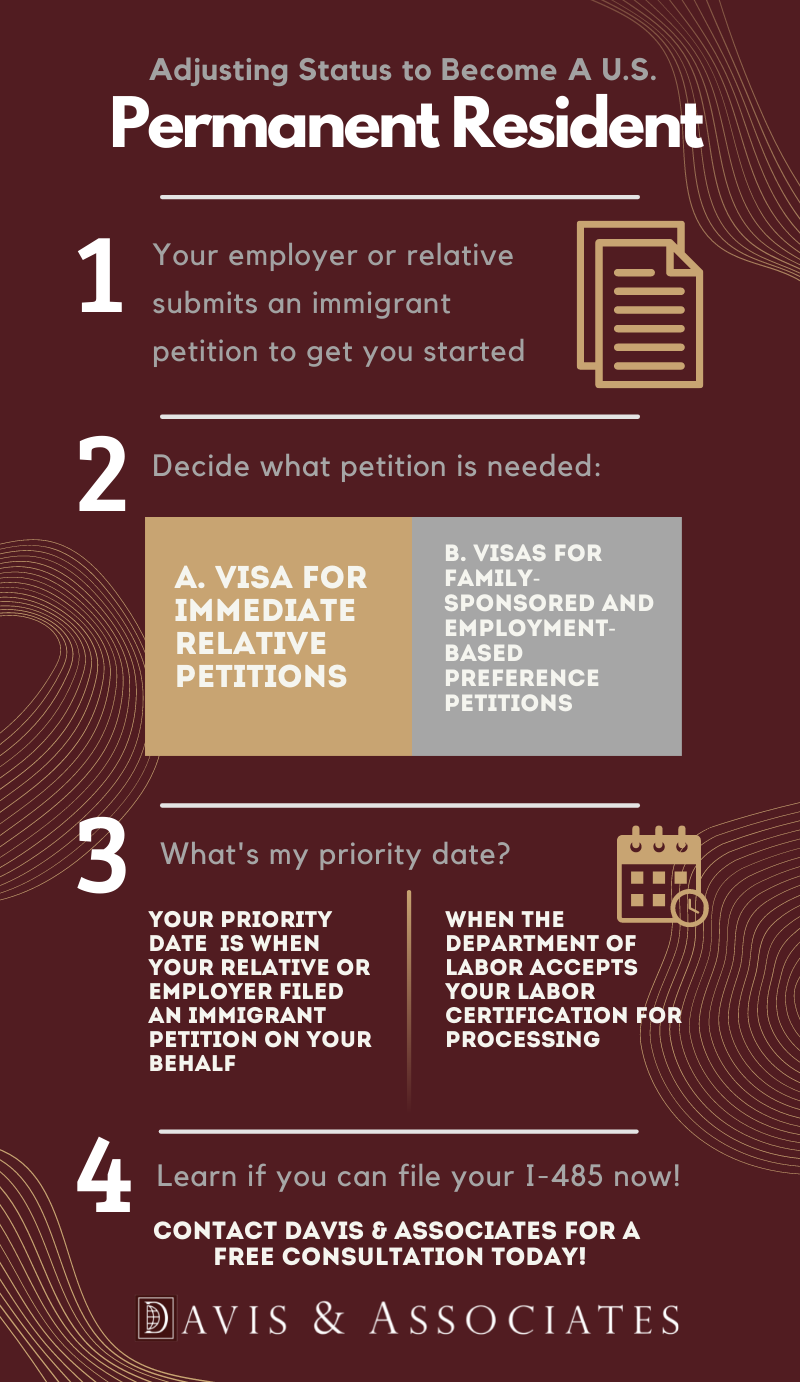 Adjustment of status is the process a non-U.S. citizen can use when they have a valid U.S. visa and want to apply for lawful permanent resident status without leaving the country.
Approval of an application to the U.S. Citizenship and Immigration Services (USCIS) is required to attain an Adjustment of Status to legally remain in the country under a different, more permanent status.
When you're a lawful permanent resident, you'll have a green card.
For example, a non-resident of the United States may arrive as a tourist but wish to change their status to, say, a full-time student to pursue further education.
That individual should immediately apply to the U.S. Citizenship and Immigration Services (USCIS) for an Adjustment of Status. However, it is advisable not to begin attending classes until the application is approved.
However, there are exceptions even in this case of a student Adjustment of Status request.
A spouse or child of individuals with nonimmigrant visas such as diplomats, trade representatives, foreign members of the media, and other approved visitors are not required to apply for a change of status.
Who Can Apply For An Adjustment Of Status?
Any visitor hoping to adjust the current legal status to become a permanent resident must meet very specific requirements.
As part of the Department of Homeland Security, the USCIS has established a broad range of criteria that allow or disapprove an individual's qualifications for Adjustment of Status. Some of the criteria are complicated and subject to interpretation.
In most cases, consulting with an experienced immigration law firm can make the difference between success and failure in achieving the status adjustment.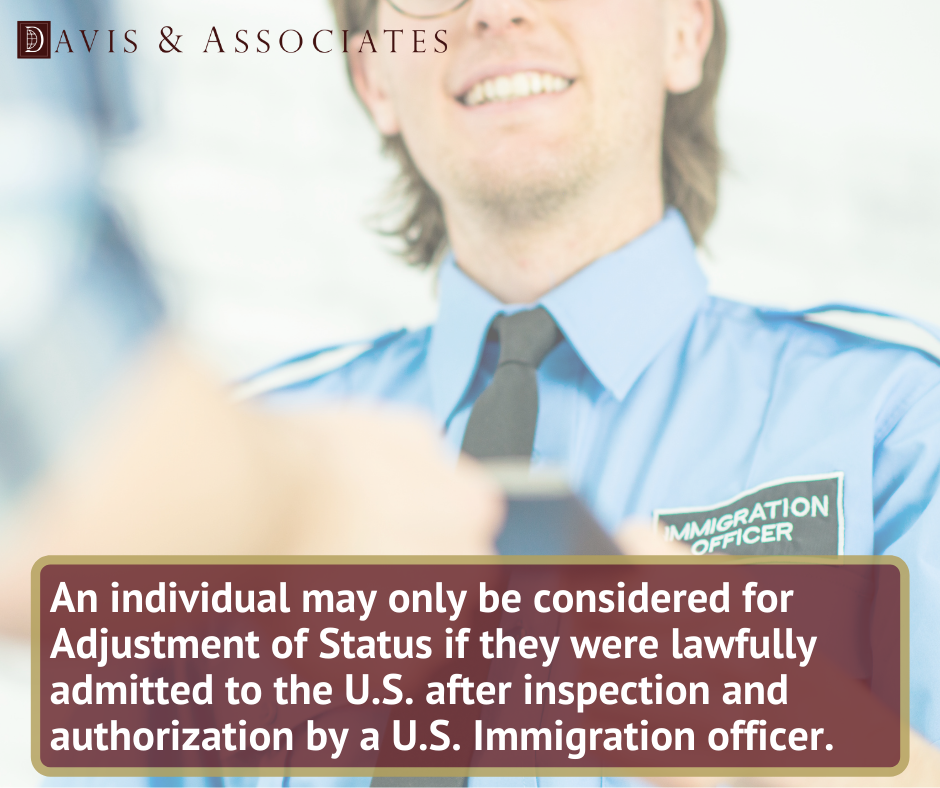 An individual may only be considered for Adjustment of Status if they were lawfully admitted (or used a valid visa or Visa Waiver Program) to the United States after inspection and authorization by a U.S. Immigration officer. Entry by any other means is considered unlawful.
Once an individual enters the country legally after inspection by a U.S. Immigration Officer, they are considered legal for INA (Immigration and Nationality Act) purposes and may be considered for Adjustment of Status.
If an individual has entered the country using false identification, admission is deemed illegal. Therefore, application for Change of Status would not be considered, and the individual is likely to be deported.
Generally, you must be in the United States legally in order to adjust your status.
The most common exception to this rule is when you're married to a U.S. citizen. You can adjust your status even if you overstayed your visa – as long as you originally entered the U.S. with a valid visa or visa waiver.
Adjustment Of Status: The Basics
If you're thinking of going through the adjustment of status process, you need to know how it works. The process generally looks like this:
Determine whether you're eligible to apply for a green card.
File (or have someone else file) your petition.
Check visa availability.
File the appropriate form to adjust your status.
Go to your Application Support Center appointment and your interview (if you require one).
Provide additional evidence if necessary.
Check your case status.
Receive a decision on your petition.
Here's a closer look at each.
1. Determine Whether You're Eligible To Apply For A Green Card.
There are several pathways to applying for lawful permanent residency in the United States, but the eligibility requirements that apply to you will depend on the immigrant category under which you apply. That means you need to find out which category you fit into. Generally, the categories are:
If you're the immediate relative of a U.S. citizen such as a spouse, child or parent of a citizen, or if you fall into another familial relationship, such as a fiancé, widow or widower, brother or sister, you may be able to adjust your status based on the "Family" category.
Specific Immigrant Workers. If you're an immigrant worker, or if you're in the U.S. on a Physician National Interest Waiver or as an immigrant investor, this may be the right category for you. Different types of business immigration require you to meet different criteria.
Special immigrant. Some people are considered special immigrants. These people are religious workers, special immigrant juveniles (children who have been abused, abandoned or neglected by a parent), an Afghanistan or Iraq national, an international broadcaster, an employee of an international organization (or a family member of the employee), or a NATO-6 employee or family member.
Refugee or asylee. If you were granted asylum status or admitted to the United States as a refugee at least a year before you file your petition, you may be eligible to apply for a green card under this category.
Human trafficking and crime victims. If you were a human trafficking victim and have a T nonimmigrant visa or if you were a crime victim who currently has a U nonimmigrant visa, you could be eligible for a green card under this category.
Victims of abuse. To protect battered women, parents, or children who are in the United States as part of the family of a U.S. Citizen or permanent resident, the USCIS may grant a separate Adjustment of Status for an immigration visa to those individuals. In compliance with the Violence Against Women Act, these abused individuals, female or male, may apply for directly and confidentially for permanent residency (Green Card) without the knowledge of the abuser.
Likewise, you may be eligible under this category if you are the abused spouse or child of a Cuban native or citizen, or the abused spouse or child of a lawful permanent resident who received his or her green card based on the Haitian Refugee Immigrant Fairness Act, or HRIFA.
Filing for permanent resident status by a battered family member requires the completion of a Form I-360. This Adjustment of Status usually applies if the battered family member resides in the United States. Alternatively, the law can also apply to individuals who are living overseas as the spouse or unmarried child of a U.S. Military member, an employee of the U.S. Government or are overseas after having received the abuse while they were residing in the United States.
With an approved I-360 application, the individual may secure employment and even be qualified to apply for permanent residency (Green Card).
People who have resided continuously in the United Stance since before January 1, 1972 are sometimes eligible to register for a green card.
Other categories. There are several other categories of people who are eligible to apply for green cards, including those in the U.S. under the Liberian Refugee Immigration Fairness (LRIF) Act, the Cuban Adjustment Act, the Diversity Immigrant Visa Program, the Indochinese Parole Adjustment Act of 2000, a Lautenberg parolee, an American Indian born in Canada, a person born in the U.S. to a foreign diplomat, or a diplomat. Your immigration attorney can give you further guidance on each of these categories.
If you're applying as a spouse or immediate relative of a U.S. citizen, there is a green card available for you – you don't need to check whether there is one available. However, in all other categories, you must make sure there is a green card available for you at the time you apply.
2. File (Or Have Someone Else File) Your Petition.
You or someone else will have to file a petition with the U.S. government in order to apply for a green card. In some cases, you can file your own petition; in others, your sponsor – the person or entity responsible for you – must do so. Most people have to file at least two forms, with the most common being:
Form I-130, Petition for Alien Relative
Form I-140, Immigrant Petition for Alien Worker
Form I-730, Refugee/Asylee Relative Petition
Form I-589, Application for Asylum and for Withholding of Removal
Your attorney will give you the right guidance for your case. Usually, you must have an approved immigrant petition (such as one listed here) before you can file Form I-485, Application to Register Permanent Residence or Adjust Status. In some cases, you can file the Form I-485, which is the one that asks the government to give you a green card, at the same time you file your immigrant petition or while your immigrant petition is pending. (This is called concurrent filing, but it's only available in specific cases.)
3. Check Visa Availability.
For the most part, you can't file a Form I-485 to adjust your status until a visa is available in your category. There are some exceptions, which your attorney can explain to you. These exceptions vary based on your immigration category.
4. File Form I-485.
Form I-485 is the only form you can use to ask the U.S. government to adjust your status and make you a lawful permanent resident. Your attorney can fill out and file the form for you.
 5. Go To Your Application Support Center Appointment And Your Interview (If You Require One).
If you're like most people, you'll have to attend a biometrics services appointment at your local Application Support Center, or ASC. You'll provide your fingerprints, photograph and signature. You'll also have to sign an acknowledgement that certifies that you reviewed all the information in your application and that it's all true, complete and correct. If you don't sign the acknowledgement, the U.S. government may deny your Form I-485.
You may also have to attend an immigration interview. USCIS officials will review your case to determine whether you have to be interviewed. If USCIS does determine that you need to be interviewed, you'll receive a notice in the mail that tells you when and where to show up. During your interview, you'll have to answer questions while you're under oath or affirmation. The questions will be related to your I-485 petition. You should bring originals of all the documentation you submitted with your application, which might include passports, Form I-94 and official travel documents. Your attorney can tell you what else you need to bring if you must attend an interview with USCIS.
6. Provide Additional Evidence If Necessary. 
Sometimes USCIS needs more information to make a decision on your adjustment of status petition. The agency might send you a request for additional evidence if you left something out, the evidence that you did submit is no longer valid, or if the officer in charge of your case needs more information to determine whether you're eligible for a green card. If USCIS sends you a request for additional evidence, the letter you receive in the mail will tell you what type of evidence to send (and where to send it). You'll also have a deadline to meet. If you don't respond in time, the officer might deny your Form I-485.
7. Check Your Case Status.
You can check your case status online or call the USCIS Contact Center to find out where your Form I-485 is on its journey through the application process. You'll have to provide your receipt number if you check your case status online. If you call, you may have to provide your receipt number, your A-Number, name and date of birth.
8. Receive A Decision On Your Petition. 
You'll receive a written decision notice in the mail when USCIS makes a decision on your adjustment of status case. If USCIS approves your petition, you'll receive an approval notice in the mail and your green card won't be far behind. If USCIS denies your petition, your decision notice will tell you why your petition was denied and whether you have a chance to appeal the decision. You usually can't appeal an adjustment of status decision, but you might be able to file a motion to reopen the case or have officials reconsider it. If you receive a denial, you should talk to your attorney about your options.
How Long Does It Take To Adjust Your Status In The United States?
It can take quite some time to adjust your status and get a green card in the U.S. It depends on the type of green card you're applying for, the location of the processing office and several other factors. It usually takes between seven months and three years to get a green card after the application is complete. Family based visas can take a long time, ranging between one and ten years; employment based green cards can take as little as a year (for visas that have low demand) or more than six years (for visas that have high demand).
Yearly Caps
There are different types of family based green cards, and some are limited. That means that the U.S. government says only so many people are allowed to apply for and receive these visas each year. If you apply before the yearly cap is reached, your application will be processed for the year in which you applied. However, if you apply after the yearly cap is reached, you'll be processed the following year (or the year after that – it depends on when your place in line comes up). Some people wait for these types of green cards for years.
Employment based green cards are also subject to yearly caps. They're processed on a first-come, first-served basis, and the waiting times for processing vary based on the demand for each type of visa.
For most people, the best course of action is to work with an experienced immigration attorney who understands adjustment of status petitions and how the laws apply in various situations.
Contact An Experienced Immigration Law Firm For Assistance
United States Immigration Law and Adjustment of Status processes are complex. An applicant's success may depend on how the applications are prepared and presented. The best advice, in any situation, is to work with a professional legal firm that understands immigration law and knows how previous applications for Adjustment of Status have succeeded.
---
About Davis & Associates:
Davis & Associates is the immigration law firm of choice in Houston & North Texas including Dallas, Fort Worth, Plano, Frisco, McKinney and surrounding areas. Their attorneys provide expert legal counsel for all aspects of immigration law, including deportation defense, writs of habeas corpus and mandamus, family-sponsored immigration, employment-sponsored immigration, investment immigration, employer compliance, temporary visas for work and college, permanent residence, naturalization, consular visa processing, waivers, and appeals. Attorney Garry L. Davis is Board Certified in Immigration and Nationality Law by the Texas Board of Legal Specialization.
Dallas Contact Info:                                                                                                                                                                                             
Address: 17750 Preston Road Dallas, TX 75252                          
Phone: (469)957-0508                                                                       
Houston Contact Info:                                                                                                                                                        Address: 6220 Westpark Dr, Suite 110, Houston, TX 77057
Phone: (832) 742-0066