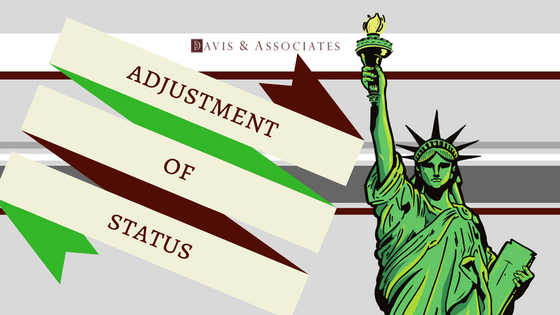 What is An Adjustment of Status?
Adjustment of Status
Adjustment of Status is a request by a non-US Citizen, currently within the United States, to become a lawful permanent resident. Approval of an application to the U.S. Citizenship and Immigration Services (USCIS) is required to attain an Adjustment of Status to legally remain in the country under a different, more permanent status.
For example, a non-resident of the United States may arrive as a tourist but wish to change their status to, say, a full-time student to pursue further education. That individual should immediately apply to the U.S. Citizenship and Immigration Services (USCIS) for an Adjustment of Status. However, it is advisable not to begin attending classes until the application is approved.
However, there are exceptions even in this case of a student Adjustment of Status request. A spouse or child of individuals with nonimmigrant visas such as diplomats, trade representatives, foreign members of the media, and other approved visitors are not required to apply for a change of status.
Section 245 Requirements for Adjustment of Status
An individual may only be considered for Adjustment of Status if they are lawfully admitted to the United States after inspection and authorization by a U.S. Immigration officer. Entry by any other means is considered unlawful.
Once an individual enters the country legally after inspection by a U.S. Immigration Officer, they are considered legal for INA (Immigration and Nationality Act) purposes and may be considered for Adjustment of Status.
If an individual has entered the country using false identification, admission is deemed illegal. Therefore, application for Change of Status would not be considered, and the individual is likely to be deported.
Any visitor hoping to adjust the current legal status to become a permanent resident must meet very specific requirements. As part of the Department of Homeland Security, the USCIS has established a broad range of criteria that allow or disapprove an individual's qualifications for Adjustment of Status. Some of the criteria are complicated and subject to interpretation.
In most cases, consulting with an experienced immigration law firm can make the difference between success and failure in achieving the status adjustment.
Section 245
Section 245 lays out conditions under which an alien may be considered for an adjustment of status for permanent residency. An alien who has been inspected, admitted, or paroled into the United States or is a VAWA (Violence Against Women Act) victim can receive status adjustment if:
They have applied for adjustment of status.
They are deemed eligible for an immigrant visa and are admissible for permanent residency.
An immigrant visa is immediately available at the time of application. The United States limits the number of immigrant visas available in any given year. There is often a waiting list.
VAWA Considerations
To protect battered women, parents, or children who are in the United States as part of the family of a U.S. Citizen or permanent resident, the USCIS may grant a separate Adjustment of Status for an immigration visa to those individuals. In compliance with the Violence Against Women Act, these abused individuals, female or male, may apply for directly and confidentially for permanent residency (Green Card) without the knowledge of the abuser.
Filing for permanent resident status by a battered family member requires the completion of a Form I-360. This Adjustment of Status usually applies if the battered family member resides in the United States. Alternatively, the law can also apply to individuals who are living overseas as the spouse or unmarried child of a U.S. Military member, an employee of the U.S. Government or are overseas after having received the abuse while they were residing in the United States.
With an approved I-360 application, the individual may secure employment and even be qualified to apply for permanent residency (Green Card).
Parole Status
Parole is entering the United States without being officially admitted. This condition is discretionary and may be allowed for humanitarian purposes, as family members of active or recently separated military, or in a situation known as Advance Parole.
Advance Parole is a travel document that allows an individual to depart for international destinations and to return, seeking parole back into the United States. Examples of an Advance Parole Adjustment of Status are for individuals with Temporary Protected Status, Deferred Action Status for Childhood Arrivals, and persons awaiting approval for Adjustment of Status.
Contact an Experienced Immigration Law Firm for Assistance
United States Immigration Law and Adjustment of Status processes are complex. An applicant's success may depend on how the applications are prepared and presented. The best advice, in any situation, is to work with a professional legal firm that understands immigration law and knows how previous applications for Adjustment of Status have succeeded.
About Davis & Associates:
Davis & Associates are the immigration attorneys of choice in North Texas including Dallas, Fort Worth, Plano, Frisco, McKinney and surrounding areas. Their attorneys provide expert legal counsel for all aspects of immigration law, including deportation defense, writs of habeas corpus and mandamus, family-sponsored immigration, employment-sponsored immigration, investment immigration, employer compliance, temporary visas for work and college, permanent residence, naturalization, consular visa processing, waivers, and appeals. Attorney Garry L. Davis is Board Certified in Immigration and Nationality Law by the Texas Board of Legal Specialization.