Immigration and Naturalization Services in Dallas and Houston, Texas
The U.S. government requires immigrants and people who wish to become naturalized citizens to fill out and file paperwork, submit to immigration interviews, pass background checks and, in the case of citizenship, swear an oath of allegiance to the United States.Many people turn to attorneys for immigration and naturalization services that help them through the process of applying for visas, green cards and naturalized citizenship through the U.S. Citizenship and Immigration Services, which is a component of the Department of Homeland Security.
Immigration and Naturalization Services From an Immigration Attorney
Attorneys can provide a wide range of immigration services to people who wish to immigrate to the U.S. and businesses that need to hire foreign workers, including:
Visas
Family immigration
Business immigration
Deportation defense
Appeals
Asylum and refugee petitions
Individuals, families and businesses can all petition the government for entry into the U.S., and individuals can ask to become naturalized citizens. If you think you may need help immigrating to the United States, you may want to talk to an attorney about immigration and naturalization services that could be helpful to you.
Family Immigration and Naturalization Services
For many people, the best way to get a visa or green card is through family sponsorship. The caveat is that one family member must be a U.S. citizen or lawful permanent resident. Some of the most common types of family immigration and naturalization services an attorney can provide include green cards through marriage, fiancé visas and petitions for the children of U.S. citizens or lawful permanent residents.
Business Immigration Services
Some U.S. companies are eligible to hire foreign workers under special immigration programs. Companies must meet strict requirements to qualify for these programs, and they must offer specialty jobs that they can't fill with U.S. citizens.
In many cases, the best course of action for a company that wants to hire foreign workers is to work with an attorney who offers specific immigration services related to businesses.
Deportation Defense and Appeals
Deportation is serious – and it can result in a person being barred from reentering the United States. If you've received a notice that you're about to undergo removal proceedings (commonly called deportation), it may be in your best interest to work with a deportation defense attorney. Similarly, if an immigration judge has made a decision about your case that you disagree with, you may want to work with a lawyer who can help you file an appeal.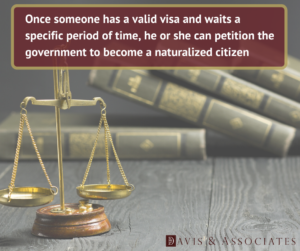 Special Petitions
There are several types of petitions people can file to gain entry into the United States. Once someone has a valid visa and waits a specific period of time, which can vary based on the type of visa the person holds, he or she can petition the government to become a naturalized citizen.
Some special petitions include those involving asylum or refugee status, abused spouse petitions and DACA petitions.
Do You Need to Talk to a Lawyer About Immigration and Naturalization Services?
If you need to talk to an attorney about immigration and naturalization services, we may be able to help. Call us today for your free consultation.