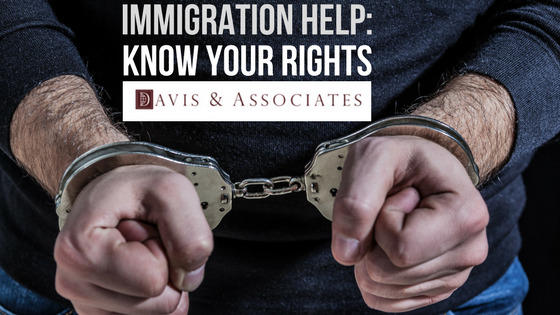 Immigration Help: Know Your Rights
In these uncertain and fast-changing times, preparing for the unexpected is crucial. The rights of immigrants today may be challenged without notice and, in many cases, the result can range from difficult to devastating for the families. These families need immigration help.
How Can You Protect Yourself?
It is important to know and be current with legal activities that can affect your status. Immigration law and enforcement in the United States are changing as states like Texas take a far more aggressive approach to immigration status. Legal protection has become more necessary.
An important first step to understanding your rights is to seek professional immigration help from a certified Immigration Lawyer.
Legal Rights of Immigrants & Immigration Help
The United States Constitution provides rights for anyone living within the borders of the United States. The Fourteenth Amendment has long been upheld to provide Constitutional protection for everyone, not just citizens.
The Fourteenth Amendment states, among other things, that no person within the nation shall be deprived of "life, liberty, or property" without the due process of law.
Even as an undocumented immigrant, you have the right to legal counsel. Also, no individual can be denied equal protection under the law.
The American Civil Liberties Union, which advocates for the rights of every resident, believes that when the government infringes on the Constitutional Rights of immigrants, they have imposed on the rights of all individuals, whether they are citizens or not.
The ACLU also advises that, in 2013, 83% of the people who were deported from the U.S. were not given an opportunity to plead their case before a judge. This was likely because of a lack of proper preparation and awareness of their legal rights.
Current Debate on Immigrant Rights
Public commentators and some politicians believe that the 14th Amendment should only pertain to United States citizens, natural-born or naturalized, and not to legal or undocumented immigrants. The 2016 Presidential Election brought many of these issues to the forefront, leaving many people uncertain of their future.
As recently as 2001, the United States Supreme Court ruled that due process or legal protection of rights apply to all immigrants, even those who are in the country unlawfully, in transit, or involuntarily.
Several years prior, in a case related to the State of Texas, the United States Supreme Court concluded that all children, even those who are present unlawfully, must attend public elementary school the same as lawful citizens. Other court cases have ruled that all residents, documented or not, should enjoy the same protections as everyone else in the United States.
Established Rights
Resident and undocumented immigrants are granted specific legal rights. Some of these are:
Right to defend yourself in court: Everyone is entitled to defend themselves in court against legal claims and even deportation.

Right to seek legal counsel- When approached by law enforcement, you have the right to a lawyer. Experienced immigration help by a competent attorney who understands the current climate and interpretation of regulations is necessary to defend you properly. Your case will likely receive closer scrutiny and review as a result.
Right to a jury trial
Right to sue for discrimination or other reason in a federal court- No one, including existing or potential employers, may discriminate against you because of your religion, race, or nationality.
Protection from search and seizure without a warrant
Protection against self-incrimination
Right to Defense Against Removal- Authorities cannot legally deport you without a hearing, even if you entered the country illegally. They must allow you the right to a hearing in front of an immigration judge of the Executive Office for Immigration Review.
Same rights as fellow workers if legally employed.
No Right to Work Protection
Currently, all employers are required to determine your legal status at the time of hire. Undocumented workers are not legally allowed to work in the United States. The law requires you hold a Green Card, Visa with Work Privileges, work permit, or a naturalization document.
Never use false documents to acquire work as this is illegal and will count against your chances for legal residency later.
Find Immigration Help with Davis & Associates in Dallas
Having legal immigration help is vital. Situations are changing, and more immigrants are being challenged to justify remaining in the United States.
Davis & Associates is the immigration law firm of choice in North Texas including Dallas, Fort Worth, Plano, Frisco, McKinney and surrounding areas. Their attorneys provide expert legal counsel for all aspects of immigration law, including deportation defense, writs of habeas corpus and mandamus, family-sponsored immigration, employment-sponsored immigration, investment immigration, employer compliance, temporary visas for work and college, permanent residence, naturalization, consular visa processing, waivers, and appeals. Attorney Garry L. Davis is Board Certified in Immigration and Nationality Law by the Texas Board of Legal Specialization.