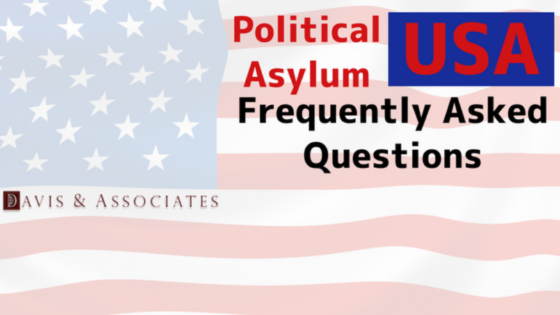 Political Asylum USA: Frequently Asked Questions
The United States Citizenship and Immigration Service (USCIS) is sensitive to the plight of foreign nationals who may be exposed to harassment, discrimination, or unfair persecution based on race or religious discrimination, nationality, or political and social association in their home countries. For those who are currently present in the United States, and can show that returning to their home country can expose them to danger, seeking political asylum USA to remain may be the safest route.
Certain restrictions apply to political asylum. If you have participated in the persecution of others, committed severe crimes, pose a security danger while in the United States, and more, you may not be eligible. You will find it necessary to consult with a qualified immigration lawyer before applying for asylum in the USA.
Political Asylum USA: Affirmative
The core criteria for seeking political asylum is to prove that you have a reasonable fear that returning to your country of residence can result in persecution, imprisonment, or punishment at the hands of certain individuals or the current government.
If you and your immediate family have already been in the United States for less than one year and believe your circumstances fit the profile of reasonable fear of returning to your country of residence, you can apply for political asylum using Form I-589 Application for Asylum or for Withholding of Removal.
Political Asylum USA: Defensive
In some cases, individuals may already be scheduled for removal from the United States, but are exposed to the danger of punishment or torture if they return to their home country. In these situations, Immigration and Customs Enforcement officials may refer the individual to an asylum officer to determine if the individual is "more likely than not" to be persecuted when they return. If the asylum officer determines there is a potential for danger, individuals will have the opportunity to seek a deferral of removal judgment before an immigration judge.
[youtube https://www.youtube.com/watch?v=3uaKfnPEz3o]
Frequently Asked Questions Regarding Political Asylum USA
Is there an Interview?
The USCIS screening process involves answering questions and providing proof of potential endangerment if you return to your country. Applicants should bring their spouse and any children if present. You may also bring an immigration attorney or an interpreter for assistance. It is essential that you understand and respond to each question as accurately as possible.
What is "credible fear" of persecution or torture?
You must establish a significant possibility that you will be persecuted or tortured if you return to your former country of residence.
Should I bring an interpreter with me for the Asylum Office interview?
If your English comprehension is limited, you should bring an interpreter. The Asylum Office does not provide interpreters.
If my family is currently outside the United States, can I bring them in also?
Only after you are officially granted asylum can you bring family members to the United States. Once asylum USA is granted, you can petition to bring your spouse and qualified children to the United States by completing an I-730 Petition form.
Can I apply for a Green Card (permanent residency) once I am granted political asylum?
An asylum grantee may apply for permanent residency one year after being granted political asylum.
I have been denied asylum in the United States before. May I apply again?
No, you cannot apply again unless the circumstances have changed significantly. It is best to consult with a qualified and experienced immigration lawyer to review your situation.
What happens if I should miss my scheduled Immigration Court hearing?
The Judge will likely order your removal from the United States. If you find you need an immigration lawyer, the Judge may allow you more time to find one to represent your case more effectively.
Contact Davis & Associates in Dallas, TX
The highly respected and award-winning immigration law firm of Davis & Associates has worked extensively with political asylum USA cases and understand the complexities of the political asylum process. An accurately completed application and well-presented responses during the asylum office interview and in immigration court proceedings can make the difference between success and failure in an asylum case.
Davis & Associates, directed by the lead immigration attorney,  Garry L. Davis, offers a free initial consultation to discuss your case. In this initial meeting, you will have a chance to visit with and decide whether you are comfortable with proceeding with this multilingual and dedicated immigration law firm.
For more information about asylum USA and to schedule your free initial consultation, visit the Davis & Associates Contact Us Page.
Because immigration issues are top-of-mind today, you may also visit the Davis & Associates "Articles" section to learn more about the changing environment for recent arrivals.
If you want to schedule a free consultation by phone, call the Davis & Associates' office number is 1-(214)-628-9888.
About Davis & Associates:
Davis & Associates is the immigration law firm of choice in North Texas including Dallas, Fort Worth, Plano, Frisco, McKinney and surrounding areas. Their attorneys provide expert legal counsel for all aspects of immigration law, including deportation defense, writs of habeas corpus and mandamus, family-sponsored immigration, employment-sponsored immigration, investment immigration, employer compliance, temporary visas for work and college, permanent residence, naturalization, consular visa processing, waivers, and appeals. Attorney Garry L. Davis is Board Certified in Immigration and Nationality Law by the Texas Board of Legal Specialization.