5 Interesting Texas Immigration Facts
5 Interesting Texas Immigration Facts
The Lonestar State is known for many things. Throughout the years, Texas' history and population have been molded by the influence of Central America and immigration. Currently, immigration is hot topic in United States (U.S.) politics. It is the second most important issue for American voters, following only health care, according to an Associated Press (AP)survey consisting of roughly 90,000 participants. In total, 23% of all respondents named immigration as the "most important issue."[1]
According to the Pew Research Center, America's immigrant population is larger than any other country.[2] Immigration positively influences nearly every aspect of American life, from the economy to culture and the arts. Thus, it's important for U.S. citizens and immigrants to understand immigration data, both across the country and within their home state. Considering this, we've collected some interesting facts about immigration in Texas. Continue reading for our 5 most interesting facts about immigration in Texas.
As a note, this article sourced information and data from two trustworthy institutions: the Migration Policy Institute (MPI) and the American Immigration Council (AIC). Thanks to these organizations, we have easy access to trustworthy and useful data regarding Texas and immigration. If you'd like to read more, follow the embedded links within this post.
1.   In 2016, 17% of Texas' population was foreign born.
The entire population of Texas consists of nearly 28 million people. Of that, 17% or nearly 4.8 million are foreign born. This represents a 90% increase in the foreign-born Texas population since 1990. At that time, only 9% of Texans were foreign born, while 91% were U.S. born. Further, Figure 1 illustrates the current population characteristics in Texas.
Figure 1. Percentage of Foreign- and U.S.-Born Texans, 2016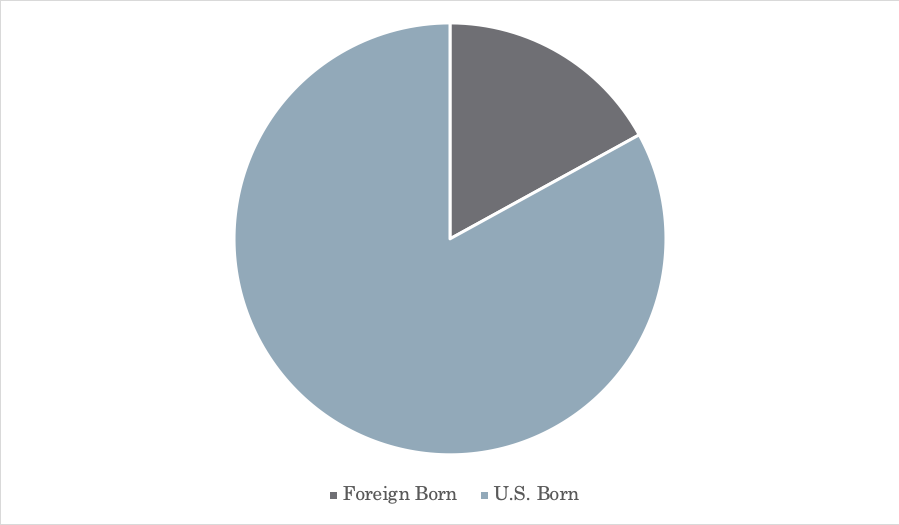 Source: Migration Policy Institute
Considering foreign-born Texans only, nearly 69% are from Latin America. This includes countries from Central and South America, Mexico, and the Caribbean. In 2000, the percentage was slightly higher, with 75% of Texan immigrants arriving from Latin America. It appears that this is largely due to the influx of African and Asian immigrants to Texas.
Figure 2 charts population growth amongst foreign-born Texans, separated by region of birth. Please note, due to slower population growth and smaller overall populations, immigrants from Europe, Northern America (i.e., Canada, Bermuda, Greenland), and Oceania were not included in Figure 2.
Figure 2. Population Growth of Foreign-Born Texans by Place of Birth, 1990-2016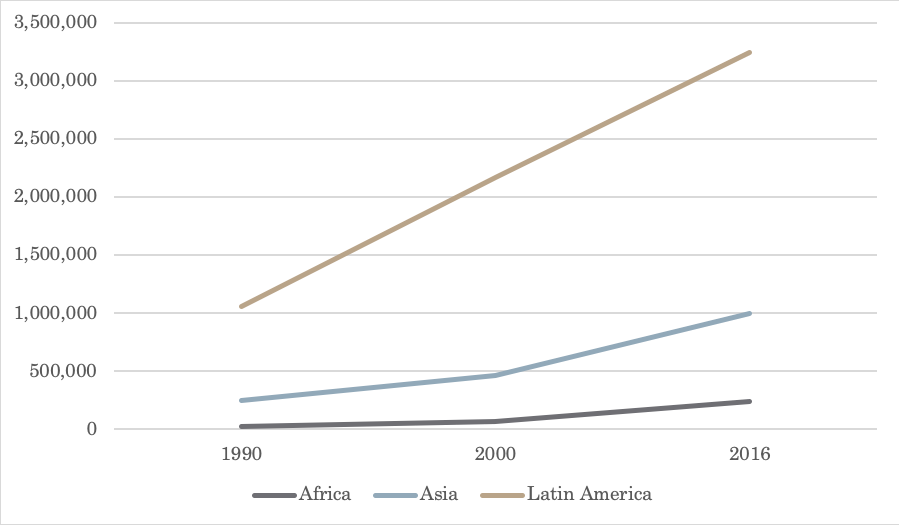 Source: Migration Policy Institute
According to the AIC, households led by immigrants contributed billions of dollars to both the federal and state economies in 2014. Federal taxes collected totaled $20.4 billion, while state and local taxes totaled $8.7 billion. Further, undocumented immigrants add an additional $1.6 billion in state and local taxes. And that's in 2014 alone!
The picture becomes even more impressive when you consider immigrant entrepreneurs. This class of immigrants, comprised of over 361,000 individuals, creates an estimated $8.1 billion in business income yearly. Immigrant entrepreneurs account for over one quarter of total Texan entrepreneurs, according to the AIC. For example, in Dallas-Fort Worth, roughly 23% of business owners are immigrants!
4.   Over 110,000 Texas residents are Deferred Action for Childhood Arrivals (DACA) beneficiaries.
Since its creation in 2012, roughly 800,000 DREAMers have benefited from the DACA program. Unsurprisingly, Texas houses a large portion of DREAMers. In 2016, over 140,000 young people eligible for the program had applied. Over 35,000 more immigrants will become eligible for DACA as they age, according to the AIC.
DACA recipients benefit Texas' economy, as well. In 2016, employed DACA beneficiaries paid over $313 million in local and state taxes.
Finally, it's important to highlight the integral role that immigrants play in Texas' labor market. According to the AIC, roughly 21.9 million workers in Texas were immigrants in 2015. In total, this equaled roughly 21.6% of the entire labor force.
In 2015, the five industries or fields that contained the most immigrant workers were: construction, manufacturing, accommodation and food services, retail, and health care and social assistance. For example, in the Construction industry, over 38.3% of workers were foreign-born.
Conclusions
Like America, Texas depends on immigration and diversity. Thus, foreign-born Texans play a critical role in the success of the Lonestar State. But current events in the U.S. can leave immigrants and their families feeling concerned, scared, or uncertain of the future.
In conclusion, if you are worried about deportation, asylum proceedings, or any other immigration issue, you should consult an expert immigration attorney. Therefore, only an attorney registered and certified by your state's bar association can provide you with the level of expertise required. Based in Dallas, Davis & Associates protects the rights of Texans daily. In short, call us today to schedule a free initial consultation.
Sources
Data and statistics were sourced from two locations, which are linked below. To read more about immigrants and their vast impact on Texas, read further: