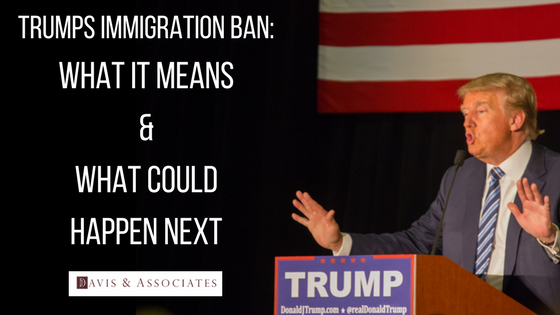 Trump's Immigration Ban: What It Means and What Could Happen Next
During his presidential campaign and after a successful election, Donald J. Trump frequently targeted immigration as the nation's greatest threat to both security and job availability for existing U.S. citizens. His campaign rallies were frequently punctuated by crowd chanting and enthusiastic support from his supporters for bolder measures supporting an immigration ban with substantial force, particularly from Islamic Middle East and from Mexico.
Much of the candidate's narrative involved cracking down on immigration and mass deportation of "illegal" aliens.
As we are well aware, the promise to build a wall financed by the Mexican government remains in place, though Mexico's President Nieto firmly denies this will ever happen.
President Trump's First Immigration Ban
To this end, now as the newly elected president, Mr. Trump continues to make aggressive statements about an immigration ban. On January 27, 2017, President Trump issued an executive order barring entry to the United States by foreign nationals from any of seven specific countries in the Middle East. These countries were Iraq, Syria, Sudan, Iran, Somalia, Libya, and Yemen. The ban affected many individuals who had already been approved for travel to the United States who were, in fact, in transit.
The order also prohibited entry of all refugees for 120 days, while Syrian refugees would be banned from entering the United States indefinitely.
Exceptions to this order included those with "diplomatic visas, NATO visas, C-2 Visas for traveling to the United Nations, and G1, G2, G3, or G4 visas."
Purpose of the Executive Order
As stated in the official presidential order, the rationale of the ban was to protect American citizens from individuals who may be entering the country from those nations during the defined period to plot and "commit terrorist acts.". In detail, the order intended to exclude persons who:
bear hostile attitudes toward the United States and its principles
do not support the United States Constitution
place violence over American law
engage in acts of bigotry or hatred or violence against women
persecute those with different religions
would oppress Americans
This central theme led to the general descriptions of stricter vetting of all prospective travelers to the United States that would be implemented in the future.
Citizen Protests
The first result was substantial confusion, particularly in airports among travelers who were rejected and stranded. Subsequently, Americans who were offended by the executive order began to demonstrate in and around airports and some government buildings citing the immigration ban as un-American and in conflict with the traditions of the United States. References to the fact that all but a few citizens are, in fact, immigrants or descendants of immigrants have been a dominant theme among the protesters.
Legal Challenges
Within days, Washington State Attorney General Bob Ferguson filed a complaint in the State of Washington to rule on the legitimacy and constitutionality of the immigration ban. He asked for an immediate restraining order to suspend implementation of the order. The states involved, Washington and Minnesota, argued that the restrictions cause harm to universities, businesses, and individuals. Also, the arguments against the immigration ban cited discrimination against a particular group of people, Muslims, from entering the country because of their religion.
U.S. District Court Judge James Robart issued a restraining order against the implementation of the order.
Subsequently, the case was brought before the 9th Circuit Court of Appeals. Their unanimous ruling upheld the prior court ruling to suspend the immigration ban.
Latest News: February 16, 2017
On Thursday, February 16, the Justice Department advised that there would be no more challenges to the court judgments that effectively stopped President Trump's original executive order. In their statement, the Department wrote at length about the "seriously flawed" ruling by the Ninth Circuit Court.
According to news reports, a new executive-ordered immigration ban will be issued very soon that, the report says, addresses the Constitutional concerns that have been raised by the prior ruling.
The immigration ban story continues.
Davis & Associates is the immigration law firm of choice in North Texas including Dallas, Fort Worth, Plano, Frisco, McKinney and surrounding areas. Their attorneys provide expert legal counsel for all aspects of immigration law, including deportation defense, writs of habeas corpus and mandamus, family-sponsored immigration, employment-sponsored immigration, investment immigration, employer compliance, temporary visas for work and college, permanent residence, naturalization, consular visa processing, waivers, and appeals. Attorney Garry L. Davis is Board Certified in Immigration and Nationality Law by the Texas Board of Legal Specialization.