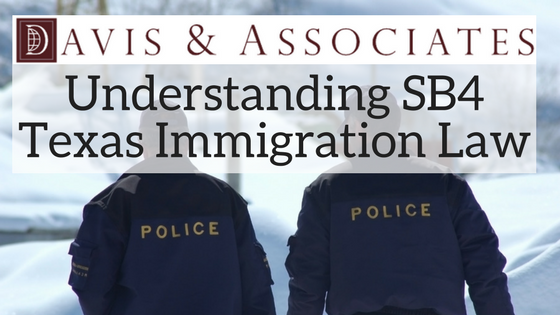 Understanding SB4 Texas Immigration Law
Given the rumors and dialog surrounding immigration matters and the status of undocumented immigrants, separating fact from fiction is essential. The rhetoric that began with the 2016 U.S. election has grown into an ongoing debate over the future of Dreamers, has heightened search and deportation activity, and given birth to state laws that many feel will infringe on the rights of residents.
The subject of "sanctuary cities" has become a central issue in these debates as the recently elected president has threatened to eliminate these through the withdrawal of federal funds and other actions.
Similarly, with the encouragement of the current governor, the Texas legislature has taken aggressive steps to discourage cities from becoming sanctuaries and are threatening to remove support from those municipalities that do not assist in tracking down and detaining undocumented immigrants.
What is SB4?
Passed by the Texas legislature in May 2017, Texas Senate Bill 4 (also known as SB4 Texas) was designed to facilitate the identification, detention, and possible deportation of undocumented immigrants. The new law, meant to take effect on September 1, 2017, provided several measures that would increase the scrutiny and enforcement of immigration laws.
While attempting to eliminate sanctuary cities by requiring local officials to cooperate fully with federal immigration officials, law enforcement will be empowered to request proof of legal residency from individuals during any lawful stop or arrest.  Although police are not required to question every person they detain, they will have the legal right to do so under SB4 Texas.
Opponents of this "show me your papers" authority have claimed that the result will be a rampant increase in racial profiling and crime.
According to a Texas Tribune report, crime could increase substantially as witnesses and victims of criminal acts dread direct contact with law enforcement. Many worry that they or members of their family will be subject to intense scrutiny whenever they report a crime.
SB4 Texas and Sanctuary Cities
The new legislation cracks down on cities and officials who do not actively support federal immigration authorities in the search for and detainment of potential undocumented immigrants. One report by NBC News outlines five ways that the law can punish those who do not assist.
In summary, these are:
City council members, local sheriffs, prosecuting attorneys, and college campus security personnel are to take part in cooperating with designated immigration law enforcement officials.
Any official, elected or appointed, can be removed if they refuse to cooperate completely.
Individuals are encouraged to report any official or staff member suspected of overlooking immigration violations.
As mentioned, victims and witnesses can be asked about their immigration status when reporting a crime.
The State, according to SB4 Texas, will defend anyone who is sued for complying with the law.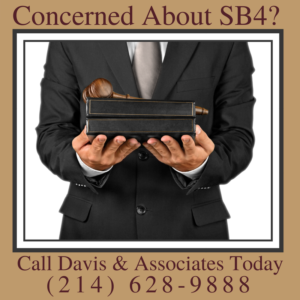 What is the Current Status of SB4 Texas?
On August 31, 2017, the day before SB4 Texas was to be enacted, a federal judge in San Antonio granted a preliminary injunction against the law that prevented it from activating on September 1. The New York Times reported, however, that the order is temporary and is being challenged by the State of Texas.
The case is scheduled to be reviewed in the U.S. Court of Appeals for the Fifth Circuit in New Orleans, a court considered to be one of the most conservative in the country.
Consulting Legal Counsel is Essential
As the law in question moves through the court system to determine constitutionality, uncertainty remains. Will all city and county officials in Texas be required to detain suspected undocumented immigrants until federal officers arrive? Will law enforcement officers be allowed to question any person who has been stopped for a minor traffic offense be able to ask for immigration documents? Will a key witness or victim of a serious crime also be questioned about their residency status and that of their families and friends?
Many highly productive documented and undocumented people reside in the United States. The U.S. Constitution provides rights to everyone who lives here, whether they are citizens or not.
Consulting with a qualified immigration lawyer is your best solution. Ask an attorney to consider your situation and explain your rights and protections.
In North Texas, Call Davis & Associates Immigration Law
Trying to defend yourself without legal representation is usually a losing cause. In Dallas, you should contact the award-winning law offices of Davis & Associates for a free consultation to discuss your situation and learn how best to protect yourself. The Davis & Associates staff is multilingual and, most importantly, compassionate about protecting all individuals.
Being knowledgeable about the status of SB4 Texas and your rights will allow you to enjoy peace of mind during these challenging events.
Call for a free consultation at 214.628.9888.
About Davis & Associates:
Davis & Associates is the immigration law firm of choice in North Texas including Dallas, Fort Worth, Plano, Frisco, McKinney and surrounding areas. Their attorneys provide expert legal counsel for all aspects of immigration law, including deportation defense, writs of habeas corpus and mandamus, family-sponsored immigration, employment-sponsored immigration, investment immigration, employer compliance, temporary visas for work and college, permanent residence, naturalization, consular visa processing, waivers, and appeals. Attorney Garry L. Davis is Board Certified in Immigration and Nationality Law by the Texas Board of Legal Specialization.