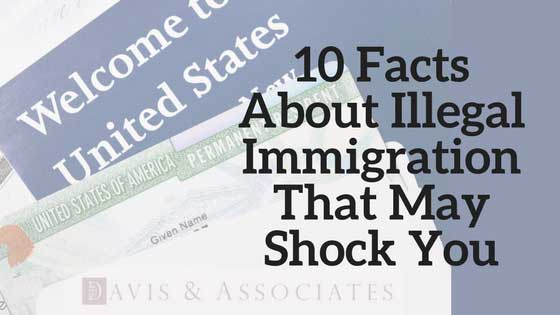 10 Facts About Illegal Immigration That May Shock You
The 2016 political campaign in the United States included a significant amount of dialog about immigration and, specifically, unlawful or undocumented immigration. While some comments were factual, some have been proven false or at least a somewhat distorted interpretation of the truth. Here is more about immigration naturalization services and immigration law.
Typical comments about illegal immigrants have suggested that:
They are taking good jobs away from American-born citizens.
They are criminal by nature, especially those from Mexico.
They drain American resources while giving nothing back.
The majority of immigrants are illegal.
Mexican immigrants are the blame for all of our illegal immigration problems.
These comments have driven an executive promise to construct a wall across the southwestern border of the United States, a distance of approximately 2,000 miles.
[youtube https://www.youtube.com/watch?v=NVp1hU146Kg?rel=0&w=560&h=315]
What is an Illegal Immigrant?
Illegal immigrants are usually considered to be individuals who have "sneaked" across the border in the middle of the night without any authorization nor documentation from immigration naturalization services. While these people do make up a portion of unauthorized immigrants, the biggest percentage in the past decade has consisted of those who have stayed beyond the time limit of their legal Visitor, Work, or Student Visas.
Individuals are unauthorized, illegal or undocumented immigrants if they are living in the country secretly without proper documentation and support of legal immigration naturalization services. At present, an estimated 11 million undocumented immigrants are living in the United States.
Here are some additional statistics regarding the presence of unauthorized immigrants:
According to the Migration Policy Institute, over 60% of illegal immigrants have been in the United States for more than ten years. Further, less than 10% have been present in the United States for less than five years.
Mexico is not the only country of origin of illegal immigrants. In fact, contrary to the belief of many, immigrants from Mexico represent only about 56% or 6.2 million of the presumed undocumented population. Guatemala, Ecuador, and Honduras are the originating countries of approximately 1.5 million or about 13.5% of illegal residents, according to an article written for the New York Times. These immigrants also enter through the Mexico-United States border.
After Mexico and Central America, China and India are the origins of the next largest groups of illegal immigrants. These countries account for about 265,000 individuals each, representing almost 5% of the estimated total.
More than 30% of undocumented immigrants own their own homes.
A number that is lower than that cited in some political rhetoric, only 2.7%  have been convicted of a felony.
According to the Social Security Administration, approximately 1.8 million undocumented workers were employed with a Social Security number that did not match their names. While these individuals have paid taxes and Social Security, the use of the fake number is still considered a criminal offense that can justify deportation.
Since 2007, more people have become illegal immigrants by overstaying their Business or Visitor Visas than by crossing the border in secret, according to a Center for Migration Studies report.
Deportations (removals and returns) have dropped, partly due to the slowing number of illegal immigrants coming into the U.S. in recent years. The figures reported by DHS Enforcement were 570,320 in 2014; 462,463 in 2015.
The number of unauthorized immigrants currently working in the United States has stabilized since 2009. As of 2014, 8 million undocumented workers held jobs while the 2009 count was roughly 8.3 million.
Mexicans make up a declining share of the illegal immigrants.
What's Next?
With the new administration, attitudes toward immigration seem to be evolving. The best solution for anyone who is unsure of their situation should consult a reputable immigration attorney to discuss immigration naturalization services. Besides stricter border control, authorities are adopting stronger measures for workplace verification. State governments, notably Texas, are adopting tougher procedures for checking on suspected undocumented immigrants.
President Trump's executive order issued early in 2017 to halt travel to review and revamp immigration procedures was challenged in court.  While the order was aimed directly at six primarily Islamic nations, the process implies a stricter view of newcomers coming to and currently living in the United States.
Immigration practices and the rights of current residents seem to be tightening. The best course of action for any individual who feels jeopardized by should be to seek experienced and dedicated legal advice. In Dallas, the award-winning Davis & Associates Law Firm is devoted to providing the best immigration naturalization services.
Contact Davis & Associates for Free Consultation Regarding Immigration Naturalization Services
Davis & Associates specializes in immigration naturalization services and residency-related issues. For a free initial consultation to discuss your personal situation,  phone the multi-lingual professionals at Davis & Associates in Dallas at 214.628.9888 or fill out the form below.
About Davis & Associates:
Davis & Associates is the immigration law firm of choice in North Texas including Dallas, Fort Worth, Plano, Frisco, McKinney and surrounding areas. Their attorneys provide expert legal counsel for all aspects of immigration law, including deportation defense, writs of habeas corpus and mandamus, family-sponsored immigration, employment-sponsored immigration, investment immigration, employer compliance, temporary visas for work and college, permanent residence, naturalization, consular visa processing, waivers, and appeals. Attorney Garry L. Davis is Board Certified in Immigration and Nationality Law by the Texas Board of Legal Specialization.