5 Things To Understand About Family Immigration Law
Family Immigration Law in the United States allows citizens and permanent residents to submit petitions for visas for certain relatives. Relatives or family members can be defined as a spouse or fiancé, child, brother or sister, or parent.
The process to obtain residency status for a relative can take considerable time and requires submitting correct paperwork and documentation to be successful. The amount of time it requires to get a family immigration visa depends upon the petitioner and the kind of relative. This will also determine which applications to send. Mistakes or misinformation will delay the process.
Though each phase in the process may require considerable proof and documentation, there are five steps to complete to be able to admit your relative as a permanent resident. The process can be complicated, so it is wise to contact an experienced Dallas immigration lawyer for assistance.
(1) Eligibility Of Family Immigration Law Visas
Thousands of U.S. citizens and lawful permanent residents help their relatives who live abroad obtain a family-based visa per year. In fact, the U.S. gives out approximately 480,000 family-based visas annually.
Certain relatives receive priority over others for a family-based visas, including spouses, parents, and unmarried children under 21. Other family members can obtain a family-based visa as well, but they may face a longer waiting time.
To implement this, the U.S. Citizenship and Immigration Services (USCIS) offers different visa types for bringing family into the United States: Immediate Relative Immigrant Visa and Family Preference Immigrant Visa.
Immediate Relative Visas
Immediate Relative Immigrant Visas are not restricted each financial year. These types consist of:
IR-1 Spouse of a U.S. citizen

S. citizens can also bring their fiancé(e)s to the U.S. to marry within 90 days with the K-1 Visa.

IR-2 An unmarried child under the age of 21 of a U.S. citizen
IR-3 An orphan adopted abroad by a U.S. citizen
IR-4 An orphan adopted in U.S. by a U.S. citizen
IR-5 A mother or father of a U.S. citizen 21 years of age or over
Family Preference Visas
Family Preference Immigrant Visas are for more distant relationships with a U.S. citizen and some specific relationships with a Lawful Permanent Resident (LPR).
These visas are restricted to a particular number each year. These types consist of:
(F1) Family first preference: unmarried children of American citizens and their children under 18 years old (23,400 annually).
(F-2A) Family second preference: spouses and unmarried children, who are under 21, of lawful permanent residents (90,244)
(F-2B) Family second preference: unmarried children who are 21 or older of lawful permanent residents (23,956)
(F3) Family third preference: married children of U.S. citizens and their spouses and minor children (23,400).
(F4) Family fourth preference: siblings of U.S. citizens, and their spouses and children, if the United States citizens are at least 21 years of age (65,000).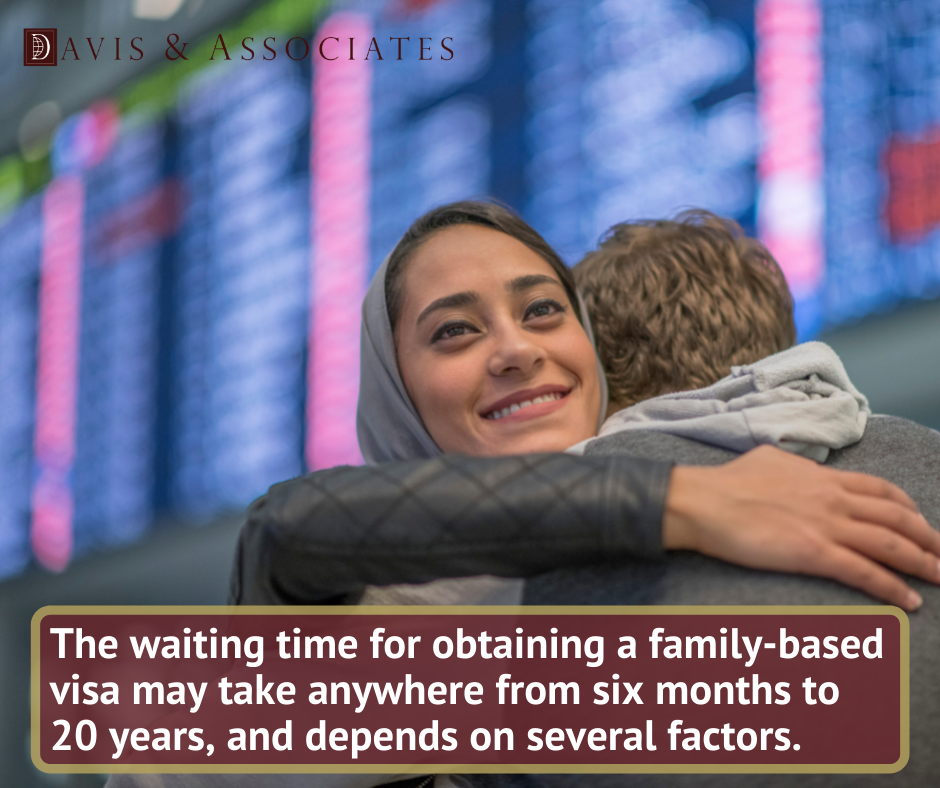 When the Family Preference Immigrant Visas have all been designated, there will be a waitlist. The waiting time for obtaining a family-based visa may take anywhere from six months to 20 years, and depends on several factors, including:
The immigration status of the petitioner
The type of family member petitioned for
Where the family member is from
These petitions will be chosen in order based upon file date. Your file date is your priority date. Your petition might not be authorized prior to your priority date and in many cases, it might be years before a petition is approved.
Marriage Green Card Eligibility Requirements
The three core conditions for securing permanent residency of a spouse are:
Legally married
Have a permanent residence in the United States
You must be at least 18 years-old to certify the documents.
The USCIS has designated two approaches for securing permanent residency for the spouse of a U.S. citizen. These are:
If the U.S. citizen sponsors the spouse's immigrant visa, the spouse can complete the necessary paperwork outside the U.S. and receive permanent residency status upon arrival in this country. The resident sponsor must submit a completed Petition for Alien Relative Form I-130. The assigned status for the spouse will be designated either as "IR" for immediate relative or as "CR," conditional residency. The latter status applies if the couple has been married less than two years.
A K-3 Visa can be completed in a few months. The foreign spouse may apply in the country in which the marriage took place officially. Alternatively, if the marriage had been held in the U.S., the spouse can apply for the K-3 Visa in their country of residence.
Circumstances differ depending on your current residency. If you are living outside the United States and are apply for permanent residency for your spouse, you must apply with the Form I-130 to the USCIS directly or through the Embassy in the country where the spouse is residing. The spouse will usually be interviewed in person at the Embassy and granted the visa within three to six months.
If you and the spouse will be remaining outside the United States for six months or more, delay applying for the visa until you are ready to return. If the spouse is granted a Green Card and subsequently does not return to the U.S. within six months, the permit will be canceled.
Visas For Parents
Permanent residency for parents can only be secured by United States citizens. Permanent resident or Green Card status does not qualify. Contact a professional Dallas immigration lawyer for help.
To secure permanent residency visa for a parent, the USCIS must approve your immigrant visa petition, and the parent(s) will be notified to travel to the nearest U.S. Consulate to complete the process. If the parent is already in the United States, they must complete a Form I-485.
Bringing Your Fiance To The United States
The USCIS requires the application for a K-1 Visa to admit foreign-born fiances of U.S. citizens. Form 129-F is to be completed by the U.S. citizen that will include:
Proof of your U.S. citizenship
G325-A application with biographical data plus photographs of both of you
Proof of termination of any previous marriages
Once you are married, you will need to apply for a Change of Status for the new spouse to become a permanent resident of the United States. An experienced Dallas immigration lawyer like Davis & Associates can help the process.
Bringing Your Children To The United States
Children of U.S. citizens who are under 21 and unmarried can be brought to the United States with a K-4 Visa. The application requires:
Completion of a DS-56 form
2 Passport-type frontal photographs
Birth Certificates
Medical reports from a U.S. Embassy physician
Additional documentation for the children of a K-3 Visa holder
U.S. Visas For Siblings
A permanent residence visa for a brother or sister of a U.S citizen only (not Green Card holder) may be obtained with an I-130 application. Once approved for a Green Card, the sibling will be permitted to work.
(2) Filing A Petition
Once you've determined eligibility, the initial step to getting a Family Immigration is initiated by the sponsoring family member who is a citizen or resident of the United States. That individual, with the help of a professional Dallas immigration lawyer, will submit an Immigrant Visa Petition I-130 for consideration by the USCIS for approval.
The Petition I-130 includes detailed proof of the relationship with the foreign-born relative and other documents. This process established the relationship between the sponsor (the U.S. resident) and the applicant.
A U.S. citizen needs to be 21 years of age or older to petition for siblings or parents, must be over 18 to sign an Affidavit of Support and should have a home in the United States to live for the foreseeable future.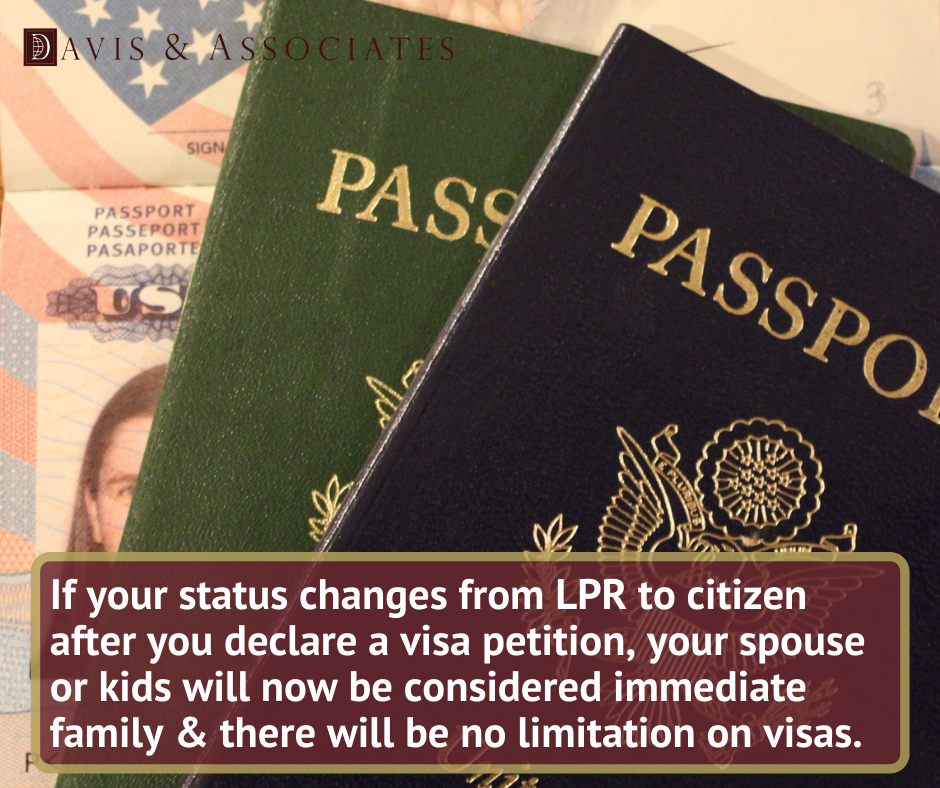 If your status changes from LPR to U.S. citizen after you declare a petition for a visa, this will alter the kind of visa your family member gets. Your spouse or kids will now be considered immediate family and there will be no limitation on visas.
Adopted kids might get approved for U.S. citizenship also. Adult kids may upgrade from F2 to F1, although they might give up the upgrade considering that the waitlist for F2 is generally much shorter.
Once the Visa Petition I-130 is approved, the process may move on to the next step.
(3) Visa Allocation
Once you've submitted your I-130 application, the National Visa Center (NVC) will appoint a case number and will need an Address and Agent form (Form DS-261).
You will also be required to send necessary fees (filing and processing costs, medical examination charges, etc.), immigrant visa documents, applications, civil documents (birth/marriage certificates), and so on.
If your petition is approved, your spouse and unmarried children under 18 years old don't have to wait for a visa to become available to them and may apply for immigration visas. They will also be required to submit all needed documentation and pay necessary costs.
USCIS will determine if an immigrant visa number is available at the time. According to the Immigration and Naturalization Act, the number of visas available for "immediate relatives" such as the U.S. citizen's spouse, children under 21 years of age, and parents is unlimited. For others such as siblings, the numbers may be limited by quota.
Once the immigrant visa number is assigned, there are two potential avenues for the foreign-born relative.
If the relative is legally residing in the United States, an application for the Adjustment of Status should be submitted. The process is simplified and is intended to change the status of the individual from a temporary visitor or worker status to a permanent resident or Green Card holder.
If the foreign-born relative is outside the U.S., the person is obligated to go personally to a U.S. Consulate for further processing. The application and documentation are then sent to the National Visa Center in the United States and then returned to the consulate with the resulting determination.
(4) Interview
As soon as all your costs and documents are taken care of, an interview is arranged. The NVC will send out all documentation to the United States Embassy or the Consulate where the interview will occur.
The consular representative will identify if the petitioner is qualified to get an immigrant visa. All medical exams and vaccinations need to be carried out prior to the interview.
(5) Moving To America
When you get your immigrant visa, the consular office will provide a passport and official sealed files to be opened by a U.S. immigration officer as soon as you go into the United States.
You must arrive in the United States prior to the expiration date on your visa. The main applicant must arrive in the United States prior to or at the exact same time as members of the family. You must also pay the immigration cost to the USCIS prior to getting in the United States.
Applying for a family immigration visa can be frustrating. It is typical for an immigration lawyer to help in the procedure. Submitting the incorrect documentation or finishing actions out of order can postpone or stop your application process.
Contact An Experienced Texas Immigration Attorney
Accurate completion of all documents and proper verifications are the key elements of success. Contact our Family Immigration Law Office in Houston or our Family Immigration Law Office in Dallas to ask family immigration questions and avoid mistakes that can delay the process by years.
Contact an experienced Dallas immigration lawyer like Davis & Associates for a free consultation and help at 214.628.9888 and visit our firm overview page to learn more about the firm. Our immigration attorneys at Davis & Associates are here to help. We understand that family is the most important thing in your life, and we'll work hard on your case.
---
About Davis & Associates:
Davis & Associates is the immigration law firm of choice in Houston & North Texas including Dallas, Fort Worth, Plano, Frisco, McKinney and surrounding areas. Their attorneys provide expert legal counsel for all aspects of immigration law, including deportation defense, writs of habeas corpus and mandamus, family-sponsored immigration, employment-sponsored immigration, investment immigration, employer compliance, temporary visas for work and college, permanent residence, naturalization, consular visa processing, waivers, and appeals. Attorney Garry L. Davis is Board Certified in Immigration and Nationality Law by the Texas Board of Legal Specialization.
Dallas Contact Info:                                                                                                                                                                                             
Address: 17750 Preston Road Dallas, TX 75252                          
Phone: (469)957-0508                                                                       
Houston Contact Info:                                                                                                                                                        Address: 6220 Westpark Dr, Suite 110, Houston, TX 77057
Phone: (832) 742-0066