7 Traits of the Best Immigration Lawyers
7 Traits To Look For In An Immigration Attorney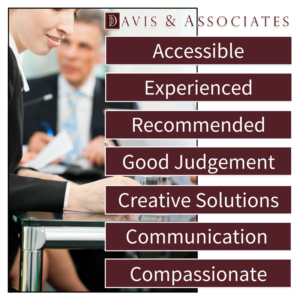 If you need an immigration attorney, chances are you are feeling stressed out and exposed about your existing immigration situation. The concept of being separated from your household, or your sponsor stopping by mid-way through the procedure can keep you up during the night.
These are reasons some individuals are fast to select a lawyer without appropriately vetting them. Although there are plenty of great immigration attorneys to pick from, there are a great deal of bad ones. Picking bad immigration attorneys can have harmful repercussions on your case and modify your life permanently.
Having a qualified immigration attorney to protect you is becoming more critical.  Each day, politicians and news media are spotlighting immigration issues.
For many who currently live in the United States, these issues are concerning. In some situations, professional legal representation is essential to protect your rights. Individuals whose family members may be in jeopardy should be asking: "How do I choose between the right immigration attorneys near me?"
Choosing An Immigration Attorney Near Me
While education and experience are critical attributes of the best immigration lawyers, personal commitment and compassion to your case are also underlying virtues for success. Law and law enforcement can be a cold and impersonal discipline, something Davis & Associates is trying to change.
The best immigration lawyers dedicate their lives to protecting the rights of every individual whose rights are being challenged.
Whether working on immigration matters, visa applications, permanent residency or defending the rights of foreign-born individuals currently residing in the United States, hiring a qualified immigration lawyer is essential when navigating through the complicated immigration policy.
If your residency is threatened, or you require assistance in applying for visas, immigration, or residency, finding the best immigration lawyers is essential. If these matters are not handled correctly from the start, the result can be delays, disappointment, and a waste of effort and money.
Companies seeking to bring foreign talent to the United States should also consult with lawyers to help navigate the laws and documentation required.
As in other fields, frauds exist who will try to take your money without delivering any results.
Therefore, begin your search for the best immigration lawyers by assessing their traits and qualifications. The best immigration lawyers are always happy to answer any questions regarding their experience and skills. Those who avoid providing a satisfying answering are likely not qualified.
Essential Traits Of The Best Immigration Lawyers
People looking for a qualified immigration attorney near me should make sure the candidates are wholly qualified in the practice of United States Immigration Law. Many individuals posing as immigration experts, consultants, "notarios," and other titles have offered assistance for a fee and then prove to be fake.
Legal Practice Certification
Start your selection process by asking dependable sources or checking the website for an immigration attorney near me who have been certified by the State Bar association. In Dallas, TX, for example, the immigration law firm, Davis & Associates, led by the principal attorney, Garry L. Davis, is fully certified to practice immigration law in the State of Texas by the Texas Bar Association.
Specially Experienced in Immigration
Besides academic achievements, you should determine how many years of experience the immigration lawyer may have with your case type. Look for one who specializes in immigration and check out their credentials. Is the attorney well respected by peers, or won awards? If you reside in Texas, has the individual been recognized by the Texas Board of Legal Specialization in Immigration and Nationality Law?
Some law firms practice in a wide range of law disciplines. Choosing a lawyer and firm that specializes strictly in immigration matters increases your chances of success. These firms stay current with what is happening in the field of immigration law. For example, the Dallas and Houston Immigration Law Firm, Davis & Associates, specializes in Family Immigration, Business Immigration, Visa and Green Card matters, Deportation, and Political Asylum.
Also, a dedicated immigration attorney should have years of experience working with law enforcement individuals and judges in the area. Familiarity and trust are helpful when communicating circumstances of a case.
Proximity
You have asked the question, "How do I choose an immigration attorney near me?" Having a qualified immigration attorney nearby is essential when circumstances require that the lawyer respond quickly or show up in person. In cases in which a family member has been put in jail, for example, an out-of-town immigration attorney may not be helpful.
Also, you may need to visit the immigration attorney frequently for updates and to provide documentation for specific situations. Davis & Associates works with clients in Dallas, Ft. Worth, Plano, Frisco, McKinney, Houston and surrounding areas.
Accessible
While you are not entitled to 100% of an immigration lawyer's time, you may expect a good immigration lawyer to be available when you need them. When faced with an emergency, however, the attorney should be able to respond quickly to your situation. Also, ask who would be the backup professional to help in case your attorney is not available at the time.
Excellent Reputation And References
Always ask for bonafide references and look for personal testimonials to determine what experience others have had in dealing with your prospective immigration lawyer. Ask about the types of cases the lawyer has handled and the outcomes.
Also, check online search engines and social media sites for reviews from other clients.
Good Judgement
The best immigration lawyers are successful because they can draw logical conclusions from a wide range of situations and variables. Because they frequently appear in courts and before immigration officials, they should be well prepared with reasonable arguments and must remain confident and decisive at all times.
Creative Solutions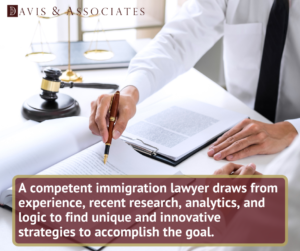 A competent immigration lawyer draws from experience, recent research, analytics, and logic to find unique and innovative strategies to accomplish the goal. The best immigration lawyers also demonstrate perseverance when representing their clients, always creating new solutions whenever roadblocks appear.
Excellent Communication And Public Speaking Skills
Precise communication with you, the client, is critical. The ability to communicate well in negotiations and while presenting your case is also essential. Often, the lawyer will need to think about and respond to challenges on the spot and must do so with confidence.
People Skills And Compassion
Immigration lawyers should be personable and persuasive. How the lawyer is viewed can reflect directly on your case. If your representative is easily angered or rude, your case will suffer. Avoiding confrontation while presenting an argument is vital to success.
Immigration officials prefer to work with immigration lawyers who can communicate professionally, demonstrate reasonableness, are knowledgeable, and show a genuine commitment to their clients.
Not every immigration attorney shows real concern and respect for clients with immigration problems. While the reasons for this are many, an initial free consultation will help you to determine if the immigration attorney is sincere in wishing to help you or only views your case as just another everyday situation, possibly to be delegated to a junior associate.
With a free first-time consultation with Davis & Associates in Dallas, you will be given a chance to explain your situation to a compassionate and multilingual immigration lawyer.
Dedicated to the success and protection of their clients, Davis & Associates will discuss the case, offer realistic options, and provide a clear understanding of the fees for handling the situation.
Free First-Time Consultation
Many immigration lawyers do not offer a free first-time consultation to discuss a case. This meeting is a benefit to both the lawyer and the potential client. The details of individual's circumstances can be addressed while the immigration lawyer evaluates the merits of the case. The prospective client can similarly determine if the immigration lawyer attorney seems sincere and capable.
Warning Signs From Immigration Attorneys 
When picking an immigration lawyer to represent you in your case, ensure that you do not succumb to any of these misleading techniques. Great immigration attorneys will not make pledges about results or be too excited to take your case. They do not pretend to be a superhero. Continue reading to discover 5 warnings signs to watch out for when employing an immigration lawyer.
Too Eager To Take Your Case
If your attorney accepts your case over the phone without understanding any or all the details, you might have a bad legal representative. If they sound like a salesperson, making pledges of a green card, this is not the right lawyer for you. Likewise, if the lawyer offers a quote over the phone without understanding the information of your case, the quote will likely be incorrect. At some point, the lawyer will either need to request more compensation, which will distress you and trigger mistrust with your attorney, or the legal representative will need to cut corners in preparing the case since you were undercharged.
Assures 100 % Success
Often when individuals are employing an attorney, the very first thing they ask is "what exactly are my odds?" Individuals employ lawyers due to the fact that they are desperate, not familiar with immigration law, and want to avoid a bad result. Lawyers have understanding and experience to offer a viewpoint about your case as soon as she or he has actually examined the specifics with you. Nevertheless, if she or he is making assurances about the result of your case, such as, "I assure you will get you a green card at the end of this," she or he is lying and cannot be relied on. A lawyer can only make a guarantee of the quality of the work and the dedication to you and your case.
No Family, No Problem
In order to obtain a green card or long-term residence, you should have direct ties to the United States. This is either through a close household relative, an organization that can sponsor you for a work visa or in some circumstances, an investment in a U.S. company. If you do not have anybody to sponsor you in the U.S. or aren't able to invest, however your lawyer states that is not an issue and you can still get a green card, she or he is lying and you need to get another legal representative. Odds are the lawyer will aim to submit an incorrect asylum claim for you. Although it might work initially, and you might get a work license, ultimately you will wind up in deportation procedures for scams.
Where's My Lawyer? 
If you met and talked to an attorney whom you trust and employed to manage your case, you ought to have the ability to have access to and contact with them frequently. Nevertheless, if you are being mixed around from attorney to paralegal, and then to another legal representative, this is a bad indication. This might suggest that the law office is messy, in chaos, or that there is high turnover in the company, all which are bad indications. Likewise, if you cannot get your lawyer to email or call you back within a sensible timeframe, or she or he is constantly hectic or at lunch, this is a warning. A lawyer ought to constantly be obtainable to you.
It's All About Money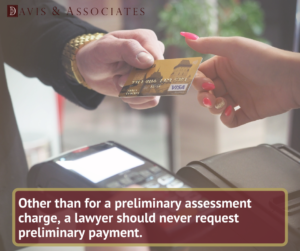 Another warning that your lawyer may be unprofessional is if she or he requests for cash upfront. Other than for a preliminary assessment charge, a lawyer should never request preliminary payment. A great lawyer ought to set out a strategy for your case and you will have the opportunity to officially accept their proposal prior to any cash being paid. Be leery of any lawyer that takes your cash immediately. Likewise, you need to have the ability to get any cash paid to the lawyer back for work that was not finished. If the lawyer declares that they can not pay it back, this is certainly a warning.
When it's time to work with an immigration lawyer, odds are you are feeling desperate and filled with stress and anxiety. However, it is very important that you put in the time to speak with numerous immigration attorneys to discover the best one for your case. Davis & Associates are extremely proficient and educated immigration attorneys that put in the time to discuss the information of your case and set reasonable expectations for you. If you have concerns or wish to talk to an immigration lawyer, call Davis & Associates today.
Schedule A Free Immigration Consultation
Many of the characteristics of the top immigration lawyers can only be determined with a face-to-face consultation where you can explain your circumstances while the immigration attorney offers some potential strategies for success.
Also, the best firms hire multilingual staff, a valuable asset to ensure that all messages are understood, and the contractual agreements and expectations are clear to all parties.
About Davis & Associates:
Davis & Associates is the immigration law firm of choice in North Texas including Dallas, Fort Worth, Plano, Frisco, McKinney and surrounding areas. Their attorneys provide expert legal counsel for all aspects of immigration law, including deportation defense, writs of habeas corpus and mandamus, family-sponsored immigration, employment-sponsored immigration, investment immigration, employer compliance, temporary visas for work and college, permanent residence, naturalization, consular visa processing, waivers, and appeals. Attorney Garry L. Davis is Board Certified in Immigration and Nationality Law by the Texas Board of Legal Specialization.