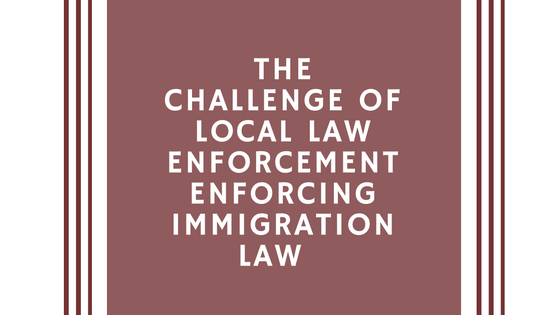 The Challenge of Local Law Enforcement Enforcing Immigration Law
For local law enforcement, immigration law enforcement is a difficult issue.
In contrast to Japan, where 98.5 percent of its population is ethnic Japanese, the United States is incredibly diverse. It is impossible to look at someone to determine whether or not the person is a U.S. citizen or otherwise legally residing in the United States.
U.S. citizens do not carry identification that proves nationality and frankly, most of us would be offended if ordered by the government to produce such proof. Even if the government did ask us to do so, how would we prove it?
When I ask that question, most people say they would show a driver's license. However, U.S. citizens are not required to obtain a driver's license, therefore, it is not proof of U.S. citizenship.
When I point that out, the response is generally that they would show a birth certificate. I don't know how many people actually carry a birth certificate with them, but on the off chance someone did and showed it to an officer, there is no way to determine that it actually belongs to the person producing it. It's not a photo ID and could have been obtained from anywhere.
Coupling the driver's license (a government issued photo ID) with the birth certificate would probably meet the burden of proof, but who carries those things around with them all the time?
The best answer is to show a U.S. passport. Again, who actually has a U.S. passport?
In 2014, the U.S. Department of State estimated that about 46 percent of American citizens have a U.S. passport. More importantly, how many of those who have U.S. passports actually carry them?
My guess is very few.
These realities make it very difficult for local law enforcement to determine who is a U.S. citizen and who isn't.
When we start asking local law enforcement officers to determine who is and who isn't legally residing in the United States, the complexity of the U.S. citizenship issue is one thing. Asking them to determine a non-U.S. citizen's legal status in the United States is another level of complexity.
I will explain by responding to the question: how does someone who is not a U.S. citizen prove he or she is legally in the United States?
I have asked some of my friends to explain how they would ask someone who is not a U.S. citizen to prove legal status in the United States. The typical response is that they would ask to see the individual's visa.
The problem is a visa has nothing to do with legal status in the United States. When I say that, the response is usually ripe with varying levels of confusion, frustration and disbelief.
A visa is just an entry document. Having a visa allows a person to seek admission to the United States through immigration inspection. It is stamped into the passport of a person seeking admission to the United States for a specific purpose by the U.S. Consulate through application and interview.
Nationals of certain countries, including the UK and Canada, do not need a visa to seek admission to the United States for certain purposes, such as business meetings and tourism. If most Canadian citizens in the United States were asked to show a visa, they probably would not be able to do it. Does that make them illegal immigrants?
Not by itself.
After a person has gone through inspection, he or she is given status to be in the United States. The status is evidenced by a form called an I-94 that will show the date of admission, the classification for admission (such as B-2 for tourists, F-1 for students, etc.) and in some situations, the period of admission.
Generally for a tourist, the period of admission will be a maximum of six months. However, for students, the admission period will be for "duration of status," which is a fancy way of saying it doesn't expire as long as the person maintains valid student status.
Also, an immigrant can change status, which means the I-94 may be for student status even though the last entry was on a visitor visa. The I-94 may still be facially valid, but the person may no longer qualify for it, such as a student who has dropped out. How does the local law enforcement officer know whether or not a person with an I-94 that does not expire or that is still facially valid is in legal status?
Couple that with the fact that a person illegally in the United States may have a valid visa and a person with absolute legal status may have an expired visa, then the problem is exacerbated.
Whether it be a U.S. citizen who speaks poor English or a non- U.S. citizen with valid documents but no legal status, determining who is and isn't authorized to be in the United States is a lot to ask of our brave and capable local law enforcement officers.
Garry L. Davis, managing attorney for Davis & Associates, a boutique immigration law firm, graduated from the University of Texas School of Law and Brigham Young University. Board certified in immigration and nationality law by the Texas Board of Legal Specialization, he has been selected as a Texas Super Lawyer and for Best Lawyers in America. He served the American Immigration Lawyers Association as the Dallas immigration court liaison and as program co-director for a Texas chapter CLE conference held in Mexico. He has frequently spoken on immigration issues by various organizations.
For more information, call us at 1 (800) 962-5286