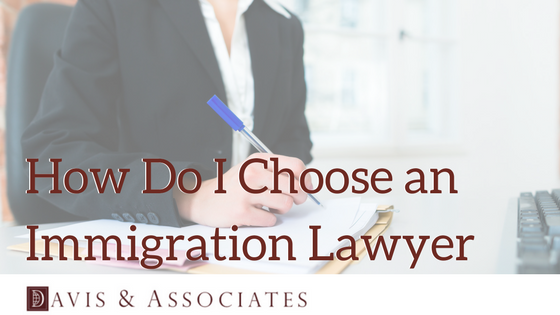 How Do I Choose an Immigration Lawyer?
As circumstances change in today's uncertain political environment, staying informed of current immigration law and practice is essential. Today, network commentators and newspapers offer a broad range of opinions regarding the status of relative newcomers to the United States. As a result, it is important that you remain calm and seek the advice and protection of a knowledgeable and experienced immigration lawyer who specializes in Immigration Law practice exclusively.
The top immigration law firms stay informed of all new developments. Their job is to protect the rights of individuals to ensure that law enforcement agencies are not overstepping their responsibilities in dealing with immigrants.
By consulting with an effective immigration lawyer, you will better understand the status of your family and become aware of your rights and any potential risks that you may experience.
With this in mind, where should you look to find an experienced and proven immigration lawyer? What qualifications are important? What can the lawyer do for you?
Target Qualifications for an Immigration Lawyer
Reputation: Of course, the most important qualities of a top immigration lawyer are sensitivity and compassion for protecting your legal rights. While you may not be able to assess these conditions directly until you have spent time with the individual, perhaps others in your community have had experiences that might help you to choose. Law firms that specialize in Immigration Law and have demonstrated their commitment to others are likely to be excellent candidates.
Credentials: Make sure that the immigration lawyer or immigration law firm that you are seeking has the necessary experience, certification, and training to handle the complex challenges of immigration situations. But most importantly, avoid any individual who may not be legally licensed to represent you. There are instances of people who fraudulently represent themselves and leave their clients without protection and, over course, with less money.You can collect a significant amount of information about an immigration lawyer or firm on the internet. Determine if they are a member of your state's bar association, American Immigration Lawyers' Association (AILA), and notice any reviews that may have been posted about the individual or firm.Beware of titles such as " Visa Consultant," "Petition Preparer" or Notario or just Notary. These people may perform some functions, but they are not qualified to represent you in legal circumstances. Many of these do not watch out for your best interests nor are they qualified to advise you on immigration issues. These are quite often scams.
Professionalism: An effective immigration lawyer will make a good first impression, be open, listen carefully, and maintain a positive attitude toward your situation. They must be frank and honest about the circumstances and potential downsides, yet show compassion and provide possible strategies to remedy your concerns. A responsible immigration law firm should have a professional website that accurately defines their mission and services. Any discussion of fees must be open, and contracts should state clearly what the relationship and services should be. Some immigration law firms offer an initial free legal consultation to discuss your case and possible cost.
Honesty: While being honest is an important part of being professional, avoid any immigration lawyer who suggests that you do anything dishonest, such as lie on a document or to an official. Likewise, stay away from any representative who suggests that you provide money to bribe an official or to buy a fake green card. Situations like this will negatively affect your immigration record and could make renewal impossible. Lying can be a cause for deportation.
Fees and Costs: A legitimate immigration lawyer will charge based on the complexity and time required to work through your case. The usual method is an hourly fee. But for more complicated matters, hourly fees add up. Some situations may warrant a flat fee to handle a particular process. Other, more complex cases might result in a combination of flat and hourly fees, plus expenses incurred. Flat fees are often set for specific actions such as H-1B or Labor Certificate applications. These tend to be routine and predictable. The key is to make sure the lawyer defines the costs and the rationale to make sure there are no surprises later.
Accessibility: Circumstances may require several consultations and communications. Finding an immigration lawyer that is experienced in the full spectrum of immigration issues in your area is the logical solution. In Dallas, for example, Davis & Associates specializes in all spheres of immigration law including:
Deportation Defense
Employment Immigration
Family Immigration
Investment Immigration
Appeals
Federal Court Litigation
Davis & Associates
Led by Garry Davis, this Dallas area immigration law firm works to help individuals to enter and remain in the United States. Recognized as a leader in Immigration Law, Mr. Davis has been recognized by the Texas Board of Legal Specialization and has been honored four times by the notable publication, U.S. News and World Report as One of the Best Lawyers in America. The firm itself, Davis and Associates, has been recognized twice by the same publication.
Garry Davis and Associates has successfully defended Deportation and Removal Proceedings, Immigrant Workers, and Political Asylum cases. In the course of activities, Davis has assisted with all manner of Green cards and has also been successful in reopening and challenging past cases.
Look for Sincerity and Passion
More than anything, a visit to a professional immigration lawyer website like Davis & Associates (https://gldlaw.com/)  can act as your guide for choosing a sincere and experienced immigration lawyer.  Look for the credentials, the experience, and the commitment that the firm or individual demonstrates.
Act Now
If remaining legally in the United States is important to you, speak with a professional immigration lawyer who is experienced in immigration proceedings to understand your rights, anticipate problems, and clear the way for a worry-free stay.
About Davis & Associates:
Davis & Associates is the immigration law firm of choice in North Texas including Dallas, Fort Worth, Plano, Frisco, McKinney and surrounding areas. Their attorneys provide expert legal counsel for all aspects of immigration law, including deportation defense, writs of habeas corpus and mandamus, family-sponsored immigration, employment-sponsored immigration, investment immigration, employer compliance, temporary visas for work and college, permanent residence, naturalization, consular visa processing, waivers, and appeals. Attorney Garry L. Davis is Board Certified in Immigration and Nationality Law by the Texas Board of Legal Specialization.