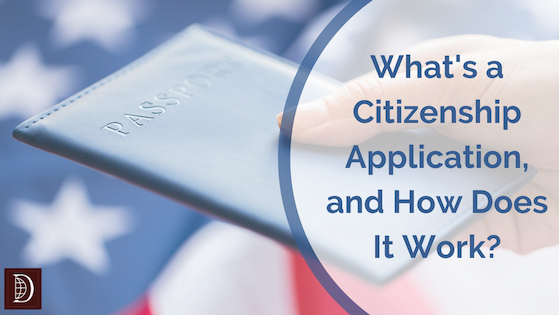 What's a Citizenship Application, and How Does it Work?
If you're like many people visiting on a visa or residing in the U.S. permanently, you eventually want to complete a citizenship application.
But what is a citizenship application, and how do you get to the point where you can fill one out and become a naturalized citizen of the United States?
What is a Citizenship Application?
A citizenship application, which is technically a Form N-100, Application for Naturalization, is a form you must fill out to change your status in the U.S. from permanent resident to naturalized citizen. There are several steps to filling out a citizenship application, and the process starts years before you actually file the form. For most people, it makes sense to work with a Dallas immigration attorney who understands immigration law and who can make the process as simple as possible.
Who Qualifies to Fill Out a Citizenship Application?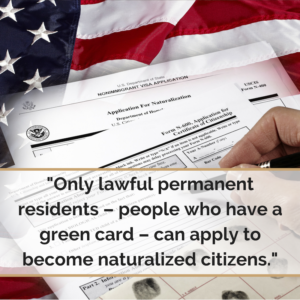 Only lawful permanent residents – people who have a green card – can apply to become naturalized citizens. If you're a green card holder, these are the requirements you need to meet before you can fill out your citizenship application:
You must be at least 18 years old when you file.
You must have had a green card for at least 5 years.
You must prove that you have lived in the state or USCIS district where you're applying for at least 3 months.
You must show that you've continuously resided in the U.S. for at least 5 years before the date that you file your application.
You must show that you've been physically present in the U.S. for at least 30 months out of the 5 years before the date that you file your citizenship application.
You must be able to read, write and speak basic English
You must have a basic understanding of United States history and how the U.S. government works.
You must be a person of good moral character.
You must demonstrate that you're attached to the principles and ideals in the U.S. Constitution.
A Word on Good Moral Character
The term good moral character (GMC) refers to your conduct over the past 5 years (or 3 years, if you're the spouse of a U.S. citizen who's filing for naturalization). It means that your conduct "measures up to the standards of average citizens of the community in which the applicant resides," according to the USCIS policy manual.
The policy manual says, "While USCIS determines whether an applicant has met the GMC requirement on a case-by-case basis, certain types of criminal conduct automatically preclude applicants from establishing GMC and may make the applicant subject to removal proceedings."
That means if you've ever been convicted of a crime that's considered "morally reprehensible and intrinsically wrong," you may not have good moral character from an immigration standpoint. Some crimes of moral turpitude include:
Aggravated assault
Animal fighting
Child abuse
Conspiracy
Fraud
Incest
Kidnapping
Manslaughter
Murder
Prostitution
Rape
Robbery
Smuggling aliens into the U.S.
Spousal abuse
Theft
If you're not sure whether you've been convicted of a crime that would change the way USCIS looks at your character, talk to your immigration attorney – you may still be eligible to fill out a citizenship application.
3 Steps You Must Take Before You Fill Out a Citizenship Application
Before you can fill out a citizenship application, you must:
Have a green card that enables you to live and work in the U.S., and you must have had it for at least 5 years
Meet other naturalization requirements
Gather supporting documentation that proves you're eligible for naturalization
Be prepared to go through the naturalization process
Getting a Green Card
In order to qualify for a green card, which you must have for at least 5 years before you fill out a citizenship application (or 3 years if you're married to a U.S. citizen), you must:
Be eligible under an immigrant category established in the Immigration and Nationality Act, or INA
Have a qualifying immigrant petition filed and approved
Have an immigrant visa
Be admissible to the U.S.
Gathering Supporting Documentation
In order to apply for citizenship, you'll have to provide USCIS with certain documents. These are the three items you must include with your application:
A photocopy of both sides of your permanent resident card
A check or money order for the application fee and the biometric services fee (unless you pay by credit card)
Two identical color photographs, if you reside outside the U.S., with your name and Alien Registration Number written in pencil on the back of each photo
There are other documents you may need to include, as well, such as:
A completed form that shows an attorney is acting on your behalf (your lawyer will handle this one for you)
Documents that show you've legally changed your name, if your current legal name is different from the one on your permanent resident card
A marriage certificate
Evidence that your spouse has been a U.S. citizen for at least 3 years, if applicable
Proof of termination of prior marriages, if applicable
Documents that prove your statements about your marriage, such as tax returns, leases or your kids' birth certificates
Proof of prior military service
Criminal records that prove dismissal of charges or records of court dispositions
Working Through the Citizenship Process
Once you have filed your citizenship application, you'll still have to do a few things before you receive a decision, such as:
Go to a biometrics appointment, where you'll be fingerprinted and photographed, and you'll have to electronically sign your name.
Complete an immigration interview with USCIS.
Receive a decision, either right after your interview or within about 90 days of your interview (if the USCIS officer needs more information).
Receive a notice to take the Oath of Allegiance.
Take the Oath of Allegiance.
Do You Need Help With a U.S. Citizenship Application?
If you need help with a U.S. citizenship application, or if you're at an earlier stage in the process, you could benefit from talking to a Dallas immigration attorney.
---
About Davis & Associates:
Davis & Associates is the immigration law firm of choice in Houston & North Texas including Dallas, Fort Worth, Plano, Frisco, McKinney and surrounding areas. Their attorneys provide expert legal counsel for all aspects of immigration law, including deportation defense, writs of habeas corpus and mandamus, family-sponsored immigration, employment-sponsored immigration, investment immigration, employer compliance, temporary visas for work and college, permanent residence, naturalization, consular visa processing, waivers, and appeals. Attorney Garry L. Davis is Board Certified in Immigration and Nationality Law by the Texas Board of Legal Specialization.
Dallas Contact Info:                                                                                                                   
Davis & Associates                                                                              
Address: 17750 Preston Road Dallas, TX 75252                          
Phone: (469)957-0508                                                                       
Houston Contact Info:                                                                                                                                                                                                                                                                                                                Address: 654 N Sam Houston Pkwy E, Suite 100 Houston, TX 77060                      
Phone: (832) 742-0066