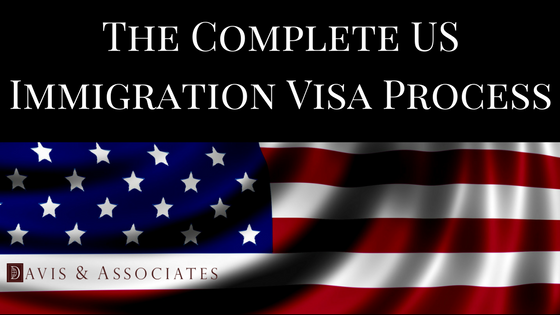 The Complete US Immigration Visa Process
The process for applying for a US immigration visa can seem very complicated. While the State Department issues temporary visas regularly for study, work or business, and other categories, a true US immigration visa is intended to be permanent. Immigrant visa holders usually wish to become permanent residents and citizens eventually.
In the majority of cases, a US immigration visa is based on family relationships or employment-related situations. In both of these circumstances, the foreign citizen must have a close relative sponsor who is a U.S. citizen or permanent resident, or a  prospective employer to initiate the application process.
Some categories for immigration visas are:
Immigration based on a family relationship to U.S. citizens and permanent residents
Employment Immigration
Immigration as a fiancé or intercountry adopted orphan of a U.S. citizen
Special Situations
Sponsor Qualifications for a Family-Based US Immigration Visa
The United States Department of State offers two groups of family-based immigration visas. These are:
Immediate Relative (IR) Visas are unlimited and are intended to reunite immediate family members including a spouse, unmarried children under 21 years of age, orphans adopted (in the U.S. or elsewhere) by U.S. citizens, or parents of a U.S. citizen.
Family-Preference US Immigration Visas are limited in number and apply in many instances to Lawful Permanent Residents, as well. Each year numerical limits are placed on these categories, so granting a visa for immigration is not automatic. This category is prioritized into degrees of preference. The classes are:

Preference 1: Unmarried children of U.S. citizens
Preference 2: Spouses and children of Lawful Permanent Residents
Preference 3: Married sons and daughters of U.S. citizens and their children.
Preference 4: Brothers and sisters of U.S. citizens and their children
Relatives who cannot sponsor a Family-Based  US Immigrant Visa are grandparents, aunts, uncles, in-laws, or cousins.
Numerical Limitations and Priority Date
In cases where a limit is in place for a specific category of immigrant candidates, applications will be considered in the chronological order in which the sponsor applied. When the applicant's number is reached, a "priority date" is established which allows the candidate to apply for the immigration visa.
How to Apply for a US Immigration Visa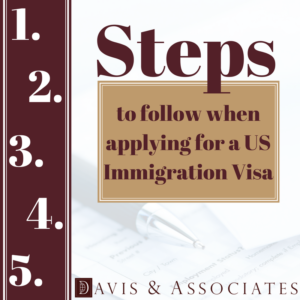 STEP 1: The sponsor, whether a relative or employer, must apply to the United States Citizenship and Immigration Service, USCIS, a division of Homeland Security.  The sponsor completes a Petition for Alien Relative Form I-130.
The sponsor must be 21 years of age and a resident of the United States to complete and sign the form. However, a resident U.S. citizen can be at least 18 years of age to file an Affidavit of Support, I-864.
To ensure accuracy and adequate documentation, the sponsor should consult with an experienced US immigration visa lawyer to advise and assist with the many technicalities. Errors cause delays and sometimes refusal, while appropriately completed forms have a better chance of success.
If the sponsor filed for a US immigration visa as a Lawful Permanent Resident (LPR), but in the meantime became a U.S. citizen, the status of that application is upgraded from Preference 2 to Immediate Relative status.
The State Department provides more information regarding unique immigration visa situations. However, consultation with an experienced immigration law firm, such as Davis & Associates in Dallas, is a valuable resource for helping you understand and navigate the complex requirements.
STEP 2: If the USCIS approves the initial Petition for Alien Relative, the documents are sent to the National Visa Center (NVC) where a number is assigned. The applicant will then be asked to complete a Form DS-261, Choice of Address and Agent. Here again, an experienced US immigration visa attorney can be valuable to ensure that all documents are appropriately gathered and presented. These may include the Affidavit of Support, civil records, and application forms. At this point, the applicant will be asked to pay visa application fees.
STEP 3: The applicant must undergo a Visa Interview at the appropriate U.S. Embassy or Consulate. The individual will be notified in advance of the interview and will be asked to bring specific documentation for the discussion. Attempting to mislead interviewers can result in rejection for immigration.
STEP 4: Physical examination and vaccinations must be performed.
STEP 5: The applicant receives the US immigration visa and is permitted to enter the United States on a permanent status.
Contact Davis & Associates Immigration Law Firm
The requirements for a US immigration visa to move permanently to the United States can be complicated. The process can be slow and difficult. With the help of an experienced immigration law firm, the immigration visa process should go smoother.
Contact the multilingual immigration experts at Davis & Associates in Dallas for a free consultation to discuss your situation with professionals. You can also learn about many immigration issues at the Davis & Associates website.
Call today for your no-obligation meeting at 214-628-9888.
About Davis & Associates:
Davis & Associates is the immigration law firm of choice in North Texas including Dallas, Fort Worth, Plano, Frisco, McKinney and surrounding areas. Their attorneys provide expert legal counsel for all aspects of immigration law, including deportation defense, writs of habeas corpus and mandamus, family-sponsored immigration, employment-sponsored immigration, investment immigration, employer compliance, temporary visas for work and college, permanent residence, naturalization, consular visa processing, waivers, and appeals. Attorney Garry L. Davis is Board Certified in Immigration and Nationality Law by the Texas Board of Legal Specialization.