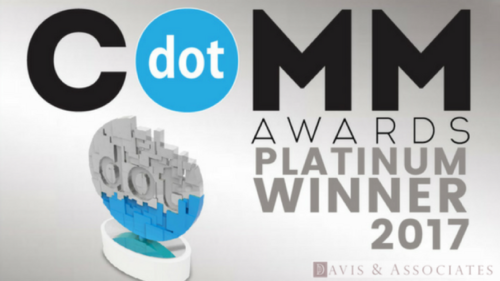 Davis & Associates Wins Platinum dotCOMM Award for Legal Web Video
Recently, Davis & Associates, an Immigration Law firm located in Dallas, was awarded a Platinum dotCOMM award in the category of Legal Web Video.
The video, created by MarketCrest, LLC, Davis & Associates' digital marketing agency, was intended to test two metrics:
Would animated videos resonate with customers seeking legal help?
Would legal video advertising perform better in Spanish or English?
The results proved that video advertising was relevant and would reach the Davis & Associates audience. With the Spanish video receiving 151% more impressions than the English video, the test also proved that Davis & Associates needed to consider some advertising in Spanish.
With this knowledge, MarketCrest wrote and submitted a case study describing the Davis & Associates video advertising A/B test, in hopes of receiving a dotCOMM award for both parties.
The well-known dotCOMM Awards are "an international competition honoring excellence in web creativity and digital communication."
Winning a dotCOMM should "[signify] to employers, clients, prospects and competitors that the winner's web and digital work is among the best in the industry," according to the website.
To see the full case study and a list of all category winners visit the dotCOMM website.
Davis & Associates is the immigration law firm of choice in North Texas including Dallas, Fort Worth, Plano, Frisco, McKinney and surrounding areas. Their attorneys provide expert legal counsel for all aspects of immigration law, including deportation defense, writs of habeas corpus and mandamus, family-sponsored immigration, employment-sponsored immigration, investment immigration, employer compliance, temporary visas for work and college, permanent residence, naturalization, consular visa processing, waivers, and appeals. Attorney Garry L. Davis is Board Certified in Immigration and Nationality Law by the Texas Board of Legal Specialization.