The Economic Benefits of the DACA Program
Created in 2012, the Deferred Action for Childhood Arrivals program benefits hundreds of thousands of youths in America. Often referred to as "Dreamers," potential beneficiaries must meet and continue to adhere to strict standards and requirements. Membership in the program is not permanent and must be renewed every two years. Additionally, the government can revoke DACA rights from any person at any time.
The program benefits nearly a million young people throughout the United States – and the direct beneficiaries are not the only people who reap the benefits. The program also helps the U.S. economy and everyday citizens.
Who Benefits From DACA?
At this time, nearly 800,000 young people have benefitted from the program, receiving protection from deportation and the ability to work or study in the U.S. (or both). While DACA status officially protects from deportation, it only provides "deferred action." This means that there is no official legal status conferred, and Dreamers must renew their deferral of removal in order to avoid deportation. It is worth noting that at this time the program provides no direct path to citizenship or legal permanent status (i.e., green cards). However, under President Joe Biden's plan for the program, there may soon be a route to citizenship or lawful permanent resident status. Additionally, some beneficiaries may qualify for such benefits via another route at this time. (If you're not sure whether you qualify for lawful permanent residency or citizenship, you should consult with a Dallas or Houston immigration attorney about your situation. There may be a way for you to remain in the United States without using the DACA program.)
U.S. Citizenship and Immigration Services, or USCIS, is currently accepting DACA renewals and new applications. Davis & Associates continues to monitor the developing DACA news and will share updates as they are available.
How May a Person Participate in DACA?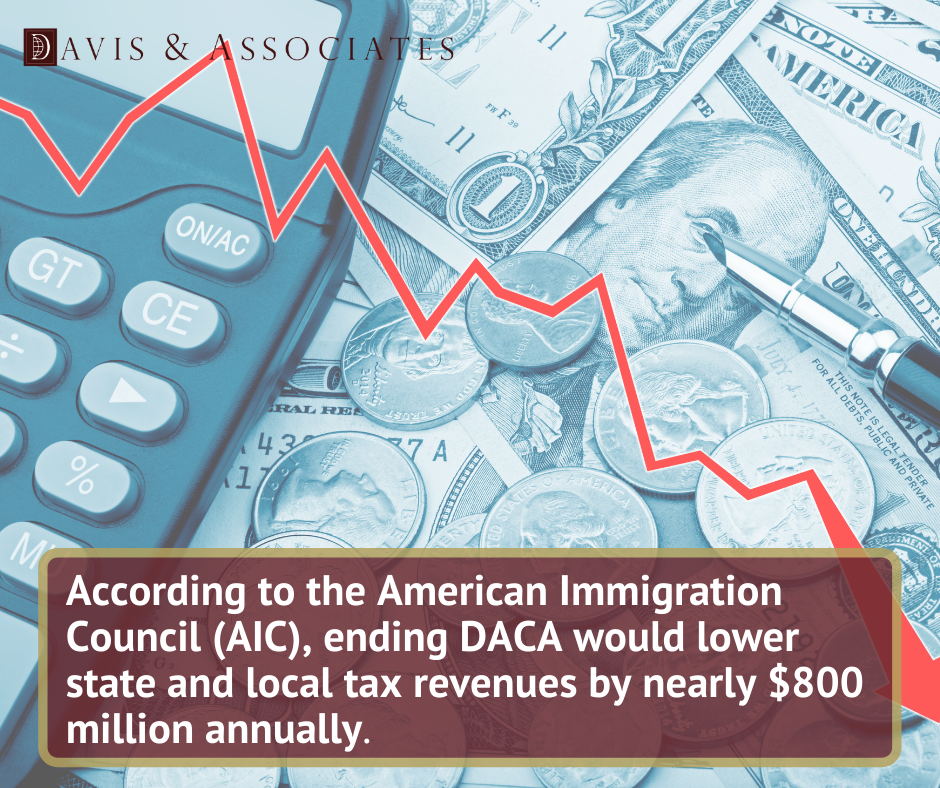 In order to receive DACA status, a young person must meet very specific a set of standards. According to the United States Citizenship and Immigration Services (USCIS), these include any persons who:
Arrived in the U.S. before turning 16
Were younger than 31 upon DACA's creation (June 15, 2012)
Have continuously resided in the U.S. since June 15, 2007
Were physically present in the U.S. (1) on the day of their application and (2) on June 15, 2012
Are either currently in school, graduated from high school or received a GED certificate, or received honorable discharge from the U.S. Armed Forces or Coast Guard
Have never committed a felony, any "significant misdemeanor," and/or three or more lesser misdemeanors and
Pose no threat in any way to American public safety or national security.
How Does DACA Help the U.S. Economy?
For recipients of DACA benefits, the status unlocks avenues of achievement and prosperity that were otherwise unattainable. In this section, we'll first explore the economic strengths of DACA for Dreamers, including job security and educational attainment. Then, we'll review the effects of DACA on communities and the U.S. economy overall.
Educational Attainment
Participation in DACA helps boost recipients' educational opportunities and achievement. A 2017 national survey of Dreamers found that 65 percent of respondents "pursued educational opportunities that [they] previously could not" because of DACA. This better-educated population can certainly apply their skills and knowledge to help American communities and improve the job force.
Contribution to the Labor Force
Dreamers not only receive better educational opportunities but can cast a wider net in the workforce. This heightens job opportunities and encourages professional growth. The same 2017 national survey found that after receiving DACA benefits, over 50 percent of respondents got their first job. Further, of those who did have jobs, over 68 percent got a job with better pay and 54 percent found a job that "better fits [their] education and training."
Taxes and GDP
While the impressive personal benefits of DACA status are obvious, some may wonder about the program's larger effects. How does it benefit the U.S. overall, and its economy?
According to a report by the Institute on Taxation and Economic Policy (ITEP), the roughly 1.3 million youths either enrolled or eligible for DACA contribute roughly $1.7 billion per year in both local and state taxes. According to the American Immigration Council (AIC), ending the program would lower state and local tax revenues by nearly $800 million annually.
Finally, considering the current legal standing of the DACA program, it's prudent to consider what would happen if the program were discontinued. The Observer estimates that the U.S. could lose around $460 billion in GDP if it removes Dreamers from the country and the workforce. That would surely be a stunning blow.
In conclusion, while the above facts and figures are impressive, they only scratch the surface of DACA benefits. The advantages of such a program are deeply profound, affecting all levels of society. For more information and to read full economic reports, simply follow the embedded links within this article to read more from sources like the American Immigration Council and the Institute on Taxation and Economic Policy.
DACA History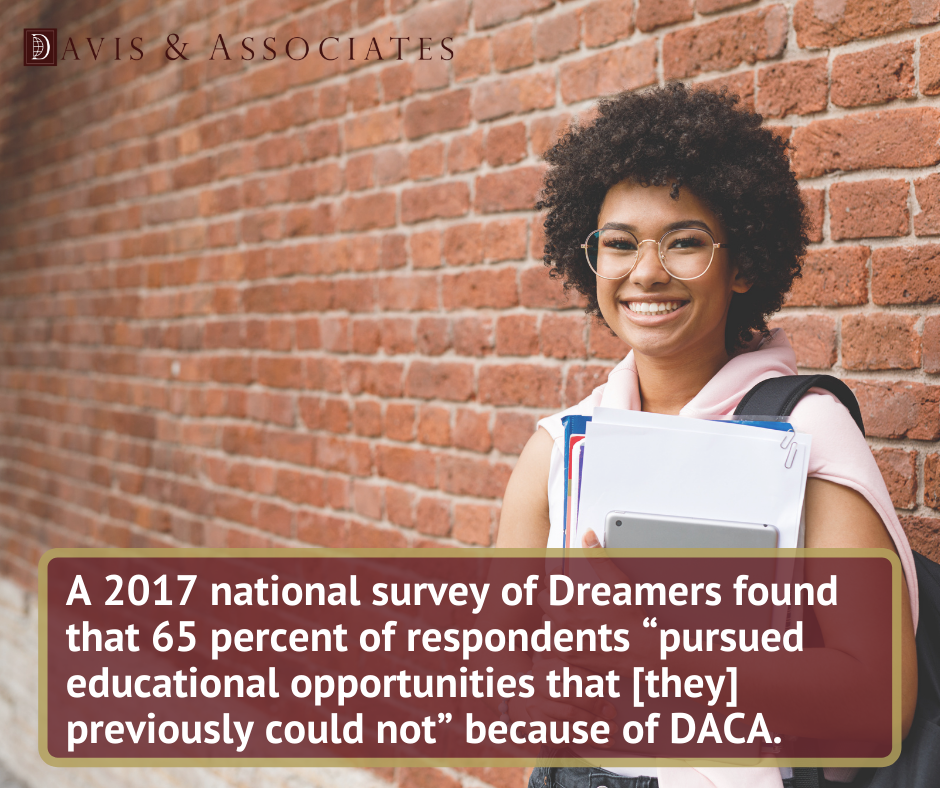 The DACA program provides myriad benefits to individuals, communities, and America as a whole. Yet former President Donald J. Trump engaged in a failed attempted to end the DACA program in 2017. The program's continuation, and thus the future of its beneficiaries, hung in the balance of the U.S. judicial system. A string of court rulings and appeals made it likely the Supreme Court would make the final decision regarding DACA's future.
At the time, DACA's uncertain future encouraged all Americans to consider the many strengths of the program. Without DACA, hundreds of thousands, potentially millions, would be in danger of loss of status, and ultimately, in danger of deportation. Obviously, this would be a grievous occurrence if it had come to pass.
Opponents of DACA discussed perceived detriments of the program but ignored its many proven benefits. There are many economic advantages of DACA, including the sheer number of people who benefit from it, as well as how it helps individuals, local governments, and the federal economy as a whole.
Fortunately, though, the U.S. Supreme Court overturned the former president's termination of DACA on June 18, 2020. In a 5-4 decision, the SCOTUS found that the administration's termination of DACA was done in "an arbitrary and capricious manner, in violation of the Administrative Procedure Act, or APA." That meant that U.S. Citizenship and Immigration Services had to continue to accept DACA renewal applications from previous beneficiaries and that it would have to accept first-time DACA applications, as well.
As of December 4, 2020, the USCIS had to:
Accept first-time requests for consideration of deferred action under DACA based on the terms of the DACA policy in effect before September 5, 2017
Accept DACA renewal requests based on the terms of the DACA policy in effect before September 5, 2017
Accept applications for advance parole documents based on the terms of the DACA policy in effect before September 5, 2017
Extend one-year grants of deferred action under DACA to two years
Extend one-year employment authorization documents under DACA to two years
How Can You Request DACA for the First Time?
You may only request DACA for the first time if you were under the age of 31 on June 15, 2012, and you came to the United States before you reached your 16th birthday. You must have continuously resided in the U.S. since June 15, 2007 up to the present time, and you must have been physically present in the U.S. on June 15, 2012 as well as at the time of making your request for DACA with USCIS.
You must not have had a lawful status in the U.S. on June 15, 2012 – which means you never had a lawful immigration status on or before that date, or that any lawful immigration status or parole you obtained prior to that date had expired as of that date.
You must also currently be enrolled in school, have graduated, or have obtained a certificate of completion from high school; likewise, you may have obtained a general education development (GED) certificate, or you must be an honorably discharged veteran of the U.S. Armed Forces (to include the U.S. Coast Guard).
You must not have been convicted of a felony, a significant misdemeanor, or three or more other misdemeanors, and you must not pose a threat to national security or public safety.
What Are the Age Guidelines for DACA?
You must have been under the age of 31 on June 15, 2012, and you must currently be age 15 or older to request it now. However, if you're currently in removal proceedings or have a final removal or voluntary departure order, you may be younger.
Military Service and Education Guidelines Under DACA
You must be one of the following to qualify for deferred action for childhood arrivals:
A graduate of public or private high school
A graduate of secondary school
A GED-holder
Currently enrolled in school
An honorably discharged veteran of the U.S. Armed Forces (including the U.S. Coast Guard)
If you dropped out of school and didn't graduate, or if you never attended school, you cannot qualify for DACA.
Fee Exemptions for DACA Requests
There are only limited fee exemptions for DACA petitions. You can only ask for a fee exemption if you:
Are under the age of 18, homeless, in foster care or otherwise lacking any parental or familial support, and your income is less than 150 percent of the U.S. poverty level
Cannot care for yourself because you have a serious, chronic disability and your income is less than 150 percent of the U.S. poverty level
Have, at the time of your request, accumulated $10,000 or more in debt over the past 12 months as the result of unreimbursed medical expenses for yourself or an immediate family member, and your income is less than 150 percent of the U.S. poverty level
You'll have to submit evidence, as well, including copies of tax returns, bank statements or pay stubs.
What if USCIS Does Not Grant DACA in Your Case?
If U.S. Citizenship and Immigration Services denies you DACA, you can't appeal the decision or file a motion to reopen or consider. USCIS doesn't review its discretionary determinations. However, you do need to know that as long as your case doesn't involve a criminal offense, fraud, or a threat to national security or public safety, USCIS will not refer your case to Immigration and Customs Enforcement, or ICE, for purposes of removal proceedings in most cases (unless the Department of Homeland Security finds that there are exceptional circumstances).
You may request a review if you met all of the DACA guidelines and believe your request was denied because of an administrative error, though. You should consult with a Dallas or Houston immigration attorney if you believe this applies to your case.
Do You Need to Talk to an Immigration Attorney About DACA?
If you're considering applying for DACA for the first time or renewing your status, we may be able to help you. Call our Dallas and Houston immigration attorneys now to schedule your consultation – we'll ask you some questions, answer your questions, and help you get moving on the right path.
---
About Davis & Associates:
Davis & Associates is the immigration law firm of choice in Houston & North Texas including Dallas, Fort Worth, Plano, Frisco, McKinney and surrounding areas. Their attorneys provide expert legal counsel for all aspects of immigration law, including deportation defense, writs of habeas corpus and mandamus, family-sponsored immigration, employment-sponsored immigration, investment immigration, employer compliance, temporary visas for work and college, permanent residence, naturalization, consular visa processing, waivers, and appeals. Attorney Garry L. Davis is Board Certified in Immigration and Nationality Law by the Texas Board of Legal Specialization.
Dallas Contact Info:                                                                                                                                                                                             
Address: 17750 Preston Road Dallas, TX 75252                          
Phone: (469)957-0508                                                                       
Houston Contact Info:                                                                                                                                                        Address: 6220 Westpark Dr, Suite 110, Houston, TX 77057
Phone: (832) 742-0066