UNITED STATES IMMIGRATION & VISAS
IMMIGRATION VISA LAWYERS IN HOUSTON, TEXAS
Davis & Associates are your legal professionals of choice for US immigration and visas in South Texas including Houston and neighboring areas. Our immigration attorneys supply experienced legal counsel for all components of immigration law, including deportation defense, writs of habeas corpus and mandamus, family-sponsored immigration, employment-sponsored immigration, EB5 investment immigration, employer compliance, temporary visas for work and college, permanent residence, naturalization, consular visa processing, waivers, and appeals.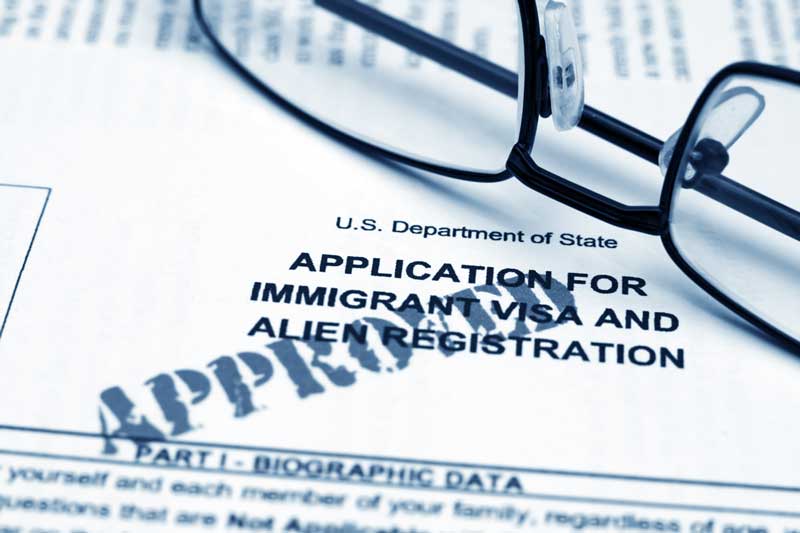 IMMIGRATION & VISA LAW PRACTICE
Davis & Associates is committed to immigration law. Our immigration law firm commits its efforts to the immense situations regarding immigration law. America's political opinion updates with each President, so staying on top of immigration law is a full-time job for our visa and immigration lawyers. An immigrant in the United States needs the very best representation possible to be able to overcome many obstacles that arise.
JERRY PRADO
"This firm has great attorneys and they really care about their clients. Their level of experience really shows in their work. Always top rate. I have no qualms about recommending the firm to anyone that needs a visa immigration lawyer."
OUR VISA IMMIGRATION ATTORNEYS ARE COMMITTED TO PROVIDING EXCELLENT REPRESENTATION IN THE FOLLOWING AREAS:
Appeals before the Board of Immigration Appeals.
Immigrant Visa Petitions (Extraordinary Ability, Outstanding Professors and Researchers, National Interest Waivers, Multinational Managers and Executives, Family Immigration, Spouses, Parents and Minor Children of US Citizens, Spouses and Minor Children of Lawful Permanent Residents, Adult Children of US Citizens, Brothers and Sisters of US Citizens, Special Immigrants).
Removal proceedings before the Executive Office for Immigration Review (Cancellation of Removal, Adjustment of Status, Withholding of Removal, Voluntary Departure, Waivers, Fighting Charges).
Nonimmigrant Visa Petitions (Visitors, EB5 Investors, International Traders, Students, Professional Workers, Intercompany Transfers, Extraordinary Ability, Performers, Religious Workers).
Consular Visa Processing (Immigrant or Nonimmigrant Visas from the US Consulates).
Adjustment of Status (applying for lawful permanent resident status while in the US with an approved Immigrant Visa Petition, Asylum status or the Diversity Visa Program).
Change of Status (conversion of the I-94 Entry Document to a different status).
Political Asylum.
Writs of Mandamus and Writs of Habeas Corpus in Federal Court.
Labor Certification and Business Immigration.
Violence Against Women Act.
Waivers (Fraud, Criminal Activity, Medical, Unlawful Presence, Prior Deportations, J-1).
Advisory Opinions and Expert Witness services for the Immigration Consequences of Criminal Activity and domestic relations decisions.
Special Immigrant Religious Workers.
FAMILY BASED VISAS
For people needing to know how an immigrant visa (also described as permanent residency or a "green card") can be obtained through a family member through Family Immigration, read on.
Citizens and permanent residents of the United States may petition the federal government for an immigrant visa for family members. US citizens can petition for more categories of family members than permanent residents can. The amount of time between the date the petition is filed and the date when the family member gets the immigrant visa can vary wildly-- anywhere from 6 months to 20 years or more. The delay time is established by the immigration status of the petitioner (are they a citizen or a permanent resident?), the category of family member they are petitioning, and what country the family member is from.
Here are the names and descriptions of the family-member categories that citizens and permanent residents may petition for:
US CITIZEN PETITIONERS
Immediate Relatives:
Spouse
Unmarried child under 21 years old
Parent (the US citizen petitioner must be at least 21 years old)
First Preference:
Unmarried child over 21 years old (and his or her children)
Third Preference:
Married child of any age (and his or her spouse and children)
Fourth Preference:
Siblings (and his or her spouse and children)
PERMANENT RESIDENT PETITIONERS
2A Preference
Spouse
Unmarried child under 21 years old (and his or her children)
2B Preference
Unmarried child over 21 years old (and his or her children)
Annually, the US government authorizes a set number of immigrant visas for the family-based categories. Annually, more citizens and permanent residents file petitions for their family members than there are immigrant visas authorized. This has created a years-long backlog in the system.
The government designates each of the different types of family petitions a priority. Some family relationships have a higher priority than others, indicating those family members will generally get their permanent residency quicker. The government also puts priority on the petitions for immigrant visas based upon the country that the family member is immigrating from. Mexico, China, India, and the Philippines have individual waiting times because family members from these nations represent much of the requested immigrant visas.
The family relationship categories with the highest priority have a special name. They're called "immediate relatives." The spouses, unmarried children under 21 years old, and parents of US citizens are immediate relatives. Immediate relatives have immigrant visas immediately available to them. Once the preliminary petition by the US citizen is approved by US Citizenship and Immigration Services, the immediate relative may immediately file an application for the immigrant visa-- sometimes it can even be filed in addition to the initial petition.
Those family relationships which are not immediate relatives are called "preference categories." The people belonging to preference categories must wait until an immigrant visa is readily available for them before they can apply for one. Every petition submitted by a citizen or permanent resident which is approved is given a priority date (generally, it's the date on or near when the petition was received by USCIS).
The US Department of State publishes a visa bulletin monthly which details each preference categories with a date. Immigrant visas are available to anyone in that preference category whose priority date is earlier than the date on the visa bulletin. Awaiting a priority date to be current can take many years.
Once an immigrant visa is available to the intending immigrant family member, other factors including the person's US immigration history, criminal history, and current location will determine where he or she qualifies for permanent residency and where the application should be filed-- inside or outside of the United States.
It is essential that you speak with an immigration attorney who is experienced in visas and US immigration law before filing petition or application with the government.
VISAS FOR CERTAIN VICTIMS OF DOMESTIC VIOLENCE
Individuals battered by their US Citizens and Legal Permanent Resident family members may apply for an immigrant visa.
Immigration through a US citizen or permanent resident family member generally requires that the citizen or permanent resident file a petition and see the immigration process through to the end, often with an interview administered by USCIS. This means that the citizen or permanent resident has full control of the immigration process for their family member; they must be the one to initiate the process and can end it at any time.
In relationships where domestic violence is present, this control can be misused by the citizen or permanent resident as one more way to hurt their family member through threats of revoking or delaying the immigration process, or of deportation.
VAWA
Congress passed the Violence Against Women Act (VAWA) to help undocumented victims of domestic violence gain permanent resident status independently of their abusive citizen or permanent resident family member.
The categories of people who can file VAWA petitions are:
Battered spouses of US citizens and legal permanent residents. The battered spouse's unmarried children under the age of 21 can be included in the application, no matter whether the child suffered abuse or not.
Unmarried children under 21 who have been abused by their citizen or permanent resident parents. The child's unmarried children under 21 can be included in the application, regardless of whether the child suffered abuse or not.
Parents of children who have been abused by their citizen or permanent resident step-parents. The parent's other unmarried children under 21 can be covered in the application, despite whether the child suffered abuse or not.
Parents who have been abused by their adult US citizen sons or daughters.
A VAWA petition is filed on Form I-360 and requires fairly substantial documentation. There are requirements to be proven for USCIS to approve a VAWA petition. Generally, the requirements are:
Proof of the abuser's immigration status. The abuser's status can be proven with a copy of their birth certificate, passport, naturalization certificate, or permanent residency card.
Evidence of the good moral character of the undocumented person. USCIS requires that the VAWA applicant get a police approval letter from every city where the applicant has lived for the past three years, if the applicant inhabited that city for six months or more.
Proof of the abuse, and the result of the abuse on the undocumented person. Typical evidences include police reports, arrest reports, protective orders, restraining orders, court documents, medical records, doctor and/or hospital bills, pictures, news reports, counseling letters, and letters from people who recognized the abuse at the time it happened.
Proof of the relationship between the abuser and the undocumented person. This can include marriage certificates, birth certificates, and divorce decrees.
If the VAWA petition is approved, the battered spouse, child, or parent may be able to apply for permanent residency based on the petition once the priority date is current. The immigration, criminal, and medical records of each applicant must be fully evaluated to determine if, how, and when they can apply for a green card.
Bringing employees to the US can be a disheartening and challenging process. When it concerns business immigration, whether your business is seeking to hire the most experienced candidate, who happens to be from outside the US, or trying to transfer in a manager from your overseas office, the immigration lawyers at the Law Offices of Garry L. Davis can assist.
Our firm focuses exclusively on practicing US Immigration law. Garry Davis, the founder of the immigration law firm, is Certified by the Texas Board of Legal Specialization in Immigration and Nationality Law. We serve corporate clients ranging in size from one employee to hundreds. Whether your business is a start-up, an investment purchase of an existing business, or a well-established company with a demand for talent that can only be found outside the US, our immigration lawyers can help.
We have appropriately filed intra-company transfer visas for executives, managers and those employees with proprietary knowledge of the company's offerings (L-1A and L-1B visas). We also file for professional worker visas and work visas offered under the NAFTA treaty (H-1B Employment Visa and TN-1). For nationals of those countries with whom the US has a treaty of trade and friendship that sustains them, we file E-1 trader and E-2 investor visas. If you are a religious organization and wish to bring a foreign clergyman to head up or initiate an ethnic congregation, we file R-1 religious worker visas.
Once the visa holder has made it to the US, there are various options for allowing that person to become a permanent resident. We assist in those processes as well, whether the prospect is an individual of extraordinary ability, a multi-national manager or executive, a high net worth investor, or a world-class professor or researcher. We also process applications for labor certification. If you are an investor, executive, manager or employer that has a need for visa processing, the immigration lawyers in our office will be delighted to supply you the assistance needed.
WHO QUALIFIES FOR A PERMANENT VISA
What are the ways in which someone can become a permanent resident of the United States?
Federal immigration laws allow numerous ways for a non-citizen of the United States to become a permanent resident. A person with permanent residency (a "green card") is called a Legal Permanent Resident (" LPR") and has the right to settle down and work in the United States, and to travel in and out of the United States.
The steps to permanent residency are listed below in addition to a brief explanation. Please see the other articles on this website in our News section for more facts on obtaining permanent residency.
CERTAIN FAMILY MEMBER OF US CITIZENS & LEGAL PERMANENT RESIDENTS
If you are the spouse, parent, child, or sibling of a US citizen, or the spouse or unmarried child of a permanent resident, you may become a permanent resident through your family member. Through Family Immigration, the citizen or permanent resident family member would have to file a petition in your place with US Citizenship and Immigration Services. If that petition is approved, you may then be able to apply for an immigrant visa (a "green card").
The amount of time between when the citizen or permanent resident files the petition and when the non-citizen family member truly obtains the immigrant visa can vary wildly—anywhere from 6 months to 20 years or more. The hold time is determined by the immigration status of the petitioner (are they a citizen or a permanent resident?), the type of family member they are petitioning, and what country the family member is from.
Solely having an approved petition, or even several approved petitions, does not mean that the non-citizen will obtain permanent residency. USCIS must determine that the person qualifies for residency in accordance with several factors, including the person's health, immigration, and criminal histories.
CERTAIN EMPLOYEES, WORKERS, OR INVESTORS
People who have skills valuable to US employers can qualify for permanent residence through Business Immigration. There are various suitable categories such as those such as professors, researchers, athletes, entertainers, people with higher education degrees, religious workers, people wanting to invest $1 million in a US company, and certain "special immigrants."
Each variety of worker is prioritized in categories, as with family-based visas. Due to this, there can be a prolonged wait time between the time the employment-based petition is filed and when the person can apply for permanent residency.
Because of the assortment of ways that a person can qualify and the requirements that an employer must fulfill to petition for permanent residency for a non-citizen worker, an experienced immigration attorney should be contacted before initiating the process.
SELF-PETITIONING IMMIGRANTS
In some cases, a person can file a visa petition without family help. Recently widowed spouses of US citizens can self-petition, if they were wed for two years before the death of their spouse, apply within two years after the passing of their spouse, and have not remarried.
The battered spouses, parents, and unmarried children under 21 of US citizens and the battered spouses and unmarried children under 21 of permanent residents can also self-petition. To do so, the battered family member must provide documentation that they have suffered extreme cruelty by the citizen or permanent resident. The petitions are subject to approval from USCIS.
ASYLEES & REFUGEES
Asylum can be secured by an individual inside the United States within one year of their time of arrival. The person must demonstrate that they have a well-founded fear of oppression in their native country based on their race, religion, nationality, political opinion, or membership in a social group. Refugees resemble asylum-seekers except that they apply for refugee status outside of the United States. A person granted asylum or refugee status can request permanent residency after one year.
DIVERSITY LOTTERY WINNERS
Fifty thousand immigrant visas are authorized annually for the lucky winners of the diversity lottery. The winners are randomly selected by the Department of State and the lottery is open to people from countries with low rates of immigration to the United States.
PEOPLE WHO QUALIFY FOR LEGALIZATION, SAW, OR NACARA
Legalization programs from the 1980s allowed millions of people to become permanent residents. The application periods for the "amnesty" and Special Agricultural Worker programs of 1986 ended years ago. However, subsequent class action litigation has made it possible for a small group of people to seek permanent residency through those programs even after they ended.
The Nicaraguan Adjustment and Central American Relief Act of 1997 arranged immigration advantages for people from Nicaragua, Cuba, El Salvador, Guatemala, and certain Eastern European countries. The application period for NACARA has ended.
PEOPLE WHO QUALIFY FOR REGISTRY
Registry is a provision in immigration law which allows an undocumented person who has resided in the United States since January 1, 1972 to make an application for permanent residency. The person must be of good moral character and must otherwise qualify to receive permanent residency. A person's criminal, immigration, or medical history could disqualify them from becoming permanent residents-- it is crucial to speak to an experienced immigration attorney to be sure you qualify.
CONGRESSIONAL PRIVATE BILLS
Permanent residency may be conveyed to an individual through an act of Congress via the introduction of a private bill, but this is incredibly rare. A member of Congress must sponsor the bill and introduce it. The bill must be voted on and passed as any law would be. People who obtain residency through a private bill, typically have compelling humanitarian considerations in their cases and no other way to legalize their status.
PEOPLE WHO SUCCESSFULLY DEFEND THEMSELVES IN IMMIGRATION COURT AGAINST DEPORTATION
A person who is in removal proceedings before an immigration judge and who has lived in the United States for at least 10 years, has good moral character, has not been convicted of certain crimes, and has a US citizen or permanent resident spouse or parent can prevent their deportation if they can prove to the judge that if they are deported, their relative will suffer extraordinary and unusual suffering. This is an extremely detailed and unique specification, and for this reason few people can meet it. However, if the judge does decide to cancel the deportation, she will also provide permanent residency to the non-citizen.