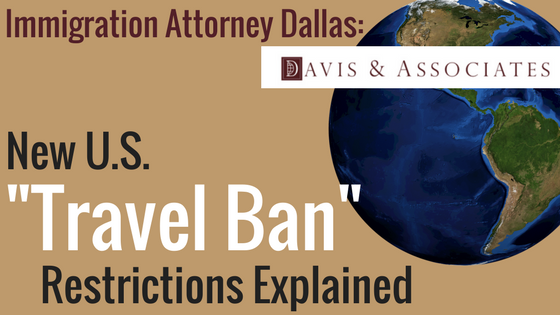 Immigration Attorney Dallas: New U.S. "Travel Ban" Restrictions Explained
Throughout 2017, headlines involving executive orders and immigration crackdowns throughout the country, notably in Texas, have appeared almost weekly. Debate, legislation, and court rulings aggressively pursue and expel undocumented residents while others are intended to reduce the number of new immigrants that enter the United States. Though recent laws are being challenged in District Courts, the trend is heading toward more stringent restrictions on new arrivals.
Working with a qualified and experienced immigration attorney Dallas to understand your rights can be an essential step to understanding the rapidly changing outlook of immigration matters. Contacting an experienced immigration attorney in Dallas will help to resolve your concerns, understand the best ways to protect your family, provide legal assistance, and contribute to your peace of mind.
Evolution of the U.S. Government Travel Bans
Early in 2017, an executive order was issued that restricted entry into the United States of citizens from seven predominantly Muslim countries: Iran, Iraq, Somalia, Yemen, Syria, Sudan, and Libya. That order called for a suspension of all entry for 90 days until immigration vetting procedures could be reviewed.
Immediately, challenges in federal courts suspended the ban based upon the constitutionality of seemingly targeting a specific religion.
A second order was proposed in March 2107 that modified the original to allow those with a "credible claim of a bonafide relationship with a person or relationship in the United States." Others from the six original countries, now excluding Iraq, would be barred for 90 days subject to additional vetting.
Again, the order was challenged in district courts for the same reasons.
Latest Travel Ban
In September, the president added three more countries to the travel ban list that included visitors from North Korea, Venezuela, and Chad. Sudan was removed from the original group.
The latest announcement has some exceptions. While Sudan is no longer included in the travel ban, Iraqis will undergo some heightened security checks but are not officially a banned country of origin.
These travel restrictions will apply to most ordinary citizens of the designated countries while the Venezuela ban eliminates entry by specific government officials and their families.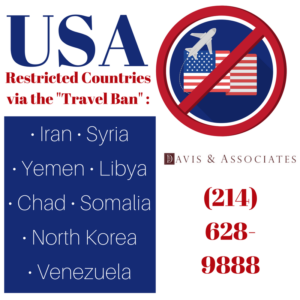 To summarize, the latest United States government travel restriction involves citizens from the following seven nations:
Iran
Syria
Yemen
Libya
Chad
Somalia
North Korea
Venezuela (limited to specific government officials and families)
Challenges to the Travel Ban Restrictions
The current travel ban order is the third to be presented by the president during his first nine months in office. The first, issued in January, was immediately challenged by District Courts based upon an assumed attempt to restrict individuals from predominantly Muslim nations in particular from entering the country.
A second modified but similar travel ban was issued in March and again met with protest and was eventually was rejected in U.S. district courts. However, the Supreme Court granted a temporary approval of parts of the ban while proposing to review the situation entirely in October 2017.
What Is Different About the New Travel Ban?
As the time for the October review by the U.S. Supreme Court approached, the latest executive order presented a different twist. The opposition challenged the constitutionality of previous travel bans that seemed to target individuals of a specific religion, Islam. Add to that assumption is the fact that the president, while campaigning, had repeatedly called for rejecting any Muslims from entering the United States.
However, adding Venezuela and North Korea, both non-Muslim countries, might seem to counter the argument.
Davis & Associates, Immigration Attorney Dallas
Trying to challenge new immigration laws and enforcement without a professional immigration attorney is very difficult. An award-winning immigration attorney Dallas, Davis & Associates, concentrates strictly on immigration law. Compassionate and knowledgeable, the Davis & Associates staff develops strategies that protect and assist their clients through the entire range of challenges.
For a free consultation with a member of the Davis & Associates multilingual staff, visit the website or phone at 208.628-9888. Discussing your situation with a compassionate and knowledgeable immigration attorney Dallas will help you to understand your current situation more thoroughly.
About Davis & Associates:
Davis & Associates is the immigration law firm of choice in North Texas including Dallas, Fort Worth, Plano, Frisco, McKinney and surrounding areas. Their attorneys provide expert legal counsel for all aspects of immigration law, including deportation defense, writs of habeas corpus and mandamus, family-sponsored immigration, employment-sponsored immigration, investment immigration, employer compliance, temporary visas for work and college, permanent residence, naturalization, consular visa processing, waivers, and appeals. Attorney Garry L. Davis is Board Certified in Immigration and Nationality Law by the Texas Board of Legal Specialization.