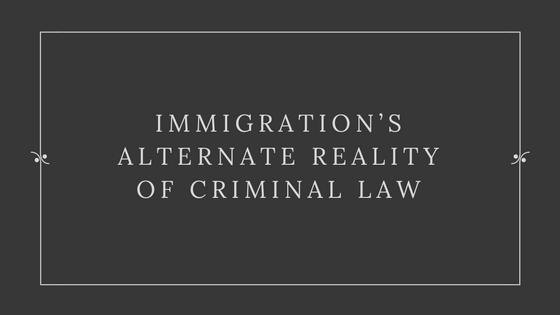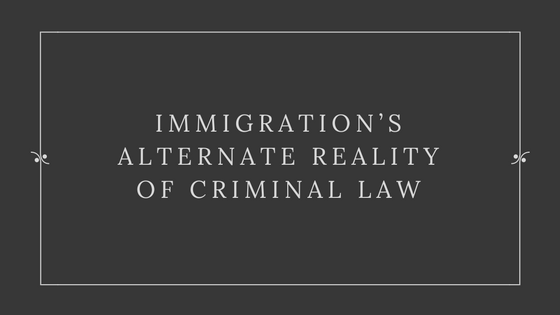 Immigration's Alternate Reality of Criminal Law
I'm not a criminal law practitioner, but some of my friends are.
What they tell me is that the goal of criminal defense work is to minimize consequences to clients who are facing criminal charges.
In some situations, minimizing jail time is the goal. In others, it's trying to avoid a conviction altogether through a pre-trial diversion program or deferred adjudication. Others may be trying to avoid future disclosure through expungement.
Interests may diverge when a criminal defense practitioner represents someone who is not a U.S. citizen.
The enforcement provisions of the Immigration and Nationality Act (INA) apply to everyone who lives in the United States and is not a citizen, including lawful permanent residents. The Supreme Court has made it clear that defense lawyers must advise non-citizen clients about the immigration consequences of options and recommendations for disposing of criminal matters. Padilla v. Kentucky, 559 U.S. 356 (2010).
It is difficult, however, to know what a noncitizen's immigration law exposure is in a given situation. The INA defines criminal law terms differently than those terms are used in criminal law practice.
For example, Texas law allows for disposal of a criminal charge via a guilty or no contest plea, probation and eventual dismissal through a deferred adjudication process.
Unfortunately, the INA definition of conviction includes deferred adjudication and treats that outcome the same as if defendant was found guilty and convicted of the offense. The ultimate dismissal does not matter because of how conviction is defined in the INA.
The INA defines conviction as a formal judgment of guilt of the alien entered by a court or, if adjudication of guilt has been withheld, where (1) a judge or jury has found the alien guilty or the alien has entered a plea of guilty or nolo contendere or had admitted sufficient facts to warrant a finding of guilt; and (2) the judge has ordered some form of punishment, penalty or restraint on the alien's liberty to be imposed. INA §101(a)(48)(A).
A finding of guilt or plea of guilty or no contest is a conviction for immigration purposes as long as some penalty is imposed, to include probation, a fine, jail time, time served, etc.
The Texas deferred adjudication process was Congress's target for the amendments that created this very expansive definition. Since 1996, deferred adjudication has no ameliorative effect on a non-citizen's immigration consequences.
Some sections of the INA have consequences for offenses that result in a defendant receiving a specified term of imprisonment. For example, under the INA, a theft offense for which the defendant was sentenced to serve one year or more in prison is considered an aggravated felony regardless of the amount of time actually served and regardless of the level of the charge. INA §101(a)(43)(G).
This is because the INA has an alternate reality definition of sentence to a term of imprisonment as follows: Any reference to a term of imprisonment or a sentence with respect to an offense is deemed to include the period of incarceration or confinement ordered by a court of law regardless of any suspension of the imposition or execution of that imprisonment or sentence in whole or in part.
Notice, it does not matter how much of the time was actually served. All that matters is that jail time be in the order.
It gets crazier.
Under the INA, a non-citizen can be deported for being convicted of an aggravated felony even for an offense that is not charged as aggravated or a felony under the criminal statute. INA §101(a)(43). For example, a class A misdemeanor under Texas Penal Code (TPC) §31.03(a) for which a defendant was given the maximum sentence would be considered an aggravated felony under the INA. TPC §12.21, INA §101(a)(43)(G).
To make matters worse, non-citizens have immigration consequences for convictions for crimes that involve moral turpitude. INA §§212(a) (2)(A), 237(a)(2)(A).
Sounds reasonable, until you learn that moral turpitude is not defined in the INA, leading to tremendous disparity in who gets deported and who doesn't for the same offense.
What is morally turpitudinous is left to the interpretation of immigration judges.
We have to look to case law for instruction on what has and what has not been considered morally reprehensible in the past, and the case law is not always clear.
As a final note, expungement has absolutely no effect on immigration consequences. An expunged criminal case absolutely must be disclosed to an immigration officer when disclosure of criminal history is required.
Those who practice criminal defense, please ask if your client is a U.S. citizen. If not, I strongly encourage getting an immigration lawyer involved when advising your client.
Garry L. Davis, managing attorney for Davis & Associates, a boutique immigration law firm, graduated from the University of Texas School of Law and Brigham Young University. Board certified in immigration and nationality law by the Texas Board of Legal Specialization, he has been selected as a Texas Super Lawyer and for Best Lawyers in America. He served the American Immigration Lawyers Association as the Dallas immigration court liaison and as program co-director for a Texas chapter CLE conference held in Mexico. He has frequently spoken on immigration issues by various organizations.
For more information, call us at 1 (800) 962-5286