Preparing for Your Asylum Interview
Each year across the globe, thousands of people must flee their homes due to persecution and fear. The United States allows those who fear return to their native countries to apply for asylum. If granted asylum, a beneficiary can stay in the U.S. permanently, building a life free from the threat of violence or retaliation. According to U.S. Citizenship and Immigration Services, asylum can be sought if persecution stems from a person's race, religion, nationality, political opinion or membership in a certain group.
The Types of Asylum in the United States
In the U.S., two types of asylum exist: affirmative and defensive. This article addresses the interviews scheduled and conducted during the affirmative asylum application process. Defensive asylum occurs through the immigration court system, as a final defense against deportation. Those who have applied for asylum through the affirmative process and are denied can apply for defensive asylum should the need arise.
In today's article, we'll address the following:
How do you apply for affirmative asylum?
How do you prepare for the required interview?
What can you expect during and after the interview?
Applying for Affirmative Asylum
Any person eligible for affirmative asylum has the right to seek it. It is important to note that some can apply for asylum even if they arrived in the U.S. illegally. To be eligible to apply for affirmative asylum, a person must:
Not be undergoing any removal proceedings
Be present in the U.S. at the time of application process
Apply for asylum within one year of arriving in the U.S.
To formally apply for asylum with the USCIS, you or your attorney must submit Form I-589, Application for Asylum and for Withholding of Removal. The USCIS receives and processes applications via specific service centers across the country. You can locate your closest field office here. Any asylum candidate can also petition for spouses or unmarried children under 21 at the time of their application.
After completing and submitting your application, the USCIS will process the paperwork. In addition to the required documentation and forms, asylum applicants must undergo fingerprinting, background checks, and the most important aspect – the interview.
How To Prepare for an Affirmative Asylum Interview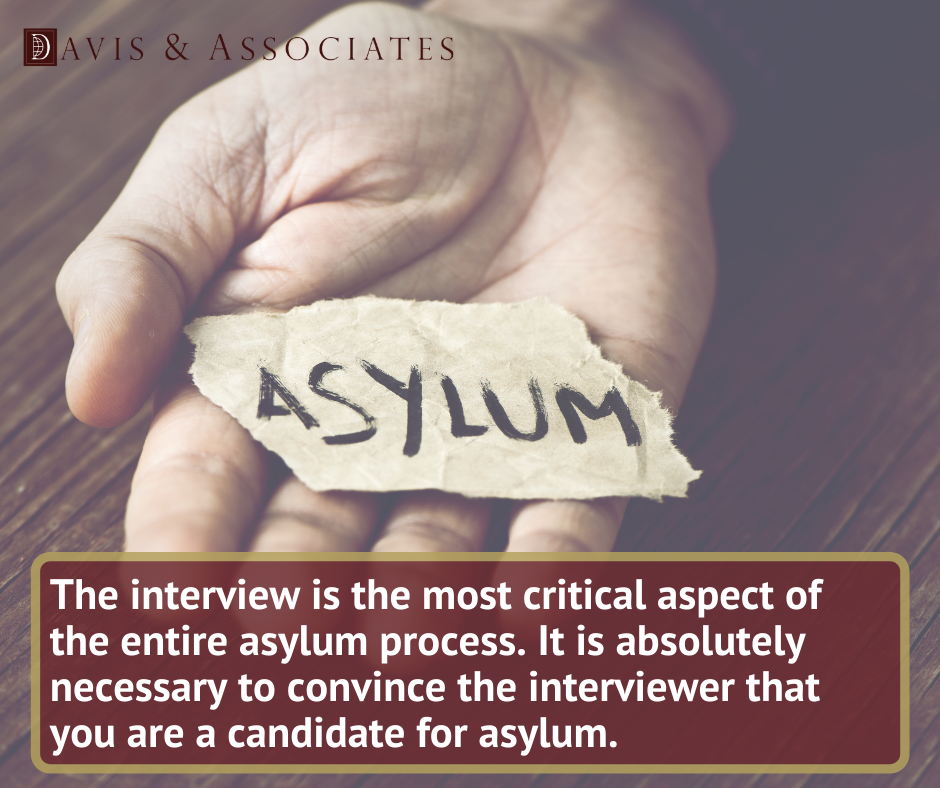 After you have submitted your asylum application, you must wait to be contacted by the USCIS about your interview date. Without a doubt, the interview is the most critical aspect of the entire asylum process. It is during this interview that applicants discuss their cases with a government official, known as an "asylum officer." This official will talk with you and discuss the experiences that led you to flee your home and seek asylum in the U.S. While recounting such life events will likely be stressful and upsetting, it is absolutely necessary to convince the interviewer that you are a candidate for asylum.
You can prepare for the interview by readying the following documents and materials, which need to be brought to your interview:
I-94 Arrival Record(s)
Birth and/or Marriage Certificates
Passport(s), as well as any other ID/travel documents
A hard copy of your I-589 asylum application
If you submitted paperwork petitioning for a spouse or children, they should come to the interview with you. Additionally, they will need to provide any paperwork discussed above that is applicable, like their passport and ID. Additionally, if your travel, ID, and other documents/evidence are not in English, you will need to bring certified translations of those documents. You can read more about specific required documentation on the USCIS's website.
Due to the complex nature of asylum proceedings and interviews, all applicants have the right to bring an attorney to their asylum interview. Before arriving, though, your attorney must submit form G-28, Notice of Entry of Appearance as Attorney or Accredited Representative.  Additionally, applicants also must bring an interpreter should one be necessary.
What to Expect During an Asylum Interview
Your interview with the asylum officer will last roughly one hour. At the beginning of the interview, you'll swear an oath to tell the truth. The asylum officer will talk with you, hear your story, and ask you questions. Prior to the interview, they will have reviewed your application thoroughly, noting any discrepancies or issues. If you have an attorney, they are there for your protection and will help throughout the interview.
The asylum officer interviewing you will assess three things:
Whether you meet the Immigration and Nationality Act's definition of a refugee
Whether you have any existing bars to eligibility for asylum
Whether or not you have "credible fear" of persecution
"Credible fear" simply means that it is more likely than not that an asylum seeker will be harmed upon return to their home. The Department of Homeland Security says you can be found to have credible fear of persecution if you can establish that there's a significant possibility you'll be persecuted based on your race, religion, nationality, membership in a particular social group or political opinion if you're returned to your country.
At the end of the interview, you or your attorney may make a statement. This statement should include any information or details not discussed prior that you feel are essential to your case. Again, it's very important to provide the interviewer with as much detail as possible to allow them to understand and establish "credible fear."
Questions You May Be Asked During an Asylum Interview
The interviewer will talk with you and ask you questions. Your interpreter and/or attorney can help you if you do not completely understand a question. Many of the questions will be biographical in nature or will attempt to evaluate any bars to asylum that you may have. Prepare for anything – the interviewer may even ask you a question again, or in a different way, to assess the veracity of your statements.
In addition to any basic biographical or informational questions, you may be asked:
Who are you?
Where are you from?
Why are you seeking asylum?
Do you have any proof of persecution? Were you physically harmed?
Can any person validate your claims?
Have you ever committed a serious crime?
Have you ever been involved in persecution or terroristic acts?
What are the reasons you fear persecution in your home country?
Remember, you can always ask the asylum officer to repeat a question or slow down. What is most important is that you understand the questions, allowing you to respond appropriately and fully. There are no "wrong" answers, but you absolutely must tell the truth during an asylum interview.
Typically, you will receive your asylum decision within two weeks of your interview date. The asylum officer will carefully review the details of your application as well as the information provided during your interview. They will determine whether, in their opinion, you have demonstrated "credible fear" while meeting all other asylum requirements. For more details, visit the USCIS's website.
What About Denial of Asylum?
USCIS can deny you asylum in the United States. This can happen if you don't have a credible fear of persecution or torture, or if you:
Have persecuted other people because of their race, religion, nationality, membership in a certain social group or political opinion
Have been convicted of a particularly serious crime
Have engaged in terrorist activity, or you are likely to engage in terrorist activity
Have incited terrorist activity or you are a member or representative of a terrorist organization
Were firmly resettled in another country prior to applying for asylum in the United States
Likewise, USCIS can deny you if:
The official interviewing you or handling your case has reason to believe that you committed a serious nonpolitical crime outside the United States
The official interviewing you or handling your case has reasonable grounds to believe that you are a danger to the security of the United States
What if the Asylum Officer Believes You Don't Have a Credible Fear?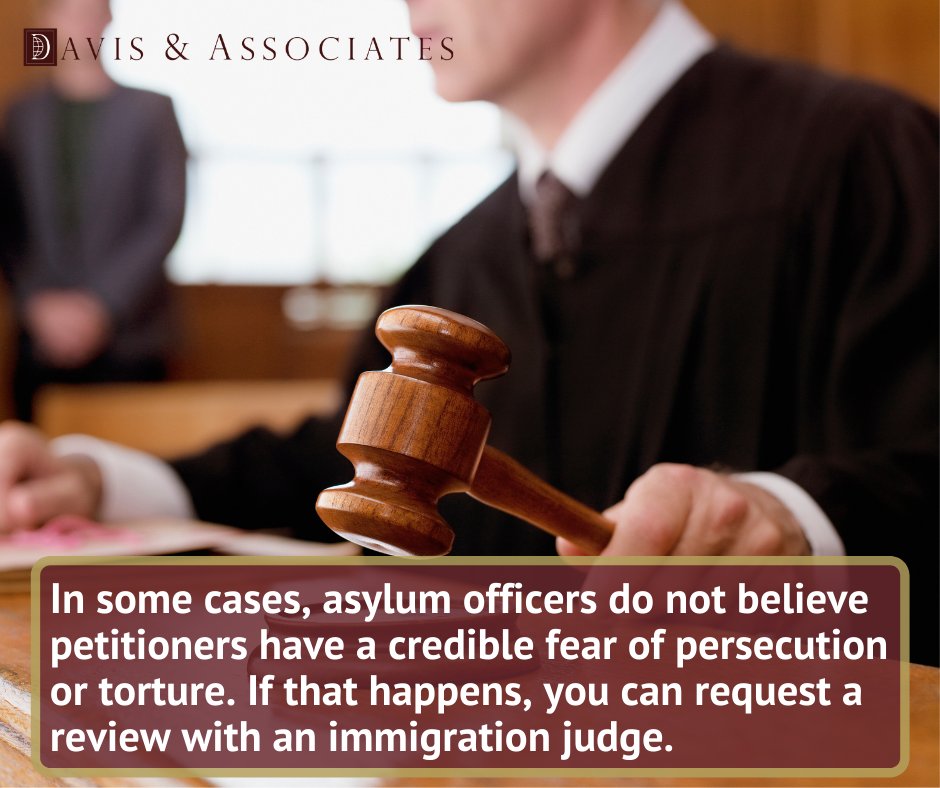 In some cases, asylum officers do not believe petitioners have a credible fear of persecution or torture. If that happens in your case, you can request a review with an immigration judge. If you don't request a review, Immigration and Customs Enforcement will remove you from the United States.
If you do request a review with an immigration judge, the judge will consider whether you are eligible for asylum. It's up to you to prove that you are – and your attorney can help you establish that you have a credible fear and that you're in danger of being persecuted in your home country.
Major Differences Between Affirmative and Defensive Asylum
In some cases, it's necessary to understand the main differences between affirmative and defensive asylum. If you have questions about these two types of asylum, your attorney can provide you with more guidance. However, you can refer to the table below, which explains the main differences between the two.
| | |
| --- | --- |
| Affirmative Asylum | Defensive Asylum |
| You have not been placed in removal proceedings before an immigration judge. | You have been placed in removal proceedings before an immigration judge. |
| You submit Form I-589 to USCIS. | You are placed in removal proceedings by an asylum officer, either because you are in removal proceedings for immigration violations, or you tried to enter the U.S. without proper documentation but you are found to have a credible fear of persecution or torture. |
| You appear before a USCIS asylum officer for a non-adversarial interview. | You appear before an immigration judge with the Executive Office for Immigration Review for an adversarial hearing. |
| You provide your own interpreter for your asylum interview. | The immigration court provides a qualified interpreter for your asylum hearing and all other court proceedings you are a party to. |
| You are seeking asylum in the United States lawfully and with good reason. | You are seeking asylum in the United States after the fact, which means you arrived in the U.S. and were caught by immigration officials and have chosen to seek asylum. |
Seeking Asylum? Talk to a Skilled, Knowledgeable Asylum Attorney Now
Any person seeking asylum should seek the guidance of a qualified and compassionate immigration attorney. Proper legal representation will make the entire process, from applying to interviewing, more straightforward and less stressful. The process of applying for affirmative asylum is already stressful enough – let an attorney help by lending their knowledge and skills.
At Davis & Associates, our passionate and experienced attorneys help clients in the Dallas and Fort Worth, as well as across Texas. Schedule a free initial consultation today to discuss your unique case and understand your path forward. We're eager to help.
---
About Davis & Associates:
Davis & Associates is the immigration law firm of choice in Houston & North Texas including Dallas, Fort Worth, Plano, Frisco, McKinney and surrounding areas. Their attorneys provide expert legal counsel for all aspects of immigration law, including deportation defense, writs of habeas corpus and mandamus, family-sponsored immigration, employment-sponsored immigration, investment immigration, employer compliance, temporary visas for work and college, permanent residence, naturalization, consular visa processing, waivers, and appeals. Attorney Garry L. Davis is Board Certified in Immigration and Nationality Law by the Texas Board of Legal Specialization.
Dallas Contact Info:                                                                                                                                                                                             
Address: 17750 Preston Road Dallas, TX 75252                          
Phone: (469)957-0508                                                                       
Houston Contact Info:                                                                                                                                                        Address: 6220 Westpark Dr, Suite 110, Houston, TX 77057
Phone: (832) 742-0066