Removal Proceedings Overview & Why You Should Hire a Deportation Lawyer
Quick Table of Contents
What is Deportation and Removal Proceedings?
Exclusion vs Deportation vs Removal
Who are Candidates for Removal or Deportation?
Which Agencies Are Involved in Immigration and Removal?
How Does the Immigration Removal Process Work?
What is Deportation and Removal Proceedings?
Deportation and removal proceedings can be harsh for families to endure. In some instances, the process may be challenged and reversed with the proper defense and justification.
If you've received a negative decision in your immigration case, hope is not lost. Get informed on what begins deportation proceedings so you know how to protect your rights.
Deportation is the term used when the U.S. government is forcing a non U.S. citizen to leave the United States and removal proceedings is the process to determine if someone is eligible for deportation.
Deportation involves the formal removal of a foreign national from the United States for violating an immigration law. Anyone present in the United States without proper eligibility may be subject to removal. U.S. citizens are the only people who are fully protected from deportation. Deportation proceedings may be instigated by the following:
Criminal investigation or conviction
Failure to maintain status
Illegal presence
Student visa holders dropping below required credit hours
Denied immigrant benefit applications
Exclusion vs Deportation vs Removal
In practice, the concepts of deportation immigration law are difficult to comprehend. U.S. deportation can be found in Title 8 of the U.S. Code and codified in the Immigration and Nationality Act (INA). Historically it governs who can seek entry into the United States. This is technically called "admission." When a person is being removed from the U.S. it is technically called "deportation."
A person who was found to be not eligible for admission into the United States was "excluded." A person who was already admitted to the United States who had done something that gave rise to one of the grounds of deportability would be "deported."
In 1996, Congress decided to have two different concepts for the legal process of expelling someone from the United States. Exclusion and deportation were too confusing. So, without materially changing the terms of who was excludable and who was deportable from the United States, they amended the law to refer to both concepts as "removal."
Despite their best intentions to clarify the concept, the distinction between "inadmissibility" or grounds of "exclusion" (INA §212) and "deportability" or grounds of "deportation" (INA §237) is still strongly ingrained in the INA. Immigration practitioners will use the terms "inadmissible," "deportable" and "removable" seemingly interchangeably to a newcomer – which can be terribly confusing.
Understanding Inadmissibility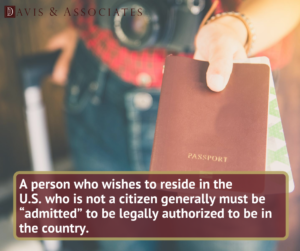 A person who wishes to reside in the United States who is not a U.S. citizen generally must be "admitted" to be legally authorized to be in the country. To be admitted to the United States, in addition to visa and inspection requirements, the person must be eligible for that admission.
When a person seeks admission into the United States, or in some situations seeks to become a lawful permanent resident (LPR), the person must apply to be tested as to his or her "admissibility." Those who do not qualify will be deemed "inadmissible" and therefore "removable" from the United States.
A person who entered the United States without inspection will also be considered removable from the United States. The reason is because if a person enters the United States without being formally admitted, he or she is still "knocking at the door" and is not here – from a legal perspective.
The reasons for being inadmissible to the United States generally involve unsavory conditions or history of the applicant.
Some criminal issues can cause a person to be found inadmissible and removable from the United States. These are:
convictions for controlled substances
crimes involving moral turpitude or fraud
immigration violations such as illegal entry
long-term visa overstays and previous removals from the United States
communicable disease
engaging in prostitution
People in these categories should consider seeking out a deportation immigration law firm.
For some of these issues, waivers are potentially available for family unity purposes. For example, if a person can demonstrate that a U.S. citizen or LPR spouse, parent or child would suffer extreme hardship if the person were not allowed admission to the United States, inadmissibility for a single offense for simple possession of under 31 grams of marijuana can be waived.
There are similar provisions for some immigration violations, prior removals from the United States, and immigration fraud in previous applications or inspections.
Who are Candidates for Removal or Deportation?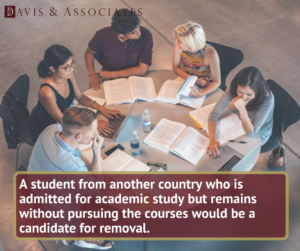 Usually, people think of deportation candidates as individuals who are undocumented and entered the country illegally. While this is one category, another includes those who were allowed entry with a legal temporary visa but overstayed their permitted time.
In addition to these two sets of individuals are those who entered legally, yet violated certain terms of their stay. For example, a student from another country who is admitted for academic study but remains without pursuing the courses would be a candidate for removal.
An individual who has been granted a tourist visa but becomes employed would also be subject to deportation.
Also, people who were admitted into the United States legally or even granted permanent residency (green card) may be deported if they violated the terms of their entry and residency can be considered for deportation. Violations that qualify to begin removal proceedings are:
Certain crimes including aggravated felonies, domestic violence, and moral crimes. According to com, "foreign nationals may be removed if they do something that fits within the U.S. immigration law's grounds for deportability."
Failure to report any change of address to the United States Immigration and Citizenship Services within ten days of moving to a new location.
"Marriage fraud" or arranged marriage to a citizen or green card holder for the sole purpose of gaining residency
Producing false documents for entry
Presenting false documents proving U.S. Citizenship
Assisting in smuggling other individuals into the United States
Convicted of drug-related crimes or identified as drug addict
For example, a person who overstays the admission period at inspection is deportable or removable. Also, a person who violates the terms of the specific status given is subject to the same removal.
If the person has been convicted of a crime involving moral turpitude, an aggravated felony or a controlled substances or firearms offense, he or she may be subject to removal.
Additionally, those convicted of child abuse, domestic violence or violations of protective orders are deportable. A false claim to being a U.S. citizen and ties to terrorism can subject someone to removal.
A person facing deportation with criminal charges should consider getting in contact with a deportation immigration law firm.
Which Agencies Are Involved in Immigration and Removal?
Three agencies play different roles in the immigration and removal process. The three key agencies are:
ICE (Immigration and Customs Enforcement): ICE consists of the front line immigration enforcement personnel who are responsible for identifying and detaining immigration violators.
USCIS (U.S. Citizenship and Immigration Services): USCIS is a Department of Homeland Security agency charged with reviewing and determining the eligibility of potential visa applicants, green card holders, and new citizens. USCIS sets the rules for residency for new applicants.
EOIR (Executive Office for Immigration Review): EOIR is a part of the U.S. Department of Justice responsible for hearing and deciding on immigration-related cases. It is the EOIR that is responsible for judgments related to removal or deportation.
How Does the Immigration Removal Process Work?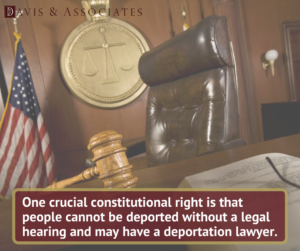 One crucial constitutional right is that people cannot be deported without a legal hearing and may have a deportation lawyer. The USCIS will appoint an attorney to present the case against anyone facing removal. To adequately defend yourself or family member, a competent and experienced deportation attorney is essential.
In the hearing, the USCIS and your immigration attorney will present each side of your case, ask questions, and may even present witnesses that may or may not support your arguments. Once all essential facts have been submitted, the judge will issue a ruling.
If the judge's ruling grants you the right to stay in the United States, you may remain.
Do not be discouraged by a negative decision in your immigration case. If the ruling supports deportation, you may have a chance to appeal or waive the verdict under certain circumstances. This involves filing an appeal to the Board of Immigration Appeals in Falls Church, Virginia. You have 30 days from receiving notice of the judge's decision to file an appeal.
Not all cases qualify for an appeal, however. For example, if the removal is based upon an actual felony conviction, an appeal is not possible. In other instances, however, appeal to the Board of Immigration Appeals is possible.
Typically, you only have 30 days after receiving the decision to file your appeal. Due to the strict time frame and the complex legal process involved in a deportation appeal, as well as the potential consequences for you and your loved ones if you're removed from the country, we highly recommend working with an experienced immigration attorney during the appeal process.
Call Davis & Associates Immigration Lawyers
Are you faced with removal proceedings? Never try to navigate through complicated immigration law without a deportation lawyer. Working with an experienced deportation lawyer may be the best solution.
With all of the legal activity regarding deportation and removal of certain non-U.S. citizens, many are questioning how these efforts may affect them and how they might protect themselves. More aggressive scrutiny and enforcement policies are underway in parts of the United States.
In Texas, for example, legislation is in place to eliminate "sanctuary cities" and allow enforcement personnel more leeway in questioning individual residency status. Although the constitutionality of the new Texas SB-4 Immigration Enforcement Law has been challenged, the intent of the law is to identify and remove violators.
When facing deportation, an immigration lawyer is necessary to ensure the process moves quickly and smoothly.
At Davis & Associates, we offer aggressive strategies when appealing immigration decisions. We understand you have a lot on the line, and we want to help you achieve a favorable resolution. We can assess your unique situation and build a strong appeal on your behalf. We'll keep you informed from start to finish and discuss your options with you so that you know what to expect every step of the way.
Consult with the professional and dedicated lawyers of Davis & Associates. Our award-winning firm focuses strictly on immigration law and will provide a free, up-front consultation to discuss your situation. Multilingual and compassionate, Davis & Associates will help you to understand the circumstances and can present your case in its most favorable light.
Call today to schedule a free consultation at 214-628-9888.