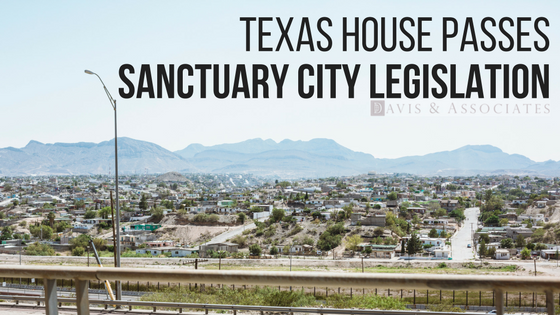 Texas House Passes Sanctuary City Legislation
The term, "sanctuary city", has become a hot topic in recent news. In January 2017, President Trump proposed to withdraw all federal funding from any municipality labeled a sanctuary city. His presidential order was soon deemed unconstitutional by a federal judge in Hawaii, yet the concept continues to be discussed and debated. Many are still not sure what the sanctuary city concept involves.
In simple terms, a sanctuary city is one that provides limited support and enforcement of federal immigration laws. According to a Washington Post article from March 14, 2017, there may be as many as 500 jurisdictions in the United States that can be termed "sanctuaries" or "welcoming" in varying degrees.
What Will the New Texas Sanctuary City Law Do?
On April 26, the Texas House of Representatives debated and passed a bill that bans any sanctuary jurisdictions in Texas. The bill allows law enforcement officers to question the immigration status of any legally held detainee. Original language limited the questioning only to those who have been legally arrested. This distinction is thought to open the door to questioning anyone under virtually any circumstance. The bill, supported by the Republican Representatives exclusively, passed the Texas House with a majority vote of 93-54.
Governor Abbott of Texas signed the new bill on May 7, according to a CNN report, to disallow the presence of any sanctuary city or other jurisdiction in the State of Texas. According to the law, criminal and civil penalties will be imposed on local government officials and law enforcement entities who refuse to comply with any federal immigration laws. Government officials who disregard this law will be subject to fines up to $25,500 per day. Law enforcement officials such as police chiefs, sheriffs, and constables who do not comply will be charged with a misdemeanor for noncompliance. Elected officials will be removed from office.
Now that the bill has been enacted, no Texas city, county, or any university will be able to block immigration law enforcement authorities from asking about an individual's immigration status or keep them from enforcing immigration laws.
Key Element
The distinction between questioning the legal status during detainment instead of only after a lawful arrest is an essential part of the bill. This amendment could mean an individual can now be questioned about legal status even during a routine traffic stop.
While the original Texas Senate proposal required the withdrawal of any State funding from communities that did not comply, the final House version did not include the amendment.
Opponent Reactions
Legislators who opposed the passage of the Sanctuary City legislation believe the law could diminish the trust between the immigrant community and law enforcement. The crime situation could worsen, they report, as more people decide not to report crimes for fear they could be deported.
Supporter Responses
Both the Governor and the Republicans Representatives and Senators have claimed victory for the passage of the bill that had failed four times in the past.
Legal Assistance for Immigrants
Though Texas had only a few designated sanctuary cities or counties, the new sanctuary city bill will challenge past practices. As a result of this new law, documented proof of your legal presence may be requested by law enforcement official anytime you are legally detained, even if no crime was committed.
The best protection is to consult with an experienced immigration attorney, one with a proven track record for helping arrivals in virtually any situation.
Best Course of Action
With this new legislation in place, all non-citizens should:
Avoid confrontation and stay out of trouble. A traffic stop can be sufficient reason for questioning your legal status.
Make sure everyone in your family is aware of the new law.
Seek legal advice now by consulting with a qualified immigration attorney with the best reputation for success.
Engage an immigration law firm that is ready to help at any time.
Contact Davis & Associates in Dallas
Davis & Associates is the immigration law firm of choice in North Texas including Dallas, Fort Worth, Plano, Frisco, McKinney and surrounding areas. Their attorneys provide expert legal counsel for all aspects of immigration law, including deportation defense, writs of habeas corpus and mandamus, family-sponsored immigration, employment-sponsored immigration, investment immigration, employer compliance, temporary visas for work and college, permanent residence, naturalization, consular visa processing, waivers, and appeals. Attorney Garry L. Davis is Board Certified in Immigration and Nationality Law by the Texas Board of Legal Specialization.