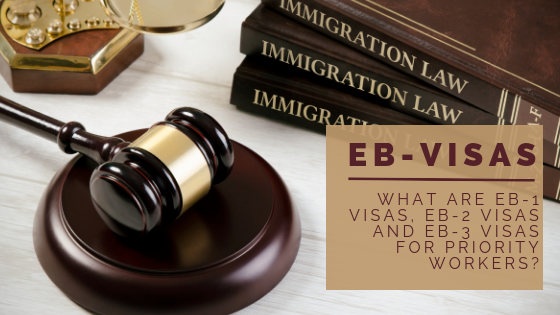 What Are EB-1 Visas, EB-2 Visas and EB-3 Visas for Priority Workers?
If you're considering coming to the United States on an employment visa or you own a company looking for help from foreign nationals, EB visas are worth exploring. Employment-based visas are categorized based upon preference:
EB-1, first preference
EB-2, second preference
EB-3, third preference
EB-4, fourth preference
EB-5, fifth preference
What is an EB-1 Visa for Priority Workers?
In order to qualify for an EB-1 visa, a person must have extraordinary ability in the sciences, arts, education, business or athletics, be an outstanding professor or researcher, or be a multinational manager or executive.
Extraordinary Ability Category for the EB-1 Visa
A person of "extraordinary ability" must provide evidence of a significant one-time achievement, such as a Pulitzer Prize, an Oscar or an Olympic Medal, or meet three of ten criteria that prove extraordinary ability in a particular field. Some of those criteria include:
Receipt of nationally or internationally recognized prizes or awards for excellence
Membership in associations that demand outstanding achievement in a field
Published material about the person in professional or trade publications, or in the media
Original scientific, scholarly, artistic, athletic or business-related contributions in a field
Evidence of commercial success in performing arts
Outstanding Professors and Researchers Category for the EB-1 Visa
A person who's considered an outstanding professor or researcher must demonstrate international recognition for outstanding achievements in an academic field. These people must also have at least 3 years of experience in teaching or research in the same academic field and he or she must intend to pursue tenure or tenure-track teaching (or a comparable research position) at a U.S. university.
Like those of "extraordinary ability," people who fall into the Outstanding Professors and Researchers category must demonstrate that they meet certain criteria – but they must only prove two of ten, and they must also have an offer of employment from a U.S. employer.
Multinational Manager or Executive Category for the EB-1 Visa
People who have been employed outside the U.S. in the past 3 years, and for at least a year by a firm that needs them to move to the U.S. to continue employment, may qualify for an EB-1 visa. However, that person's employment outside the U.S. needs to have been in a managerial or executive capacity, and it must have been for the same employer (or an affiliate or subsidiary of that employer).
The employer is the one that needs to petition on behalf of the worker in this case.
What is an EB-2 Visa for Priority Workers?
Some people are eligible for employment-based, second-reference visas called EB-2 visas. People who are eligible for an EB-2 visa fall under one of these sub-categories:
Advanced Degree
Exceptional Ability
National Interest Waiver
Advanced Degree
A worker may qualify for an Advanced Degree EB-2 visa if he or she is applying for a job that requires that type of degree, such as a baccalaureate degree or its equivalent plus at least 5 years of progressive work experience in the field.
Exceptional Ability
People who qualify for EB-2 visas under the Exceptional Ability category can demonstrate a "degree of expertise significantly above that ordinarily encountered in the sciences, arts or business." In order to prove that a person fits into this category, he or she must meet at least three of these criteria:
A license or certification to practice the profession
Evidence that he or she can command a salary based on exceptional ability
Letters that document at least 10 years of full-time experience in the profession
Membership in one or more professional associations
Official academic records pertaining to his or her advanced degree
Recognition in the field for significant contributions or achievements
In some cases, other evidence is also acceptable – but it's on a case-by-case basis.
National Interest Waiver
Some people qualify for a National Interest Waiver. In this case, immigrants can ask that the USCIS waives the Labor Certification in the best interest of the United States. These types of waivers are typically given to people who have exceptional ability and whose employment here would greatly benefit the country. These people must meet at least three of the same criteria available to those in the Exceptional Ability category.
What is an EB-3 Visa for Priority Workers?
EB-3 visas are available to people who fall into these categories and meet certain eligibility requirements:
Skilled workers
Professionals
Unskilled workers (other workers)
Employers must file for EB-3 visas on behalf of the employees they want to bring into the U.S.
Skilled Workers
People who are considered skilled workers are those who work in jobs that need a minimum of 2 years of training or related work experience. These can't be seasonal or temporary jobs; they must be full-time, and in order to qualify, the applicant needs a Labor Certification and a permanent, full-time job offer.
Professionals
Like skilled workers, people who fall into the "Professionals" category need a Labor Certification and a permanent, full-time job offer. However, professionals must be able to prove that they have a U.S. baccalaureate degree or foreign equivalent and that having that degree is a normal requirement for their profession. They must also perform work that there aren't enough qualified U.S. workers to perform.
Unskilled Workers
Unskilled workers also require a Labor Certification and a permanent, full-time job offer. They must also be capable of performing unskilled labor that requires fewer than 2 years of training or experience, and the work can't be temporary or seasonal, and there must not be qualified U.S. workers available for the job.
Are You An Employer That Needs Foreign Workers?
If you're a U.S.-based employer that needs foreign workers, you may be able to use an EB-1, EB-2 or EB-3 visa to find the help you need to fill positions in your company.
We can help you file petitions on behalf of the people you want to hire. Call our Dallas immigration attorneys at (214) 628-9888 to schedule your free immigration consultation today.
---
About Davis & Associates:
Davis & Associates is the immigration law firm of choice in Houston & North Texas including Dallas, Fort Worth, Plano, Frisco, McKinney and surrounding areas. Their attorneys provide expert legal counsel for all aspects of immigration law, including deportation defense, writs of habeas corpus and mandamus, family-sponsored immigration, employment-sponsored immigration, investment immigration, employer compliance, temporary visas for work and college, permanent residence, naturalization, consular visa processing, waivers, and appeals. Attorney Garry L. Davis is Board Certified in Immigration and Nationality Law by the Texas Board of Legal Specialization.
Dallas Contact Info:                                                                                                                                                                                             
Address: 17750 Preston Road Dallas, TX 75252                          
Phone: (469)957-0508                                                                       
Houston Contact Info:                                                                                                                                                        Address: 6220 Westpark Dr, Suite 110, Houston, TX 77057
Phone: (832) 742-0066