What to Expect at Your Green Card Interview
If you're like many people who have to attend a green card interview, you're probably wondering what to expect and how you can prepare. You probably have a few other questions, as well, such as how long the interview will take and what you should bring. This guide explains exactly what to expect at your green card interview and gives you tips on how to prepare for it.
What to Expect at Your Green Card Interview: An Overview of the Process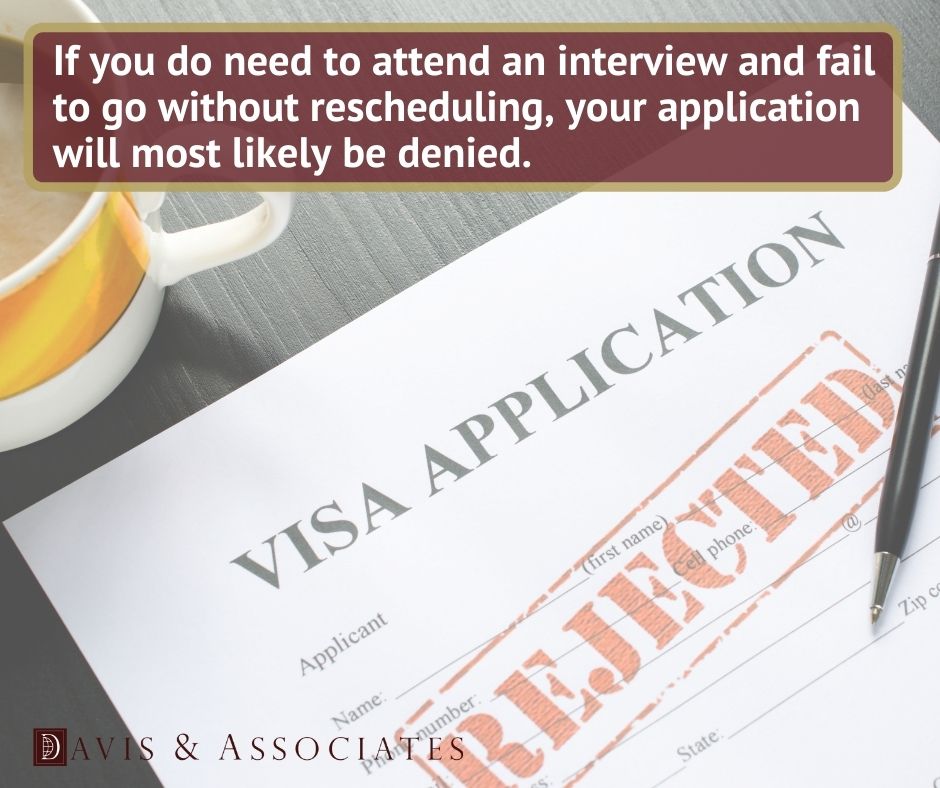 Regardless of the reason you're applying for a U.S. green card (the form that establishes your permanent residency in the United States), you'll most likely have to attend a green card interview.
If you applied for a family based green card, both you and your sponsor may have to attend an interview; if you're married, your spouse will almost certainly have to attend so that the official interviewing you can determine whether your marriage is genuine.
And some people don't have to attend green card interviews at all (such as children and the very elderly, as well as asylees). Rest assured that the U.S. government will let you know whether you need to attend an interview.
Note: If you do need to attend an interview and fail to go without rescheduling, your application will most likely be denied.
The green card interview process is pretty much the same for everyone who goes through it. Generally, you show up for your interview, spend some time with a U.S. immigration official, answer a few questions, and leave.
You may leave with an immigration decision, but sometimes officials need more information to make a decision (or need more time to review your file). If that happens, you will receive your decision in the mail.
Related: How to get a green card through marriage
When Do You Go to a Green Card Interview?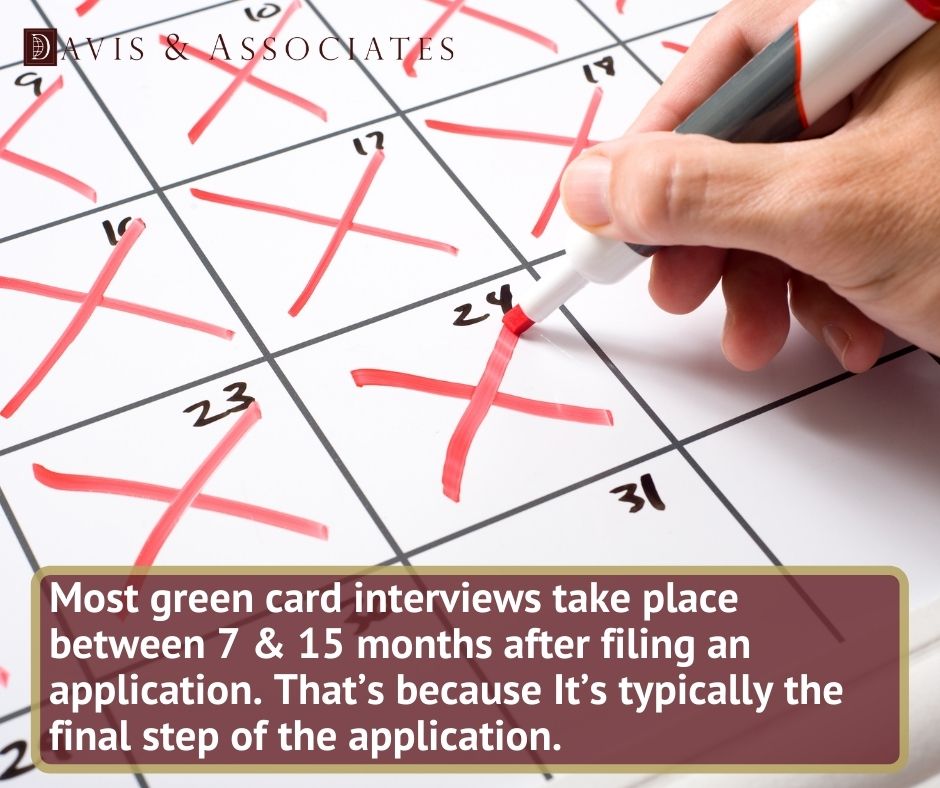 Most green card interviews take place between 7 and 15 months after filing an application. That's because it's the final step of the application (in most cases).
The U.S. government will notify you exactly when your hearing is. If you're unable to attend on the date the government gives you, you must attempt to reschedule your interview immediately.
However, be prepared: There may not be another interview date available for quite some time, so it's in your best interest to attend on the date and time the government gives you.
Where Does a Green Card Interview Take Place?
Green card interviews take place at U.S. consulates or embassies when you apply from outside the United States. If you apply from inside the United States, you'll be interviewed at a USCIS office on American soil.
What if I Don't Speak English Very Well? May I Bring an Interpreter to a Green Card Interview?
If you're not fluent in English, it's okay to bring an interpreter with you to your green card interview. The interpreter is required to translate exactly what the interviewing officer asks, without offering opinion, commentary or an answer to the question. Your interpreter must bring a government-issued ID card, swear an oath and sign a privacy statement before the interview (which you can get at the interview location).
Does My Employer Have to Come to My Green Card Interview?
Generally, employers don't have to attend green card interviews. Your appointment notice will let you know whether you have to bring another person, and that person's name will be listed on the document.
Can I Bring My Lawyer?
If you have anything on your criminal record or immigration record that may affect the U.S. government's immigration decision in your case, it's okay to bring an attorney with you. Your attorney can help you explain the issues on your record after filling out and submitting a form.
Can Friends or Family Members Attend the Green Card Interview?
You should avoid bringing friends or family members to your green card interview; you should only bring people whose names are listed on the interview appointment notice you received (such as your spouse or a sponsoring family member).
If you have a disability, however, you may attend the interview with a friend or legal guardian – but you should call the embassy, consulate, or USCIS office where you'll be attending your interview to make arrangements first.
Related: Your complete guide to U.S. green cards
How Long Does a Green Card Interview Take?
Most green card interviews only take about 20 minutes. However, you may have to wait a while before your interview begins.
What Should I Bring to My Green Card Interview?
You should bring your identification (government-issued), such as your passport or driver's license, to your green card interview.
You should also bring a copy of your Form I-485 appointment notice, a complete copy of your adjustment of status petition (including any forms you submitted, such as a Form I-130 or Form I-864), as well as:
Your passport unless you came to the U.S. as an asylee or refugee
A letter from your employer on company letterhead that shows you're still employed and receiving salary (the amount should be listed) if you're applying for an employment-based green card
Form I-693 with a doctor's report from your medical exam if you didn't submit it with your original application
Original copies of documents that prove you're in a bona fide marriage – that is, a genuine marriage that you didn't enter just to gain an immigration benefit – if you're applying for a marriage-based green card
Travel documents related to advance parole if you traveled out of the United States after you submitted your application but before your interview
Your immigration attorney can tell you what other documents you should bring, as well.
Related: 10 tips to help you find the best immigration lawyer in Dallas
What Questions Will Officials Ask Me?
Your interviewer will be a USCIS immigration official if you're in the U.S. or a consular officer if you're applying from abroad. The interviewer's main objective is to ask you questions about your application and make sure that all the information you provided is true and consistent with your answers during your interview.
The big point of the interview is so that the interviewer can determine whether you're eligible for a green card based on a familial or work relationship.
Sometimes the questions the interviewer asks may seem very personal. That's normal. You must be completely honest when you answer these questions; if you don't tell the truth, your petition can be denied. If you don't know the answer to something, or if you can't remember, just say so – don't make something up.
Interviewers may ask you things like:
When is your spouse's birthday?
Where did you go for your honeymoon?
How do your children get to school, and what sports do they play?
What made you come to the United States originally?
Do You Need to Talk to an Immigration Attorney About a Green Card Interview?
If you have a green card interview coming up – or if you haven't yet applied for a green card – you may benefit from working with an immigration attorney. Call our office today to schedule your free consultation with an experienced, knowledgeable and compassionate immigration attorney who can help.
---
About Davis & Associates:
Davis & Associates is the immigration law firm of choice in Houston & North Texas including Dallas, Fort Worth, Plano, Frisco, McKinney and surrounding areas. Their attorneys provide expert legal counsel for all aspects of immigration law, including deportation defense, writs of habeas corpus and mandamus, family-sponsored immigration, employment-sponsored immigration, investment immigration, employer compliance, temporary visas for work and college, permanent residence, naturalization, consular visa processing, waivers, and appeals. Attorney Garry L. Davis is Board Certified in Immigration and Nationality Law by the Texas Board of Legal Specialization.
Dallas Contact Info:                                                                                                                                                                                             
Address: 17750 Preston Road Dallas, TX 75252                          
Phone: (469)957-0508                                                                       
Houston Contact Info:                                                                                                                                                        Address: 6220 Westpark Dr, Suite 110, Houston, TX 77057
Phone: (832) 742-0066