4 Ways to Obtain a Green Card Through Marriage
There are four ways to obtain a green card through marriage, but many people aren't aware of what they are. Remember, if you are attempting to apply for a green card marriage, you must exercise your options in good faith – you must be in a genuine relationship. The four most common paths for non-U.S. citizens to come to the country through marriage are:
Marriage to a U.S. citizen
Marriage to a permanent resident of the U.S.
Through a K-1 visa
If you're a widow(er) of a U.S. Citizen
About Green Card Marriage in the U.S.
Certain elements of immigration and entry into the United States are currently being challenged. However, requirements for allowing spouses and close family members to join citizens or green card holders as permanent residents remain in place.
If you are a foreign citizen married to a United States citizen or permanent resident, the U.S. government provides methods to award a green card to allow you to remain with your spouse. Guidelines for application differ, depending on the circumstances, but the United States Citizenship and Immigration Services, or USCIS, offers four different paths to reuniting married couples legally.
Each of the four methods is appropriate for different green card marriage circumstances. However, none of these are automatic nor guaranteed, so your application must be clear and truthful to pass the requirements of the USCIS.
Can You Make the Application Process Easier?
The application process can be confusing – including sorting through and determining which forms you must file based on your circumstances. In addition to long wait times for application approval, very specific documentation requirements can make the process a headache. The best strategy for making spousal permanent residency a reality is to work with a qualified immigration attorney who can professionally advise and assist you in the application process.
Green Card Marriage on the Basis of an Existing Marriage
It's not uncommon for a U.S. citizen to travel abroad, fall in love and get married – but things can become pretty complicated when it's time to come back stateside. It's not as easy as showing your marriage certificate and passports to an immigration agent. In fact, as soon as you get married, there are steps you should take to ensure your spouse can return with you to the U.S.
Applying for permanent residency through a green card marriage application can be one of the quickest ways to obtain approval. The essential elements of these applications are:
Certifying the eligibility of both the sponsor and the beneficiary
Proving the legitimacy of the marriage and that the union is not simply a means to gain permanent residency for the spouse
Sponsors who are citizens have different applications than those who are permanent residents. Also, separate procedures will apply if the candidate for a green card sponsorship's spouse resides in another country or is already living in the United States under another type of visa.
Marriage to a United States Citizen
United States citizens, whether natural-born or naturalized, can bring immediate relatives, most particularly spouses, into the United States by submitting a USCIS Form I-485, Application to Register Permanent Residence or Adjust Status. When the application is approved and a Visa number is assigned, the beneficiary can apply for a U.S. Green Card or permanent residency status.
Immediate Relatives of a U.S. Citizen
In order to apply for a green card as the immediate relative of a U.S. citizen (an immediate relative is a spouse, an unmarried child under the age of 21 or the parent of the citizen, provided the citizen is 21 years old or older), your spouse must file Form I-130, Petition for Alien Relative. He or she must also include evidence of your marriage, such as a marriage certificate, and proof that the marriage is genuine.
If you are already in the United States with another visa, the process involves an adj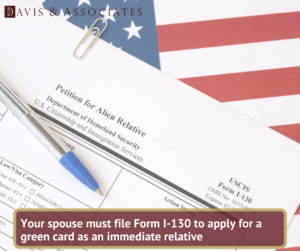 ustment of status request. Legally speaking, you must have arrived in the U.S. for another purpose other than getting married – otherwise, you could be guilty of visa fraud. To change your status, you must fill out Form I-485, Application to Register Permanent Residence or Adjust Status.
You can only qualify for an adjustment of status if you:
Are eligible to receive an immigrant visa
Have been inspected and admitted to the U.S. or inspected and paroled into the U.S.
Are still in the relationship that provides the basis for your application
The act of adjusting your status is simply the process of applying for a green card without actually leaving the U.S. You don't have to wait until your spouse's Form I-130, Petition for Alien Relative, is approved – you can submit your Form I-485 at the same time.
Warning: If you unlawfully entered the U.S. and got married, you cannot adjust your status. It's in your best interest to talk to an immigration attorney if you're in this situation because if you leave the U.S., you could be found inadmissible. If that happens, you could be barred from reentering the U.S. for 3 to 10 years. Your attorney may instruct you to apply for a provisional waiver, which can help avoid these issues.
If you reside outside the United States, the application for an immigration visa should begin at the U.S. Consulate with jurisdiction in your country of residence. You'll also have to wait for USCIS to approve your spouse's Form I-130 before you can file your Form I-485. Your consulate will schedule an interview, and in some cases, approve an immigrant visa at that time. (In other cases, you may be subject to waiting periods or you may be asked to provide additional documentation.) If your visa is approved, you'll use it to enter the U.S. and become a permanent resident.
A Word on Marriage Fraud
Marriage fraud is a federal crime. If someone enters into a marriage with the intent of evading U.S. immigration law, he or she could spend up to 5 years in prison and pay fines of up to $250,000 – and that applies to both the citizen and the non-citizen.
Marriage to a Permanent Resident of the U.S.
Current U.S. permanent residents may also apply for permanent residency for their spouses. Because a visa number for this category may not be available when the green card holder applies, the process can take longer than it does for a U.S. citizen sponsor.
The candidate and sponsor can periodically check the monthly Visa Bulletin of the U.S. State Department to determine when the applicant's visa number may be available, and the recipient may then apply for the visa. The order of issuance is determined by the individual's priority date or date of application.
Immediate Relatives of a Permanent Resident of the U.S.
You could qualify for a green card based on your marriage to another green cardholder. In fact, spouses aren't the only family members eligible – this provision also allows unmarried children to apply for a green card based on the familial relationship they have with the green cardholder.
To apply, your spouse (the green card holder) must:
File Form I-130, Petition for Alien Relative
Provide proof of his or her status that demonstrates permanent residency in the U.S.
Submit evidence that proves the qualifying relationship, such as a marriage certificate
Submit proof of any legal name changes that you have undergone
Unlike the procedures associated with marrying a U.S. citizen, there are preference categories when it comes to applying for a green card based on your relationship with a current green cardholder. As a spouse, you're considered second preference, or 2A.
Green Card Marriage and the K-1 Fiancé(e) Visa
The USCIS allows U.S. citizens who intend to get married to use a K-1 fiancé(e) visa. As a U.S. citizen, you can apply for a K-1 visa that allows your significant other to enter the country for the purpose of getting married. Once you're legally married, your spouse can change his or her status to receive permanent residency.
It's important to know that this type of visa applies to anyone who intends to be married, regardless of gender or orientation.
You do not need to apply for a K-1 visa if your fiancé is already legally residing in the U.S. or if you intend to get married in another country.
How to Bring Your Fiancé to the U.S. on a K-1 Visa
To bring your fiancé to the U.S. on a K-1 visa, you'll have to file a Form I-129F, Petition for Alien Fiance(e).
If you use this type of visa, you must intend to be married within 90 days of your fiancé's arrival in the U.S. in order for him or her to apply for a green card after your marriage. You're only eligible to use a K-1 visa if you are a U.S. citizen and you both:
Are free to legally marry
Met each other in person at least once within the 2-year period before filing the petition (unless meeting in person would violate strict and long-established customs of your culture or social practice, or if it would result in extreme hardship to you)
In some cases, you may also be able to bring your fiancé's children to the U.S. If your fiancé has kids, include their names on your Form I-129F. However, there's a caveat: His or her children must be under the age of 21 and remain unmarried. The kids can travel with your fiancé to the U.S., or they can come later, but they can't come before he or she does.
Can You Get a K-1 Visa for Your Fiancé if You Are a Green Card Holder?
If you're a green card holder, you're not eligible to apply for a K-1 visa on your fiancé's behalf. You may have other options, though, so it's a good idea to get in touch with a family immigration attorney who can help.
Widow or Widower of U.S. Citizen
If you were married to a U.S. Citizen at the time of their death, you may be eligible to apply for a green card. If you've already applied for a green card and your partner passes, you don't need to do anything and your green card application will automatically transfer to a I-360, Petition for Amerasian, Widow(er), or Special Immigrant.
Contact Davis & Associates in Dallas for Help With Green Card and Marriage Issues Now
Applications and processes for acquiring a green card when married to, or engaged to marry, a current U.S. citizen or permanent resident can be complicated. The application must be accurate with no discrepancies nor misrepresentations. For that reason, many people find that it's incredibly helpful to work with an award-winning law firm with plenty of experience navigating green card marriage and other immigration issues. Find out why it's important to have a green card lawyer.
Contact Davis & Associates of Dallas at 214-628-9888 today for a free immigration consultation to discuss your situation and a plan for obtaining a green card for permanent residency. Our compassionate and multilingual staff will be pleased to discuss your situation and help you reach your goals.
---
About Davis & Associates:
Davis & Associates is the immigration law firm of choice in Houston & North Texas including Dallas, Fort Worth, Plano, Frisco, McKinney and surrounding areas. Their attorneys provide expert legal counsel for all aspects of immigration law, including deportation defense, writs of habeas corpus and mandamus, family-sponsored immigration, employment-sponsored immigration, investment immigration, employer compliance, temporary visas for work and college, permanent residence, naturalization, consular visa processing, waivers, and appeals. Attorney Garry L. Davis is Board Certified in Immigration and Nationality Law by the Texas Board of Legal Specialization.
Dallas Contact Info:                                                                                                                                                                                             
Address: 17750 Preston Road Dallas, TX 75252                          
Phone: (469)957-0508                                                                       
Houston Contact Info:                                                                                                                                                        Address: 6220 Westpark Dr, Suite 110, Houston, TX 77057
Phone: (832) 742-0066