Do I Need A Green Card Lawyer?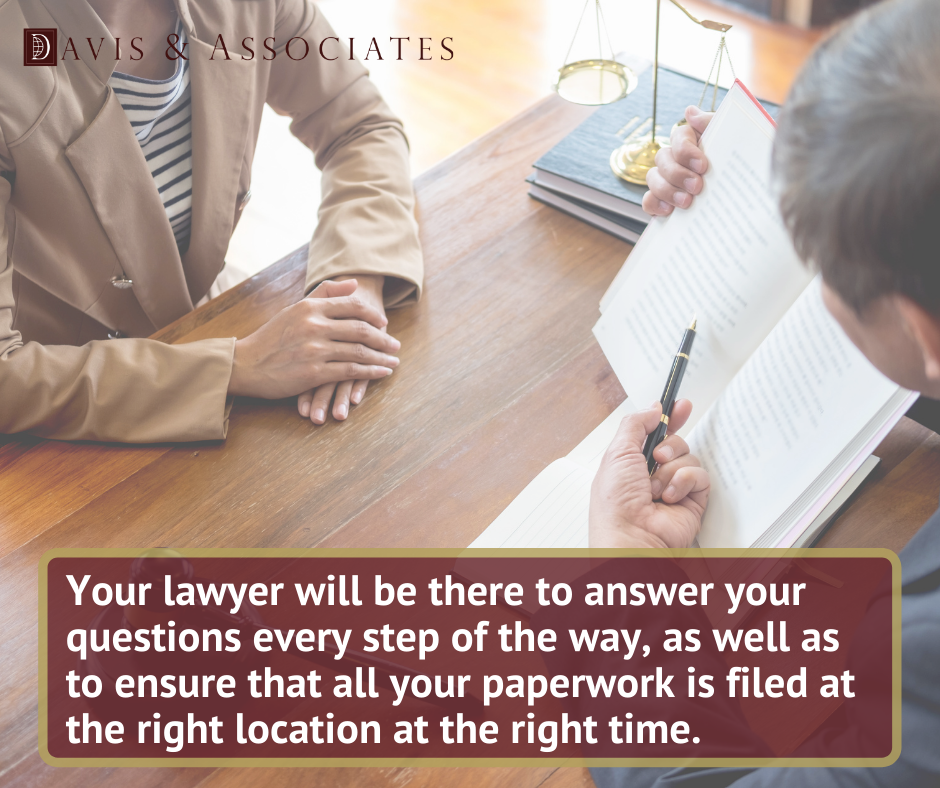 If you're looking to obtain a green card and become a lawful permanent resident of the United States, you may be wondering, "Do I really need to a hire a green card lawyer, or can I go through the process by myself?"
The short answer is no, you don't technically need a green card lawyer. Legally, you can go through the process of obtaining a green card on your own. But there are a lot of positives and negatives to working with a green card lawyer.
When you're ready to apply for lawful permanent residence in the United States, you may benefit from working with a green card lawyer. Your attorney can walk you through the entire process – even very early on, such as choosing the best visa you can use to eventually apply for citizenship.
Your lawyer will be there to answer your questions every step of the way, as well as to ensure that all your paperwork is filed at the right location at the right time.
We're going to go over why you may choose to work with a green card lawyer throughout your permanent residency process and what to expect if you don't.
Why Is Applying for a Visa So Challenging Without a Green Card Lawyer?
Although some immigrants choose to tackle their lawful permanent residency on their own, it is likely with many headaches and difficulties. Unfortunately, U.S. immigration is an ever-changing landscape. From laws to executive orders to memorandums to precedents, there are a lot of ways to navigate the immigration systems and any problems that may arise throughout the process.
Add in a potential language barrier and this means that it can be difficult for the average person to navigate the process. A green card lawyer has years of experience applying and getting approvals for green cards. They're able to interpret all the different aspects of immigration law and use it to give your case its best chance.
Immigrants who choose to go through the green card process on their own often have to deal with lengthy Requests for Evidence and even denials. This can add years to your application process and thousands of additional dollars spent.
You might assume that your circumstance is a typical one, but with merely one previous visa overstay, criminal sentence, significant health issue and even a job loss, an individual could be regarded "inadmissible", therefore needing extra work to persuade the authorities to authorize the application. An immigration lawyer specializing in green cards could help you resolve these tight spots.
In addition to this, an experienced green card lawyer holds unique means to reach out to a person within the immigration division when something like this goes incorrectly. Without a lawyer to represent you, you might squander plenty of hours taking a trip to your neighborhood immigration office simply to be informed that your situation is "pending".
It's not worth the stress! Working with a green card lawyer like Davis & Associates allows you to keep your stress to a minimum during an already difficult time.
Can a Green Card Lawyer Speed Up the Green Card Process?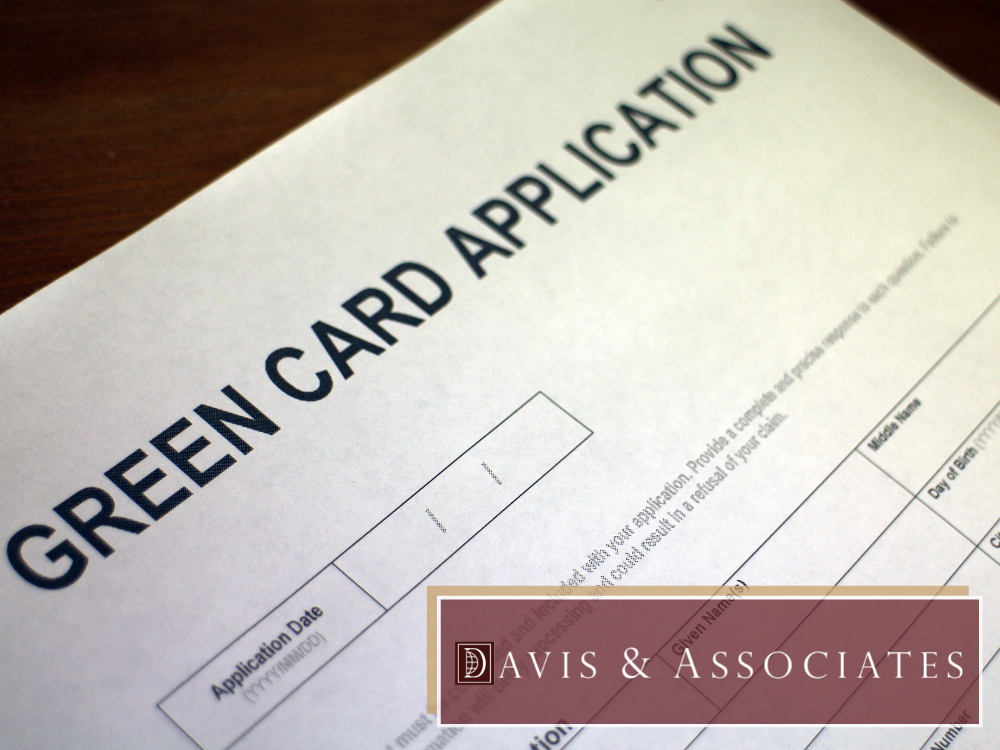 Hiring a green card lawyer certainly can help speed up the green card process, but it's not just about having someone to do the paperwork for you. A qualified attorney or professional can add a lot of value to the process by offering guidance on best practices and looking out for potential pitfalls along the way.
With an eye on understanding format and output that immigration agents are looking to see, they can present your case in the best possible light. That means fewer hiccups in your overall application or review process, resulting in less chance of delays due to unexpected denials or Requests For Evidence (RFE).
Related: 10 things to ask your visa immigration lawyer
How Much does A Green Card Lawyer Cost?
How much a green card lawyer costs often depends on how complicated your case is and therefore how many hours the lawyer will need to spend on it. This can range from as low as $1,500 to as high as $15,000. The best way to get an estimate of how much it will cost to hire a green card lawyers is to schedule a free consultation with Davis & Associates.
If employing a lawyer is not in your budget plan, you could make use of various other sources such as short articles or publications. You'll want to remember, nonetheless, that the risks are very high. Some blunders on an immigration application could not just cause a denied application, but also might cause the candidate to be inadmissible for a number of years.
Related: Immigration Lawyer Fees Explained
Applying For A Green Card With A Lawyer's Help
A green card – the unofficial name for the document that grants you lawful permanent residency in the United States – is your ticket to working and living anywhere you want in the U.S. It's also the final stop on your path to U.S. citizenship, should you decide to apply for it later.
You can only apply for a green card if you meet certain criteria; you can't simply call the embassy or consulate nearest your current home and ask the U.S. government to grant you residency. You must qualify through:
Familial relationships
Employment
An investment in a U.S. business
Your status as a special immigrant
Your status as a refugee or asylee
Your status as a human trafficking victim, crime victim or victim of abuse
Eligibility through another avenue
Your green card lawyer will first have to determine that you're eligible in one of these ways before you can petition the U.S. government for lawful permanent residency.
Obtaining a Green Card Through Family Relationships
Not all relationships qualify you to apply for residency in the U.S. The table below outlines eligibility categories. If you fall into a family category on the left, you must meet the conditions on the right to qualify for lawful permanent residency – and you have to meet the conditions in order for your green card lawyer to fill out and file your paperwork with the U.S. government.
| | |
| --- | --- |
| Family Category | Conditions |
| Immediate relative of a U.S. citizen | You must be the spouse, an unmarried child under the age of 21, or the parent of a U.S. citizen who is at least 21 years old |
| Other relative of a U.S. citizen | You must be the unmarried child of a U.S. citizen and you must be 21 years old or older, or you must be a married child of a U.S. citizen, or you must be the brother or sister of a U.S. citizen who is at least 21 years old |
| Relative of a lawful permanent resident of the U.S. | You must be the spouse of a lawful permanent resident, or you must be the unmarried child of a lawful permanent resident and be under the age of 21, or you must be the unmarried son or daughter of a lawful permanent resident who is over the age of 21 |
| Fiancé of a U.S. citizen (or the child of a U.S. citizen's fiancé) | You must be admitted to the U.S. as a fiancé as a K-1 nonimmigrant or the child of a fiancé as a K-2 nonimmigrant |
| Widow or widower of a U.S. citizen | You must have been married to your U.S. citizen spouse at the time he or she passed away |
| VAWA self-petitioner (the victim of battery or extreme cruelty) | You must be the abused spouse of a U.S. citizen or lawful permanent resident, an abused child who is unmarried and under 21 years old, or an abused parent of a U.S. citizen |
Obtaining a Green Card Through Employment
Obtaining a green card through employment is an increasingly popular pathway to U.S. residency and citizenship. When seeking a green card through employer sponsorship, the most convenient options are EB-1, EB-2 or EB-3 visas. The main difference between these three occupational categories is the required skill level.
To be eligible, applicants must demonstrate they meet the Department of Labor's requirements in terms of education, profession or relevant work experience. In addition to compliance with immigration laws and regulations, employers sponsoring a candidate for one of these visas must also demonstrate their own financial stability and be willing to sponsor the employee for up to five years. With proper preparation and diligence in filing all necessary paperwork, potential immigrants may quickly find themselves on the path towards permanent residency status in America.
Obtaining a Green Card Through Investment
Obtaining a green card through an EB5 visa is an attractive option for many people seeking permanent residency in the United States. An EB5 visa is a path to citizenship for those with the financial means to invest in job-creating businesses in the U.S. The minimum investment amount allowed is $800,000-1 million, depending on which type of business venture you choose to invest in.
Choosing the right EB5 program that meets your needs is essential and working with experienced immigration lawyers can help you make the best decision. While this investment option requires considerable financial commitment, it allows foreign investors a great lifestyle opportunity as well as potential rewards from investments made. If you're able to make this type of an investment an EB5 Visa could be worth exploring.
Related: Investment Visa Guide
Obtaining a Green Card Through Other Means
Normally individuals obtain their green card through family members or employment-based petitions. However, people can also earn this treasured document by obtaining special immigrant status, as an asylum seeker, as a refugee, and/or as a victim of abuse. Those wishing to get some assistance from the government should look into all these options when planning for residency in the United States.
What Will Your Green Card Lawyer Do If You're Eligible To Apply?
Your green card lawyer can be a significant help during the application process. He or she will fill out and file your paperwork for you, as well as ensure that you have all the supporting documentation you need and that you're prepared for your interview.
Supporting Documentation For A Green Card Application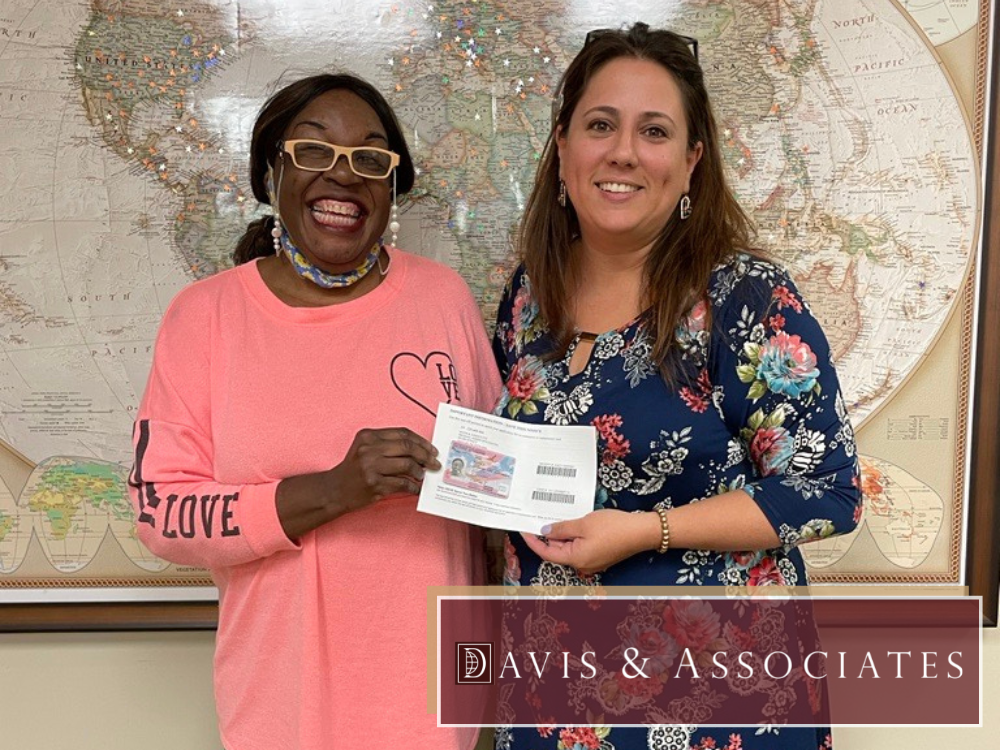 You may need a significant amount of supporting documentation for your green card application. Your attorney can let you know exactly what you need in your case, but you'll generally have to provide:
Two passport-style photos of yourself
A copy of your government-issued identity document with a photograph
A copy of your birth certificate
Inspection and admission
Documentation of your immigrant category
Form I-864, Affidavit of Support (which isn't required in all cases)
Certified police and court records of all your criminal charges, arrests or convictions in the past
Several government forms, including Form I-601, I-212, I-612, I-508, I-566 and I-485 Supplement A, if necessary
Proof that you have continuously maintained a lawful status since you arrived in the United States
Copy of documentation that proves your relationship to the principal applicant (such as a marriage certificate, birth certificate or adoption decree)
Evidence that you have successfully terminated a previous marriage
Documentation from your employer that proves your eligibility to apply
Preparing For Your Green Card Interview With An Immigration Lawyer's Help
Most people must attend a green card interview. Your attorney can help you prepare for yours by telling you what to expect and the types of questions the interviewer may choose to ask you. Your interview will depend on what category you fall into, and it may be very simple, or it could be complex. Generally, you'll be asked to verify things that you included in your application, such as whether you've ever committed a crime, been arrested, or been married before. You may also be asked if anything in your life has changed since you submitted your application, such as your address, your job or your marital status. (It's okay if it has – you'll just need to bring documentation that proves what types of changes have occurred.)
If you're going through a marriage green card interview, you'll most likely be asked questions that prove you're in a bona fide (genuine) relationship with your spouse. Sometimes the interviewer will separate you and your spouse to ask you both questions; that's called a Stokes interview, and immigration officials often use this tactic when they're not sure that you and your spouse are engaged in a genuine relationship with each other. During a marriage green card interview, your interviewer may ask you questions such as:
When and where did you and your spouse meet?
How often do you dine out together?
How is your home set up?
What does your spouse eat for lunch?
What do you do as a routine before you go to bed?
What's your spouse's cell phone carrier?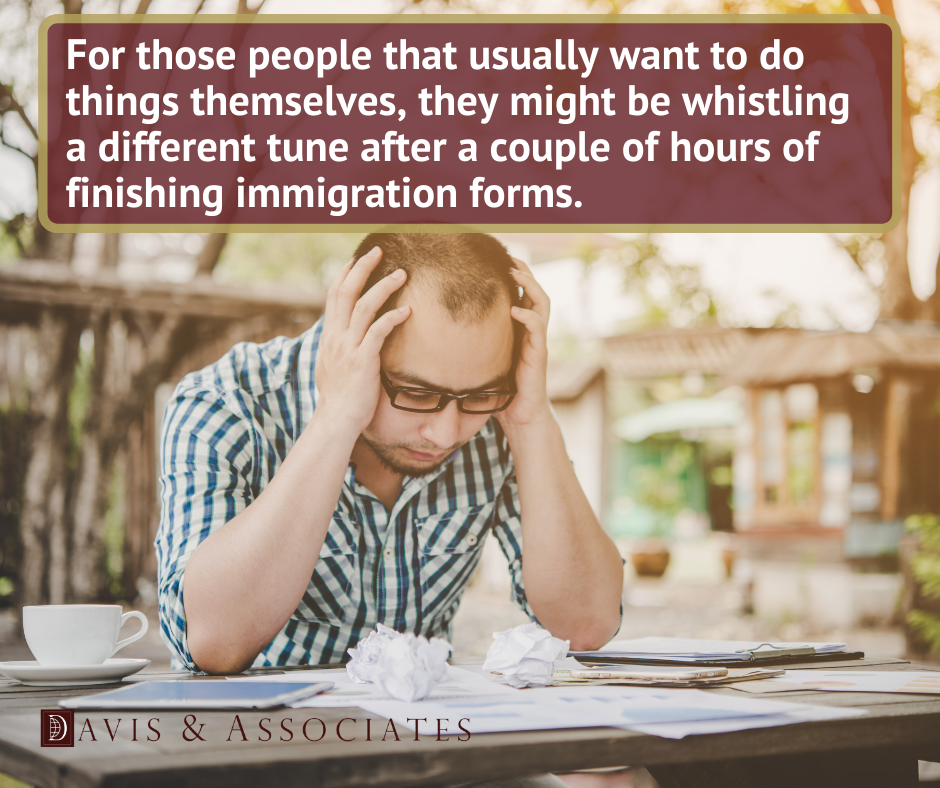 These questions are designed to show the interviewer that you and your spouse are really living together and are in a real relationship – and that you're not simply married for one of you to gain immigration benefits.
Related: The ultimate green card marriage guide
Green Card Lawyer Near Me
By hiring a green card lawyer near you, you'll receive the expertise and support necessary to ensure your green card application process goes as smoothly as possible. Davis & Associates has offices in both Dallas and Houston (but serves clients all over the U.S.). We specialize in immigration law including green card marriage, employment green cards, citizenship, appeals and more.
Do You Need To Talk To Someone About The Significance Of A Green Card Lawyer In Your Case?
Many green card cases can quickly become complicated, particularly because U.S. immigration law is always evolving. If you need to speak with an attorney about applying for a green card, whether it's because you're married to a U.S. citizen or you're currently living and working in the United States, we may be able to help you. Call our office to schedule a consultation with a green card lawyer today so we can answer your questions and get you started on the right path.
---
About Davis & Associates:
Davis & Associates is the immigration law firm of choice in Houston & North Texas including Dallas, Fort Worth, Plano, Frisco, McKinney and surrounding areas. Their attorneys provide expert legal counsel for all aspects of immigration law, including deportation defense, writs of habeas corpus and mandamus, family-sponsored immigration, employment-sponsored immigration, investment immigration, employer compliance, temporary visas for work and college, permanent residence, naturalization, consular visa processing, waivers, and appeals. Attorney Garry L. Davis is Board Certified in Immigration and Nationality Law by the Texas Board of Legal Specialization.
Dallas Contact Info:                                                                                                                                                                                             
Address: 17750 Preston Road Dallas, TX 75252                          
Phone: (469)957-0508                                                                       
Houston Contact Info:                                                                                                                                                        Address: 6220 Westpark Dr, Suite 110, Houston, TX 77057
Phone: (832) 742-0066