Why Do B-1 and B-2 Visa Holders Get Their F-1 Visa Denied?
Some visitors in the United States on B-1 or B-2 visitor visas can change over to an F-1 visa to become a student – but only under certain circumstances. Here's what you need to know if you'd like to go from a B-1 or B2 visa to an F-1 student visa.
How to Change from B Visitor Status to F-1 Student Status
Many people who come to the U.S. for business or tourism on B visas decide they'd like to attend school here. However, you cannot attend school on a B-1 or B-2 visa – you can only study in the United States if you have the right visa, which is often an F-1 student visa. (People who wish to attend a vocational or other recognized nonacademic institution, other than a language training program must apply for an M visa.)
With an F visa, you may study at a:
University or college
High school
Private elementary school
Seminary
Conservatory
You can also study at another academic institution, including a language program, on an F visa.
You must meet certain conditions if you want to change from B-1 or B-2 visitor status to an F-1 student visa; if you don't, the U.S. government will deny your petition. You must:
Not have enrolled in classes
Have a valid B status that is not expired at the time of your application
Have not engaged in any unauthorized employment
For many people, the best way to make this change is to work with a Dallas or Houston immigration attorney. That's because the process can be confusing – and it can be time-consuming. You must meet certain deadlines, and you may be asked to provide the U.S. government with additional information. It's often easier to work with an attorney who will handle everything.
The DS-160 for Changing From a B Visa to an F Visa
You must fill out and file Form DS-160 before you can apply for an F visa. You'll also need to schedule an interview if you're aged 14 to 79. People 13 and younger, as well as those 80 and older, are generally not required to sit for an interview at the U.S. embassy or consulate in their home countries. Your immigration attorney can give you more specific guidance, as well as advise you on what type of documentation you need to gather. You will also need to communicate with the school you wish to attend before you apply for an F visa – but you cannot enroll in any classes if you are in the United States on a B visa.
Most people need, at minimum:
A passport valid for travel to the United States
The confirmation page from filing Form DS-160
A receipt for paying the application fee if you were required to pay before your interview
A photo that meets the U.S. State Department's requirements
Certificate of eligibility for nonimmigrant student status
Form I-20, which you will receive from your school after it has entered your information in the Student and Exchange Visitor Information System, or SEVIS
What if Your Status Will Expire Before Your Academic Program Starts?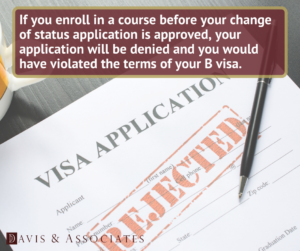 If your B visa status will expire before your academic program starts, your attorney will file Form I-539 for you. There's an additional fee for the form, but once you have filed it and the government has approved it, you can extend your B status. This is absolutely necessary if you want to change from a B-1 or B-2 visa to an F-1 visa – and remember, you cannot enroll in a course of study before the government approves your change of status application. If you do, the government will deny your change of status application – and it will deny your extension, as well, because doing so would have violated the terms of your B visa, as well.
What if You Aren't Eligible to Change Status?
If you can't change your status to F-1, you may still be able to apply for an F-1 visa at a U.S. consulate abroad. It may be in your best interest to work with an immigration attorney who can contact your school and get further guidance.
A Letter From Our Lead Attorney, Garry Davis
Over the years, and particularly recently, I have received many calls from people who have been refused F-1 student visas at the U.S. consulates throughout the world.
The scenario looks like this:
A person applies for and receives a visitor visa to the US, a B-1/B-2 visa from the local US consulate. That visa is to be used for the purpose of entering the US for a legitimate business or tourism purpose.
The person then comes to the US and enters as a visitor and is given a certain amount of time to be in the US, generally six months. During that six-month period, the person is accepted into a school program and files to change status to F-1 student. After approval, the person enrolls in school and maintains student status.
Some time later, the person decides to go home to see the family. He or she gathers the I-20 and other immigration paperwork and head home. There is an online application for a nonimmigrant visa, F-1 in this case, with the US consulate.
This is generally the same US consulate that previously issued the B-1/B-2 Visito
r Visa. Fully expecting to receive the visa, the person attends the required visa interview with high hopes of being approved. Then, to their shock and surprise, the consulate refuses the visa, and finally the person contacts me to ask what the options are to try to correct the issue and get back to the US to continue the program.
So, what happened? If the person has done nothing illegal, why would the consulate refuse the visa? USCIS granted the change of status, so why wouldn't the visa just follow that approval?
The answer is simple – consulates are offended by people who file to change status in the US, and this is the consequence of that offense. Let me explain why.
When a person comes into the US as a B-2 Visitor, the stated purpose is for vacation. If the person then decides to go to school, that is not in line with tourism. From the consulate's perspective, the person used the visitor visa for a purpose other than the stated purpose, and a new visa should be refused.
To qualify for most nonimmigrant visas, including B and F visas, the law requires an applicant to establish to the Consular Officer's satisfaction that he or she intends to return home at the end of the stay in the US. If the person can't do that, then the visa should be refused.
The thought process in the B-2/F-1 situation is that the person said he or she intended to leave the US at the end of his or her stay, but then didn't and changed status instead. Not being able to establish an intent to depart results in a visa refusal, and not departing the last time is an indicator
of a lack of intent to depart this time, according to the thought process of the consular officers.
What should the person have done instead? What I recommend to people who may have a need to travel internationally while going to school is to, after using a B-2 visa to enter the US:
Get accepted to the school of choice.
Obtain the required documentation from the school.
Leave the US with that documentation.
Apply for the F-1 visa at the consulate.
Of course, the question I always get when I give this advice is, "What if they refuse the visa?"
My response is always this, "If you change status here in the US, and need to then go get the visa, it's highly likely to be denied. At least if you go from the beginning to them with the visa application, you have a chance. After all, they approved the tourist visa, so there is a good chance they will approve the student visa as well, especially since you've chosen to do it the 'right' way."
Of course, there are risk factors. Marital status, such as being married to a US citizen or resident, the person's age, and the person's prior education factor in as well.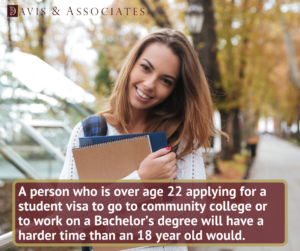 For example, a person who is over age 22 applying for a student visa to go to community college or to work on a Bachelor's degree will have a harder time than an 18 year old would. If the person already has a Bachelor's degree and is going to the US for a Master's or higher program, age is less of an issue.
The other option is to not leave. It is still possible, although it is much more difficult than it used to be, to file for change of status to F-1 in the US. I always discourage it as an option, but if the person is committed to that course of action, then they need to know they won't be leaving the US while an F-1 student, unless they are willing to take a ton of risk that the consulate will refuse the visa for the reasons explained above.
At the end of it all, my very strong advice to anyone considering it is to not try for a student visa at the US consulate after having changed status in the US. It is very risky. People don't realize the risk because of being granted a visa before and being approved by USCIS. Unfortunately, that is not how it works.
Do You Need To Change Your Status from B-1/B-2 to F-1?
Whether you choose to apply for the F-1 visa from inside or outside the U.S., your best chance at approval will be to work with an experienced immigration lawyer. To speak with one of our attorneys for free and discuss your individual case, call our firm, Davis & Associates, at (214) 628-9888.
If you would like to discuss your individual case, call our firm, Davis & Associates, at (214) 628-9888.
Thank you,
Garry Davis
---
About Davis & Associates:
Davis & Associates is the immigration law firm of choice in Houston & North Texas including Dallas, Fort Worth, Plano, Frisco, McKinney and surrounding areas. Their attorneys provide expert legal counsel for all aspects of immigration law, including deportation defense, writs of habeas corpus and mandamus, family-sponsored immigration, employment-sponsored immigration, investment immigration, employer compliance, temporary visas for work and college, permanent residence, naturalization, consular visa processing, waivers, and appeals. Attorney Garry L. Davis is Board Certified in Immigration and Nationality Law by the Texas Board of Legal Specialization.
Dallas Contact Info:                                                                                                                                                                                             
Address: 17750 Preston Road Dallas, TX 75252                          
Phone: (469)957-0508                                                                       
Houston Contact Info:                                                                                                                                                        Address: 6220 Westpark Dr, Suite 110, Houston, TX 77057
Phone: (832) 742-0066