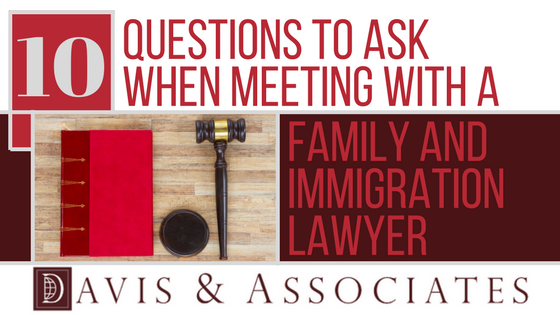 10 Questions to Ask When Meeting With a Family Immigration Lawyer
Lately, there has been more attention paid to immigration and deportation than ever before. Law enforcement in some areas of the country are aggressively searching out undocumented immigrants with the intent to deport them. An executive order this year has limited the immigration of individuals from six mostly Muslim countries. According to The Atlantic, the number of immigrants to be admitted to the United States is expected to drop dramatically.
News like this causes many who are already in the United States to become nervous and fear that their families may be broken up by aggressive deportation efforts.
In Texas, laws are changing to allow law enforcement to broaden their legal authority to request specific documentation about your residency. Politicians in the governor's office and legislature have announced a firm commitment to pursue undocumented immigrants. Also, green card holders or legal residents who have committed crimes are becoming clear targets for deportation.
More relevant today than ever, individuals should contact an experienced family immigration lawyer to discuss their situation. Whether you are currently being threatened or fear that at some future time you may be in jeopardy of deportation, you should begin now to find someone to protect your rights.
Do not wait until you are challenged, or trouble arises. Having a qualified family immigration lawyer who understands your situation and is available on short notice is essential.
Many immigration lawyers, like Davis & Associates in Dallas, TX, offer a free consultation to discuss how your situation might be handled. Be prepared to ask specific questions at that initial meeting.
Here are some questions to consider when meeting with a family immigration lawyer:
Is immigration law your primary field?
Some law firms practice general law. You should seek one that specializes in immigration law and understands the strategies needed to protect the rights of their clients.
Are you a member of the American Immigration Lawyers Association (AILA) or another organization?
The AILA is made up of lawyers and teachers who specialize in immigration law and are committed to helping and protecting newcomers to the United States.
Other organizations that are affiliated with the American Bar Association also speak to the attorney's dedication to their career and clients.
Is there anyone here who speaks my language?
Communication is essential when dealing with legal matters. Discussion in the client's native tongue is sometimes critical to ensure that messages are clear and no surprises arise later. The Davis & Associates Team is multilingual and will strive to make sure you understand everything.
What types of immigration cases do you handle mostly?
Depending on your situation, you should make sure that your family immigration attorney is experienced in handling cases like yours. Whether seeking a work visa, applying for a green card, or protecting against deportation, the experience is essential.
Be cautious of attorneys who handle cases in all areas of law. Firms who focus their efforts specifically on immigration law matters are able to stay on top of the ever-changing policy and processes.
Can you provide some references from other clients who were in a similar situation that I may contact?
References are important. Ask to contact individuals who employed this family and immigration lawyer for similar cases.
If the firm does not provide references, the internet is a great place to see what others think. Check out the online reviews and ratings across various platforms like Yelp, Google, Facebook and more.
What documents do you wish to see at our first meeting?
For the lawyer to understand your situation, ask about any information and documentation that they might need to explore your options completely.
Will you or someone else be handling my case?
Determine if the lawyer for the first consultation will be handling your case or if it will be passed on to a less experienced attorney to handle.
In most cases, paralegals do help with the process by researching, organizing, and drafting documents. The attorney will file all original documents, give legal advice, and manage your case along the way.
What is your strategy for helping me? What are the chances for success?
At the end of the first consultation, the family immigration lawyer will usually offer a recommended strategy and should be able to advise you of the likelihood of success.
What are your fees?
You must ask about the fees to follow the proposed strategy. Legal fees can pile up, so you need to know the cost up front.
We recommend finding a firm, like Davis & Associates in Dallas, that offers free initial consultations. During this consultation, a strategy and projected cost should be presented to you.
How will you update me on the status of the case?
Ask for regular updates regarding your situation. Whether by phone or email, updates are necessary to keep track of the progress of the case and monitor your investment in legal support.
Contact Davis & Associates
A member of the Texas State Bar Association and The American Immigration Lawyers Association, Davis & Associates in Dallas, TX, is an experienced, award-winning immigration law firm. The Group practices immigration law only and is compassionate about keeping families together and ensuring that the rights of new arrivals are protected.
Call Davis & Associates for a free consultation at 214.628.9888 and visit their website for more information and answers to Frequently Asked Questions at https://gldlaw.com/faqs-ask-garry/
About Davis & Associates:
Davis & Associates is the immigration law firm of choice in North Texas including Dallas, Fort Worth, Plano, Frisco, McKinney and surrounding areas. Their attorneys provide expert legal counsel for all aspects of immigration law, including deportation defense, writs of habeas corpus and mandamus, family-sponsored immigration, employment-sponsored immigration, investment immigration, employer compliance, temporary visas for work and college, permanent residence, naturalization, consular visa processing, waivers, and appeals. Attorney Garry L. Davis is Board Certified in Immigration and Nationality Law by the Texas Board of Legal Specialization.