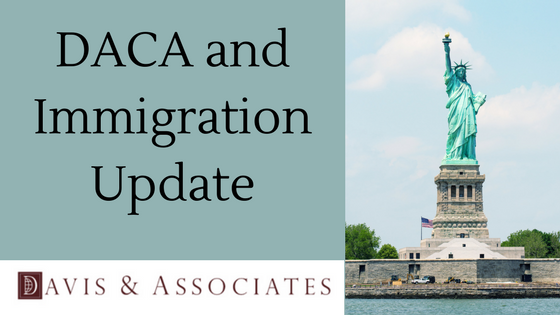 DACA and Immigration Ban Update
During the administration of President Obama, an immigration plan was created to allow immigrants without documentation who entered the United States as minors to receive a renewable two-year extension that would defer deportation. The policy was named the Deferred Action for Childhood Arrivals or DACA.
DACA was implemented unilaterally by President Obama in 2012. Before that, in 2010, another bill had been introduced that was defeated in Congress. That law, called the DREAM Act, allowed persons who entered before their 16th birthday and remained for over five years to become citizens.
While the DREAM Act was defeated, the term "DREAMERS" remains a reference to young immigrants who wish to stay and earn citizenship.
Recent Immigration Ban
Recently elected President Trump, with the apparent support of a Republican Congress, issued an order to restrict entry of individuals without proper documentation and to halt entry of persons from seven, mostly Muslim, Middle Eastern countries. After considerable confusion at airports and elsewhere, a U.S District Court ruled the Order to be unconstitutional. The ruling was later upheld by a U.S. Appellate Court.
Current Status of DACA: Stay Out of Trouble
While President Trump has promised to reissue a new travel policy in the coming days, he did show some sympathy for the plight of young immigrants and the complexities of the situation during his speech to Congress on February 28, 2017.
As of March 5, 2017, DACA remains in place, though the President had promised during his campaign that he would terminate the program. The Immigrant Legal Resource Center currently advises that all current DACA recipients should avoid any illegal behavior, even traffic violations, affiliations with gangs and other potentially dangerous situations.
One recommendation by ILRC is to consider immediately renewing DACA status with an experienced immigration attorney.
However, do NOT reapply for DACA if you have a prior immigration or criminal issues. These problems could hurt your chances even if you were approved previously. Consult with an experienced immigration attorney.
Letter from 868 U.S. Organizations to President to Continue DACA
On January 19, 2017, 868 government, civil rights, education, religious, ethnic and human rights executives signed and sent a letter to President Trump requesting the continuation of DACA. The letter cites support by 58% of the American public and the success and contributions of over 741,000 DACA recipients or Dreamers. The letter requests President Trump's careful consideration for continuing the program.
What Will Happen Next?
While the executive order was met with considerable confusion and legal challenge, the White House promised a replacement that would address all legal matters that had been raised. The fundamental legal problem with the original order was its seeming discrimination against a single religion.
The second (revised) executive order banning people of six majority-Muslim countries was blocked hours before it was set to take effect by judges in two federal courts.
Undoubtedly there will be continuous challenges, though matters are uncertain until a new executive order is in effect. For now, it seems as if the Trump administration will continue to challenge court orders regarding immigration until they are content with the outcomes.
Airport Preparation
In any event, travel into the United States will likely become more restrictive and will undoubtedly cause confusion. According to a Washington Post account, U.S. airports are preparing for multiple problems including accommodating crowds of individuals who become stranded to providing professional legal support within the arrivals areas.
DACA Status
No one can be certain what may be coming. Indications cannot determine the long-term destiny of the DACA program since campaign promises do not always convert to actual legislation.
The best advice for DACA recipients is to stay informed, stay out of trouble, and seek professional advice from an experienced immigration attorney.
About Davis & Associates:
Davis & Associates is the immigration law firm of choice in North Texas including Dallas, Fort Worth, Plano, Frisco, McKinney and surrounding areas. Their attorneys provide expert legal counsel for all aspects of immigration law, including deportation defense, writs of habeas corpus and mandamus, family-sponsored immigration, employment-sponsored immigration, investment immigration, employer compliance, temporary visas for work and college, permanent residence, naturalization, consular visa processing, waivers, and appeals. Attorney Garry L. Davis is Board Certified in Immigration and Nationality Law by the Texas Board of Legal Specialization.