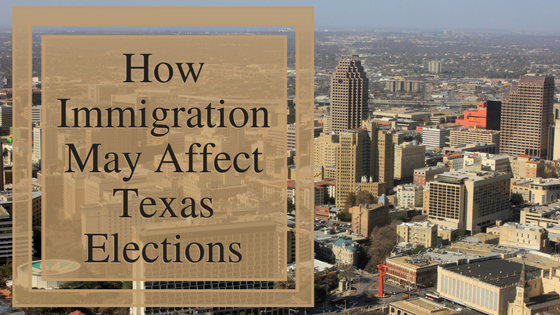 How Immigration May Affect Texas Elections
Among all of the current political issues, topics about immigration law are among the most obvious. News about the removal of Temporary Protected Status for specific countries, DACA, the multi-billion dollar border wall, sanctuary cities, ICE crackdowns, and many more topics populate the headlines every day.
In Texas, the situation is even more apparent. With the Texas legislature passing SB4 last year, a law intended to eliminate sanctuary cities and strengthen the authority to request residency status for all individuals at any time, immigration has become the most important story. As a result of this and the proposed border wall, Texas is a focal point in the national debate over immigration.
Immigration Issues and the Effect on Future Texas Elections
During the 2016 national election, the Republican Party candidate earned the presidency and maintained a majority in both national lawmaking bodies of Congress, the U.S. Senate and House of Representatives. Similarly, in Texas, the governor and majority of both legislative houses are also currently led by the Republican Party.
The general position of Republican leadership, led by the current U.S. president and supported by many in the party, has been to:
Search and deport undocumented immigrants
Eliminate sanctuary cities
Reduce quotas for foreign workers
Remove Temporary Protection Status from several nations
Provide a military presence at the southern border between the United States and Mexico
Build a multi-billion dollar wall across the entire U.S.-Mexico border (not yet funded)
Push for a definitive decision regarding DACA
In Texas, the current governor, who is running for re-election in November 2018, has expressed strong support for increasing legal scrutiny and the power of ICE and law enforcement to track down and remove undocumented immigrants. The passage of SB4 to eliminate sanctuary cities was primarily a product of the Texas governor's stated position.
Democratic representatives have opposed these immigration measures, but are notably outnumbered in the United States and Texas legislatures.
Power of the Vote in Texas Elections
Whether for or against strong anti-immigration measures, your legal vote is essential. Casting a ballot for candidates whose positions are most like your beliefs is necessary to the democratic election process.
In more recent primaries and special elections, Democratic Party candidates have tended to turn out in higher numbers to win back seats that were lost. For Democrats to win back sufficient seats to earn a majority in the U.S. House of Representatives in the 2018 election, their voters will need to turn out in record numbers in every district. Their legal voters who stayed home in 2016 because they felt their vote would be meaningless will need to show up at the polls in November.
The 2018 Texas Elections Challenges 
On the Texas ballot on November 6 will be the following races:
Governor's Race: Incumbent Greg Abbott, Republican vs. Andrew White or Lupe Valdez, Democrats. (One Democratic candidate will be selected in a May 22 run-off)
S. Senate: Incumbent Senator Ted Cruz, Republican, vs. Representative Beto O'Rourke, Democrat
S. House of Representatives: Democrats will have candidates in all 32 Congressional Districts. The Districts with the best chance of victory for the Democrats, according to current information, are:

7th District (West Houston)
23rd District (San Antonio west to Mexico border)
32nd District (Northeast Dallas)
21st District (between San Antonio and Austin) as a result of the retirement of Republican incumbent Lamar Smith
While only four or thirty-six Congressional Districts may be competitive, turnover of one or more of these seats to the Democratic side would add significantly to other projected gains in the U.S. House for Democrats.
Likewise, an overturn in the Senate seat currently held by incumbent Senator Ted Cruz would negate the Republican majority in the United States Senate.
This is why every vote counts in upcoming Texas elections! Republicans are feeling pressure to maintain their seats, while Democrats are hoping to unseat current politicians.
Who Has the Right to Vote in Texas Elections?
All Texas-residing U.S. citizens, aged 18 or over, with no felony convictions or court-judged mental incapacitation can vote. According to the Texas Secretary of State website, individuals must register in their county of residence and show sufficient identification to prove residency.
For those without United States Citizenship who wish to vote in a future election, you must pursue the process of becoming a naturalized U.S. citizen. If you are a candidate, either by marriage or legal permanent residency, you should work with a certified Dallas immigration lawyer to understand the process.
Contact Davis & Associates for a Free Consultation about U.S. Citizenship and Naturalization
In Dallas, Texas, call for an appointment or request a free consultation to discuss your circumstances regarding U.S. citizenship, permanent residency or other immigration matters. Davis & Associates is an award-winning, multilingual law firm with compassionate and understanding professionals on staff.
Also, visit the Davis & Associates website to review articles about current issues in immigration and American citizenship.
Phone today for your free consultation at (214)-628-9888.
About Davis & Associates:
Davis & Associates is the immigration law firm of choice in North Texas including Dallas, Fort Worth, Plano, Frisco, McKinney and surrounding areas. Their attorneys provide expert legal counsel for all aspects of immigration law, including deportation defense, writs of habeas corpus and mandamus, family-sponsored immigration, employment-sponsored immigration, investment immigration, employer compliance, temporary visas for work and college, permanent residence, naturalization, consular visa processing, waivers, and appeals. Attorney Garry L. Davis is Board Certified in Immigration and Nationality Law by the Texas Board of Legal Specialization.