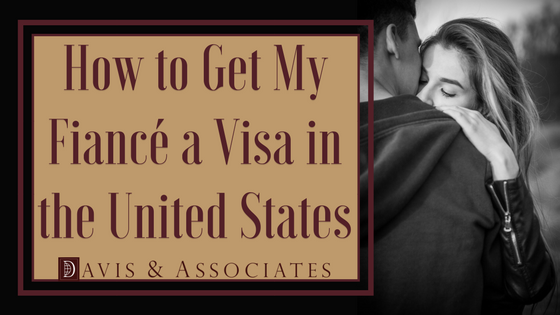 How to Get My Fiance a Visa in the United States
Anything to do with immigration and visas for entry into the United States could be becoming more challenging than in the past. Without professional legal assistance in many cases, individuals are facing delayed and even denied entry into the United States.
One immigration category of common interest regarding family immigration refers to petitioning for a Fiancé Visa USA for a fiancé who is a foreign citizen currently living outside the United States. Many U.S. citizens have traveled and developed a relationship with a foreign individual whom they hope to marry. At present, these individuals may request a K-1 Fiancé Visa to allow their intended spouses to come to the United States to marry.
Permanent residents (Green Card holders) may not petition for a Fiancé Visa. These individuals, however, may choose to marry abroad and would be eligible to petition for their new spouse to move to the United States.
In either case, assistance from a professional immigration lawyer will help to ease the way for reuniting with a fiance or spouse in the U.S.
Qualifications for a K-1 Fiancé(s) Nonimmigrant Visa
The U.S. Citizen must first complete a Form I-129F, Petition for Alien Fiance(e)s. The requirements for this petition are that:
The couple's wedding should take place during the 90 days after arrival.
The marriage and visa petition must be proven to be valid, not an attempt to facilitate the foreign person's immigration into the United States.
Both parties must be legally free to marry. To be eligible, past marriages for either individual must have been resolved by divorce, death or annulment.
Except in exceptional circumstances that might have violated custom or resulted in some danger, the U.S. Citizen and fiance must have been together at least once in the two-year period before the petition.
If you have already married or the intended spouse is already legally living within the United States, the petition for a Fiancé Visa is not applicable. If a foreign spouse is currently living outside the United States, the U.S. citizen should complete a Petition for an Alien Relative (I-130) to bring that individual into the United States.
Once the marriage becomes official, the immigrant spouse may apply for legal permanent resident status or U.S. Green Card.
It is highly advisable to work closely with an experienced immigration lawyer to ensure the Petition is completed precisely as needed and all necessary documentation is provided.
In Dallas, contact Davis & Associates to assist with your Petition for Alien Fiance USA.
Procedure for Obtaining a Fiancé Visa
According to the U.S. Immigration website, the Form I-129 should be accompanied by an additional form, the I-134 Affidavit of Support. This form ensures that the U.S. citizen applicant will have full financial responsibility for the Fiancé Visa USA holder after they are reunited.
Once the accurately completed F-129 Visa Petition and supporting documentation is submitted, the total time until issuance of the Visa can be six months, sometimes longer. Processing and approving the Fiancé Visa USA petition should take two months, while fiances usually wait an additional three months to receive their K-1 Visa from the local U.S. Embassy or Consulate. At times, the USCIS (United States Citizenship and Immigration Service) requires up to five months before issuing the fiance visa USA.
Foreign fiances also must undergo medical examinations as well as background security checks.
Again, the foreign fiance's K-1 Visa is only good for 90 days after coming to the United States. The U.S. citizen and the foreign fiancé must marry within this time or the visa holder will be liable for deportation.
Contact Davis & Associates in Dallas, Texas
As with any immigration and citizenship issues, you should rely on the services of a competent and dedicated immigration lawyer. The award-winning immigration law firm, led by Garry L. Davis, has been managing immigration and visa issues successfully for over a decade in the Dallas area.
To ensure the Fiancé Visa USA application process goes smoothly, contact the offices of the Davis & Associates immigration law firm for a free initial consultation. During that initial family immigration consultation, the multilingual Associates will discuss the firm's professional, hassle-free role in the entire procedure for securing the K-1 Visa for Alien Fiancés. The firm will assist in the Form I-129 Petition, ensure other required documents are submitted, and keep the U.S. citizen applicant up-to-date on the progress of the project.
You may read more information about this and other immigration topics at the Davis & Associates blog under the heading "Articles."
To arrange for a free initial consultation, contact Davis & Associates at 214-628-9888.
Alternatively, visit the Contact page of the website to request your preferred time for the initial consultation.
About Davis & Associates:
Davis & Associates is the immigration law firm of choice in North Texas including Dallas, Fort Worth, Plano, Frisco, McKinney and surrounding areas. Their attorneys provide expert legal counsel for all aspects of immigration law, including deportation defense, writs of habeas corpus and mandamus, family-sponsored immigration, employment-sponsored immigration, investment immigration, employer compliance, temporary visas for work and college, permanent residence, naturalization, consular visa processing, waivers, and appeals. Attorney Garry L. Davis is Board Certified in Immigration and Nationality Law by the Texas Board of Legal Specialization.