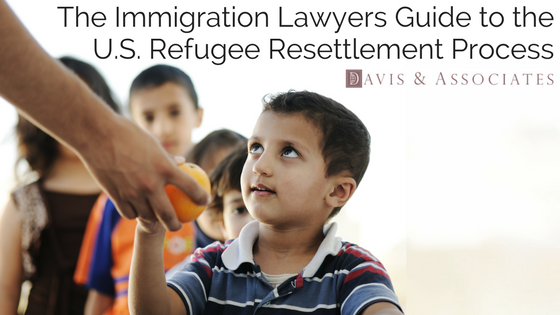 The Immigration Lawyers Guide to the U.S. Refugee Resettlement Process
The Immigration Lawyers Guide to the U.S. Refugee Resettlement Process
A refugee is a person who is fleeing their homeland to escape the dangers of war or political, religious, or social persecution and danger. Often, refugees are fleeing for their lives with little notice and no idea of when or how they may return to their home.
Further complicating the situation is that the abrupt departure to an asylum country sometimes abandons documentation like diplomas, professional documents, family histories, and more that would verify their identities.
The United Nations High Commission for Refugees (UNHCR) is designated as the official legal body to recognize legal refugee status.
What is Refugee Status?
The UNHRC establishes a reliable basis for the individual's fear of inherent dangers and persecution in their countries of origin before awarding refugee status. Being so designated does not mean people may move freely to other nations since the UNHRC refers only about 1% of refugees for resettlement to a third country. Candidates cannot select the country to where they wish to go. The UNHRC will, however, endeavor to provide protection, various types of assistance, and even replacement legal documents.
Refugee Resettlement Countries
Several nations offer official Refugee Resettlement Programs (RSP). These countries include the United States, Australia, New Zealand, Japan and several European countries. Others accept legal refugees on a case-by-case basis usually decided by family connections, trades skills, education, and language fluency.
United States Refugee Resettlement Program
The United States limits candidates of the Refugee Resettlement Program to those who have been referred by the U.S Embassy in the refugee country or by the UNHCR. The process is complicated and takes considerable time.
The Immigration lawyers working for resettlement of a designated legal refugee must work through several agencies to allow the refugee and family to be admitted to the United States. The program is monitored by the U.S. State Department Bureau of Population, Refugees, and Migration which establishes criteria and overseas quotas before recommending cases to the Department of Homeland Security and U.S. Citizenship and Immigration Services (USCIS) for further evaluation and judgment.
Judgement and Approval/Denial
Application to the USCIS requires approval by an officer of the agency based on the candidate's application, family tree, and other biographical information. Rejection disallows the refugee's entry into the United States, though they may have 30 days to reapply with additional information.
If the refugee candidate is approved, the USCIS designates a non-governmental American resettlement organization to assist during resettlement.
Preparation for Resettlement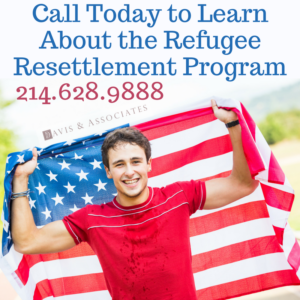 Approved refugees are required to undergo extensive medical examinations, security clearance evaluations, and a cultural orientation to help adapt to the new environment.
Resettlement Process
Information about the refugees is filed at the Refugee Data Center for future reference. Refugees will be matched with a resettlement agency that provides placement services in different locations throughout the United States.
The resettlement agency will designate a resident community based on housing, job availability, services, school capacity, and more. The intent is to assimilate the refugee family as quickly as possible to become productive members of their new communities.
Initial Steps in Resettlement
Once the individual or family has become situated in their new surroundings with the help of the resettlement organization and possibly the immigration lawyers, life begins to change and demand more active participation. Refugees must undergo additional medical examinations, apply for their Social Security numbers, and take English language courses at local learning facilities designed to assist foreign arrivals. Additionally, refugee children are required to register for school at this time.
Becoming a Contributing Member of the Community
As the refugees settle into their new lives, healthy participation begins to occur. Looking for a job to become a bonafide taxpayer in the United States, perhaps with the assistance of local agencies, is the next major step. Once the refugee and family have settled into a routine and, hopefully, a satisfactory life style, the refugees can begin to aspire for more.
Millions of individuals have successfully transitioned from being traumatized, disoriented refugees to becoming U.S. Permanent Residents or green card holders to eventually becoming full-fledged U.S. Citizens with the rights and privileges of natural-born Americans.
Since 1975, the United States has welcomed over 3 million refugees for resettlement, more than any other nation. Though the process for approval may take up to two years, the screening is comprehensive and intended to reward qualified refugees for resettlement.
For Information Regarding the U.S. Refugee Resettlement Process, Contact the Immigration Lawyers at Davis & Associates in Dallas, Texas
The refugee immigration process is complicated. The scrutiny and evaluations conducted by every participating country are becoming more extensive. If you have questions about the Resettlement process, fill out the form below or call 214.628.9888 for a free consultation today.
About Davis & Associates:
Davis & Associates is the immigration law firm of choice in North Texas including Dallas, Fort Worth, Plano, Frisco, McKinney and surrounding areas. Their attorneys provide expert legal counsel for all aspects of immigration law, including deportation defense, writs of habeas corpus and mandamus, family-sponsored immigration, employment-sponsored immigration, investment immigration, employer compliance, temporary visas for work and college, permanent residence, naturalization, consular visa processing, waivers, and appeals. Attorney Garry L. Davis is Board Certified in Immigration and Nationality Law by the Texas Board of Legal Specialization.