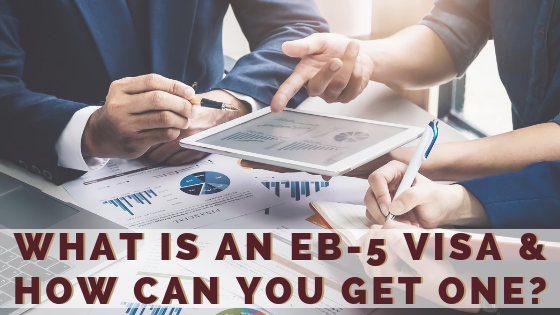 What is an EB-5 Visa, and How Can You Get One?
The EB-5 Visa program is an exceptionally popular way to gain permanent residence in the United States, which you can then use to apply for naturalized citizenship – but what is the EB-5 Investor Program, and how can you get into it?
For many people, the best option is to hire a Dallas immigration attorney who can answer questions, file paperwork and perform other tasks that make the whole process easier and more streamlined.
What is the EB-5 Visa Program?
The EB-5 Visa program, which is technically called the EB-5 Immigrant Investor Program, allows entrepreneurs and their spouses (as well as unmarried kids who are under 21) to apply for permanent residence in the U.S. In order to use this program, you must:
Invest in a commercial enterprise here in the U.S.
Plan to create (or preserve) at least ten permanent, full-time jobs for qualified U.S. workers.
Obtaining permanent residence in the United States is the first step toward naturalization – and that's exactly why many entrepreneurs and investors choose to take advantage of this program.
What Kind of Preference Do You Get in the EB-5 Program?
The "EB" in EB-5 stands for employment-based, and the "5" denotes the fifth level of preference. There are four employment-based categories for visas that are given heavier preference than those in this category, but they each have their own requirements.
(Learn about EB-1, EB-2 and EB-3 visas here.)
How to Apply as an EB-5 Investor
Applying as an investor requires you to fill out quite a bit of paperwork, including the USCIS Form I-526. If that petition is approved, you'll have to file either Form I-485 or DS-260. You can remove conditions attached to your visa by filing Form I-829 within the 90-day period of your visa's expiration. At each stage of the process, you'll have to file supporting documentation (like invoices, receipts, bank statements, payroll records and tax documents).
Requirements for Investing Through the EB-5 Visa Program
If you want to use the EB-5 program, you must invest in a new commercial enterprise. A new commercial enterprise is one that was established after November 29, 1990, or one that was reorganized or expanded by more than 40 percent since that date (even if it was established long before then).
What Does "Commercial Enterprise" Mean?
A commercial enterprise is a business or any other for-profit activity. Some things that count as commercial enterprises include:
Business trusts
Corporations
Holding companies
Joint ventures
Partnerships
Publicly or privately owned entities
Sole proprietorships
Job Creation Requirements for EB-5 Investors
This program requires you to create jobs for Americans, and to do that, you'll have to invest enough money in the enterprise to create at least ten full-time positions. You can create jobs directly or indirectly:
Direct jobs establish an employer-employee relationship
Indirect jobs are created as a result of the enterprise but are outside the enterprise (like contracting jobs)
In some cases, you can simply rely on job maintenance. That means you don't always have to create ten new jobs; it may be enough to create circumstances that prevent American workers from being laid off or fired for at least 2 years.
Capital Investment Requirements
Cash, equipment and inventory all count as capital in the EB-5 program. So does other tangible property, cash equivalents and secured debt that you own, as long as you're personally liable and the assets you have aren't used to secure debt related to your new business.
There are two categories for investing money: General and Targeted Employment Area. Generally speaking, you must invest at least $1 million. However, if you're investing in a business in a Targeted Employment Area or rural area, the minimum investment is $500,000.
EB-5 Visa Program's Most Common Terms
If you're investing in this program to obtain a visa, there are a few terms you should know. Some of the most important include:
Troubled business
Qualifying employee
Full-time employment
Job-sharing arrangement
Targeted Employment Area
Rural area
Troubled Business
The term troubled business refers to a company that's at least 2 years old and has operated at a net loss during the 12-month or 24-month period prior to your application. The loss must be at least 20 percent of the business's net worth.
Qualifying Employee
A qualifying employee is someone who's legally allowed to work in the U.S., including a citizen, a lawful permanent resident, or another type of immigrant who's authorized to work here. The investor doesn't count as a qualifying employee. Spouses and children don't count, either, which means you'll have to create or maintain a total of ten jobs without counting your immediate family members.
Full-Time Employment
Full-time employment, in this case, is at least 35 working hours per week. This standard applies to both direct jobs and indirect jobs that you create.
Job-Sharing Arrangement
The term job-sharing arrangement means that you have two or more qualifying employees who share a full-time position. You can't count two separate part-time positions, though – only full-time positions where the 35-hour-per-week requirement is met.
Targeted Employment Area
A Targeted Employment Area is a place that has an unemployment rate of at least 150 percent of the national average rate.
Rural Area
A rural area is an area that's not within a metropolitan statistical area or the boundaries of a city or town that has a population of more than 20,000 people.
Do You Need to Talk to a Dallas Immigration Lawyer About the EB-5 Visa Program?
If you're considering investing in the United States to obtain permanent residency, whether or not you later intend to pursue citizenship, you may want to talk to a Dallas immigration attorney who can help you.
Call us at (214) 628-9888 to schedule your free immigration consultation today.
---
About Davis & Associates:
Davis & Associates is the immigration law firm of choice in Houston & North Texas including Dallas, Fort Worth, Plano, Frisco, McKinney and surrounding areas. Their attorneys provide expert legal counsel for all aspects of immigration law, including deportation defense, writs of habeas corpus and mandamus, family-sponsored immigration, employment-sponsored immigration, investment immigration, employer compliance, temporary visas for work and college, permanent residence, naturalization, consular visa processing, waivers, and appeals. Attorney Garry L. Davis is Board Certified in Immigration and Nationality Law by the Texas Board of Legal Specialization.
Dallas Contact Info:                                                                                                                                                                                             
Address: 17750 Preston Road Dallas, TX 75252                          
Phone: (469)957-0508                                                                       
Houston Contact Info:                                                                                                                                                        Address: 6220 Westpark Dr, Suite 110, Houston, TX 77057
Phone: (832) 742-0066