What is Consular Processing?
If you are not currently in the United States and, therefore, not qualified to apply for an adjustment of status, an immigrant visa application presented to the U.S. consulate in your location is the best course of action. An approved visa petition with a current priority date is needed to start the process.
What is Consular Processing?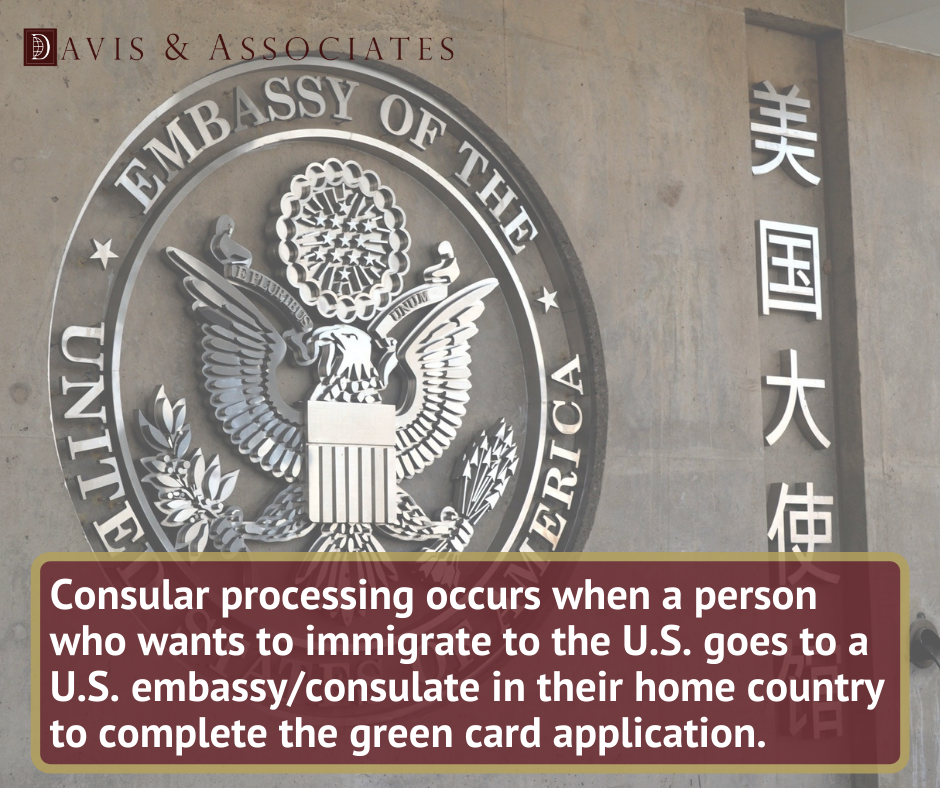 Consular processing occurs when a person who wants to immigrate to the United States goes to a U.S. embassy or consulate in his or her home country to complete the application for a green card. The whole process begins at the consulate or embassy, including submission of forms and supporting documentation, having a medical exam performed, and attending an immigration interview. This is different from the process that takes place when a person is already in the United States; in that case, these things would be done from inside the U.S., not at an embassy or consulate.
What Immigrants Must Use Consular Processing?
If you're already in the United States, you won't use consular processing. Your Dallas or Houston immigration attorney will explain the process to you. Generally, it's done by filing an adjustment of status petition.
However, most immigrants have no choice but to use consular processing when they're living overseas. It's very rare for the U.S. to allow people to enter the country for the sole purpose of filing a green card application.
What Happens if You're in the U.S. Unlawfully?
If you're currently in the U.S. unlawfully, you generally have to leave the country and use consular processing. However, if you have lived unlawfully in the U.S. for 180 days or more, you may become subject to penalties for your unlawful stay – even if you qualify for a green card. In a situation like this, you should certainly consult with an immigration attorney who can give you case-specific legal advice.
What Kind of Paperwork Do You Need to File for Consular Processing?
You'll have to file very specific paperwork for consular processing, but you can only do so after a relative or employer has filled out an I-130 or I-140 petition on your behalf, or after you have filled out and received approval on a lottery application. The address on the forms previously filed will let the U.S. government know which consular office or embassy you'll go through to file your petition. From there, the National Visa Center will transfer your file to the appropriate location.
Before that happens, though, you'll fill out a Choice of Address and Agent form online. (Your attorney can help you with this.) The person sponsoring you (if it's a family member), will pay for the application fee on the Affidavit of Support, and then you'll receive a bill for your immigrant visa processing fee. You must pay that fee before your case can advance.
You and your petitioner will have to fill out a number of forms and file specific paperwork, and you'll be subject to a medical exam. You will also have to come up with financial documentation that shows you aren't likely to become a public charge.
What is a Public Charge in Immigration?
A person who is likely to become a public charge is inadmissible to the United States – but what does that mean?
A public charge is an alien who has (or is likely to, in this case) receive one or more public benefits as defined by the public charge rule for more than 12 months in any 36-month period. Public benefits as listed in the rule include:
Supplemental Security income (SSI)
Temporary Assistance for Needy Families (TANF)
Federal, state, local or tribal cash benefit programs for income maintenance
Supplemental Nutrition Assistance Program (SNAP, formerly called food stamps)
Section 8 Housing Assistance under the Housing Choice Voucher Program
Section 8 Project-Based Rental Assistance, including Moderate Rehabilitation
Public Housing under the Housing Act of 1937, 42 U.S. Code 1437 et seq.
Federally funded Medicaid with certain exclusions
The Department of Homeland Security will not consider things like:
Emergency medical assistance
Disaster relief
National school lunch programs
The Special Supplemental Nutrition Program for Women, Infants and Children (WIC)
The Children's Health Insurance Program (CHIP)
Subsidies for foster care and adoption
Government-subsidized student loans
Government-subsidized mortgage loans
Energy assistance
Food pantries
Homeless shelters
The Head Start program
Benefits received by service members of the United States Armed Forces, including the Coast Guard, Army, Navy, Air Force and Marine Corps, as well as the reserve components of each and the National Guard; this extends to benefits received by spouses of these same service members
Should I Choose Adjustment of Status or Consular Processing?
In most cases, people don't have a choice between adjustment of status or consular processing. If you're currently outside the United States, or if you're currently in the U.S. unlawfully (whether you entered the country illegally or you came on a valid visa which has since expired), you will most likely need to use consular processing.
If you're currently lawfully in the United States, you may be able to file an adjustment of status petition to get your green card. You may be able to leave and use consular processing in your home country if you wanted to, but you should talk to your attorney before making a decision like this – it's most likely to your advantage to stay put and apply for an adjustment of status. You won't have to pay for a trip back to your home country, and the process may be significantly easier if you're already in the United States.
What is Direct Consular Filing?
Direct consular filing allows a sponsoring spouse to file Form I-130 with the U.S. Department of State or U.S. Department of Homeland Security in allocation outside the United States. This process is generally faster when compared to filing the same form with a domestic U.S. Citizenship and Immigration Services facility located inside the United States. However, this option is not available to everyone. You can only use direct consular filing if you have a sponsoring spouse who temporarily lives outside the U.S. and meets the following requirements:
Your sponsoring spouse can prove that they live outside the U.S. only temporarily (such as by using military orders or documentation from a job).
The sponsoring spouse's permanent home is (or will be) the United States.
You have exceptional circumstances, unless an international USCIS field office is available in the country where the sponsoring spouse currently lives.
Some exceptional circumstances include:
Medical emergencies, including pregnancies in which the mother is unable to fly
Military service, provided that the service member received less notice than ordinary before receiving orders
A job change for a sponsoring U.S. citizen spouse whose work requires them to relocate to the U.S. on short notice
A threat to personal safety (and the threat must be credible)
You should contact the nearest embassy or consulate to determine whether you can use direct filing. Likewise, your Dallas or Houston immigration attorney can help you get the information you need. You will have to pay a filing fee and include supporting documentation, just as you would if you used standard consular processing or an adjustment of status petition from a location in the United States.
How Long Does Direct Consular Filing Take?
Direct consular filing may take less than a month, but every situation is different. You should check the average processing time at your current country's international USCIS field office here.
About the National Visa Center

The underlying petition is forwarded to the National Visa Center (NVC) by the United States Citizenship and Integration Service (USCIS) where it is further scrutinized. The NVC contacts the petitioner as an immigrant visa becomes available.
The applicant is required to fulfill six steps to further the process. These are to select an agent to represent you during the visa process, pay the fees, submit the application form, collect financial documents, gather the supporting documents that will underscore the purpose of your stay, and submit the application.
Interview Process
When the NVC notifies you of the in-person interview, it is essential that you make some preliminary preparations. Having a pre-interview medical examination and receiving all necessary vaccinations is the first important step.
Secondly, read and follow through with all pre-interview steps to enhance your success, including collecting what you need to bring to the interview. Failure to bring all items will likely result in a delay in issuing the visa.
At the interview, you and all accompanying family members should be present. If, however, the spouse or unmarried family members will be coming to the United States at a later time, they need not be present. An interview should be scheduled for a time closer to their departure so they may go through the same process.
As outlined in the invitation to interview, the applicant must bring the following:
Appointment letter from the NVC
Your unexpired passport
2 identical photographs
Medical exam results
Duplicate and English translations of all forms and documents accumulated for the interview and application
Visa fees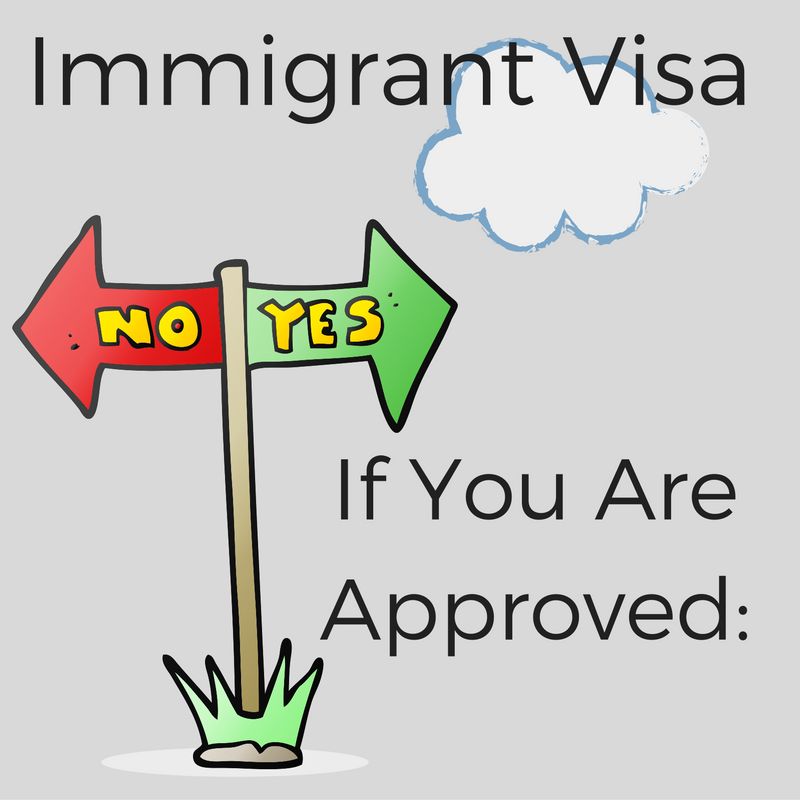 After Your Immigration Interview
You should not make many permanent changes until you have the visa in hand.
Quitting jobs, buying non-refundable tickets, or even selling homes is not advised until you have the assurance that you have secured the visa.
After the interview at the Consulate or U.S. Embassy has ended, the Consular Officer will advise whether your visa application is confirmed or denied.
If You Are Approved for an Immigrant Visa
Once you are approved, the U.S. Immigrant Visa will be placed in your passport, and you will receive a sealed Immigrant Visa packet that includes all pertinent documents that make your stay in the United States official.
You will need to travel within the designated period. Also, you must carry medical records and required proof of children's vaccinations with you.
Pay the USCIS Immigration Fee before departure to the United States.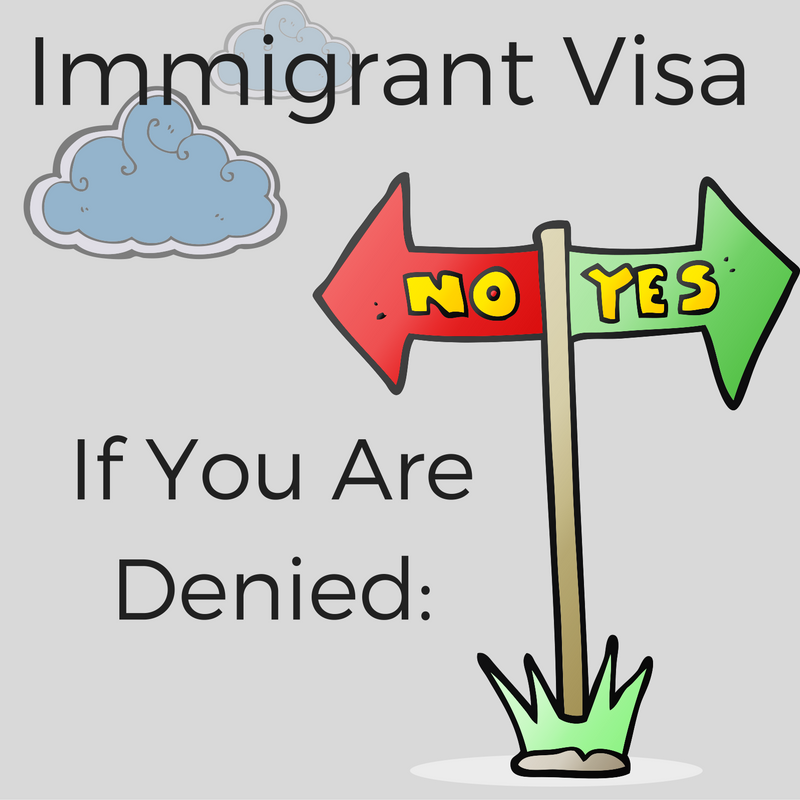 If You Are Denied an Immigrant Visa
The USCIS does not grant every applicant an immigration visa. In many cases, the problem stems from a lack of information provided at the time of the interview.
Usually, the consular officer will advise the applicant of the shortcoming and ways to provide the missing information.
Alternatively, the case may require more administrative processing and may be deferred until other considerations are fulfilled.
Additionally, there may be specific reasons for ineligibility.
These include health-related problems, criminal histories, security considerations, labor certification shortcomings, prior immigration violations, aliens previously removed, and ineligibility for citizenship.
There may be remedies, in some cases, that allow for a waiver process.
Contact an Experienced Immigration Attorney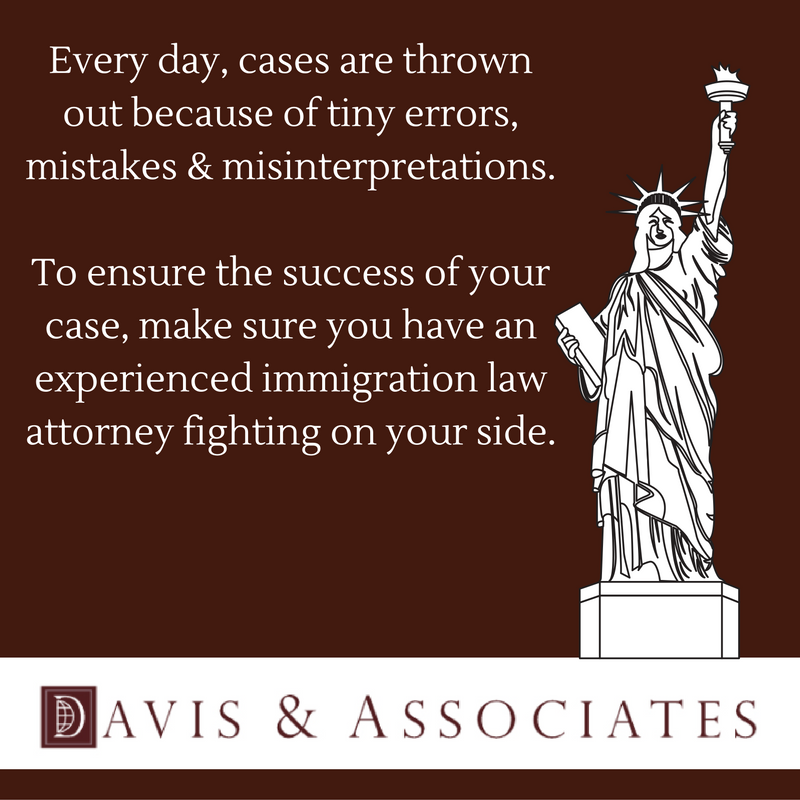 Wherever you may be in the immigration process, including requesting an adjustment of status or the consular processing phase, It is important that you seek help from someone who understands all of the details of securing an immigration visa and establishing a permanent residence status.
Insufficient or poorly prepared applications can delay the process or even result in rejection or even deportation.
Work with an expert with considerable experience in these matters and save time, money and excessive stress.
---
About Davis & Associates:
Davis & Associates is the immigration law firm of choice in Houston & North Texas including Dallas, Fort Worth, Plano, Frisco, McKinney and surrounding areas. Their attorneys provide expert legal counsel for all aspects of immigration law, including deportation defense, writs of habeas corpus and mandamus, family-sponsored immigration, employment-sponsored immigration, investment immigration, employer compliance, temporary visas for work and college, permanent residence, naturalization, consular visa processing, waivers, and appeals. Attorney Garry L. Davis is Board Certified in Immigration and Nationality Law by the Texas Board of Legal Specialization.
Dallas Contact Info:                                                                                                                                                                                             
Address: 17750 Preston Road Dallas, TX 75252                          
Phone: (469)957-0508                                                                       
Houston Contact Info:                                                                                                                                                        Address: 6220 Westpark Dr, Suite 110, Houston, TX 77057
Phone: (832) 742-0066