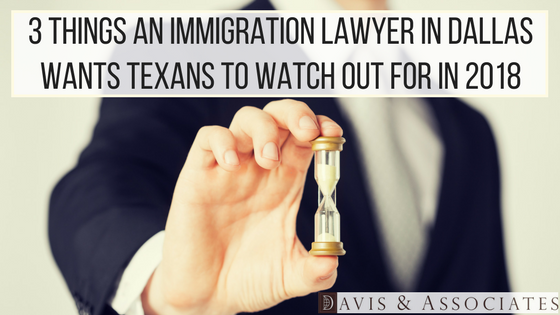 3 Things an Immigration Lawyer in Dallas Wants Texans to Watch Out for in 2018
The election campaigns of 2016 propelled many immigration topics to the forefront of current events. Setting limits on immigration, restricting access from specific countries, and searching out undocumented residents for deportation became key subjects. Every notable immigration lawyer in Dallas is paying attention to the daily activities of the national and state legislatures, as well as changing laws and regulation.
A primary topic of interest regards the influx of immigrants across the United States-Mexico border. Citing the position that Mexican and other immigrants are stealing quality jobs away from hard-working Americans, the president and legislators are proposing initiatives to restrict the flow and potentially remove certain immigrants.
With the speed at which some legislative activity and anti-immigration mindsets are developing, current Texas residents who are not U.S. citizens or green card holders should consider seeking the advice of an experienced immigration lawyer in Dallas to understand their rights.
Each immigration lawyer in Dallas will be following developments in 2018 regarding three well-publicized areas that potentially affect current and prospective clients. These are:
Texas Senate Bill 4, also known as SB4, attempts to eliminate the presence of "sanctuary cities."
Determining the future of "Dreamers', young resident offspring of foreign-born parents who are not legally documented (DACA).
The current administration's goal of completing construction of an oversized, 2,000-mile wall to prevent illegal passage through theTexas/Mexico border.
Each of these initiatives is either in effect or undergoing active scrutiny by each immigration lawyer in Dallas.
Texas SB-4 and Other Laws Targeting Sanctuary Cities
The Texas SB-4 bill, passed in 2017 by the Texas Legislature and subsequently challenged in District Courts, is intended to crack down on sanctuary cities that disregard the requests of Immigration and Customs Enforcement (ICE) officials. Individuals responsible for allowing suspected undocumented immigration violators to go free without detaining them will be punished with fines, jail terms, or removal from their position.
The legislation allows police officers to request the immigration status of anyone stopped for any reason, including minor traffic stops or while reporting or giving witness testimony to a crime.
Objections to the bill pertain to detaining individuals without probable cause. And, many argue that crimes rates will rise as people fear consequences of reporting crimes to the police.
The Uncertain Future of Dreamers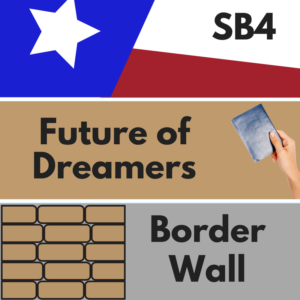 Another highly nationalized concern pertains to the legal status of individuals who were brought to the United States as minors and are now adults. This category, known as DREAMERS, has been pondered for nearly two decades. In 2012, former President Obama recognized the plight of DREAMERS who have become entrenched in American society yet had no legal status. He issued a "deferred action" for these individuals to forestall deportation consideration for two years while Congress discussed a sensible solution. DREAMERS are defined as:
Individuals between 15 and 30 years of age, with high school diplomas, are still in high school or working on a GED.
Having lived in the United States continuously for five years.
Have not committed a felony or significant misdemeanors
At the time of this initiative, 1.8 million individuals fit into this category.
During 2017, the Republican-led U.S. Senate proposed the DREAM Act that defined a 3-step process for candidates to become Conditional Permanent Residents (CPR) for up to eight years. These conditions are:
Entered the United States before age 18
Arrived at least four years before enactment
Has not been convicted of an offense requiring a prison sentence of over 90 days
Has completed or is engaged in earning a high school level education
Building a 2,000-Mile Border Wall
In support of a "rallying cry" of President Trump's 2016 campaign, efforts are currently underway to create a massive, 2,000-mile wall to limit the potential for illegal crossings along the U.S. Mexico border. According to a report in the Connecticut Mirror,  some onsite activities have already begun the process even before Congress has formally allocated funds to move forward.  The CT Report cites that the U.S. Customs and Border Protection (CBP) has already started construction across the Santa Ana National Wildlife Refuge along the Rio Grande in Texas using existing funds. Also, soil surveys are already underway in parts of Arizona and California.
Plans for the wall are still in discussion. During 2018, every immigration lawyer in Dallas should be keeping up with the wall's progress.
Contact Davis & Associates, an Immigration Lawyer in Dallas
Davis & Associates Immigration Law Firm works diligently and with compassion to help individuals with any immigration and residency matters. A multilingual, award-winning immigration lawyer in Dallas, Davis & Associates is committed to protecting the rights of all residents.
For a free consultation to discuss any immigration matters that you may be facing, call Davis & Associates in Dallas at 1-214-628-9888.
About Davis & Associates:
Davis & Associates is the immigration law firm of choice in North Texas including Dallas, Fort Worth, Plano, Frisco, McKinney and surrounding areas. Their attorneys provide expert legal counsel for all aspects of immigration law, including deportation defense, writs of habeas corpus and mandamus, family-sponsored immigration, employment-sponsored immigration, investment immigration, employer compliance, temporary visas for work and college, permanent residence, naturalization, consular visa processing, waivers, and appeals. Attorney Garry L. Davis is Board Certified in Immigration and Nationality Law by the Texas Board of Legal Specialization.